Original URL: https://www.theregister.co.uk/2007/03/02/nokia_e65_review/
Nokia E65 mobile phone
Looks good. Feels good. But how does it actually perform, hmm..?
Posted in Personal Tech, 2nd March 2007 13:46 GMT
Review As part of an expansion to its business-orientated E Series, the Nokia E65 has been styled to give off the persona that it's designed specifically to attract a higher class of user – the modern and remotely connected business executive.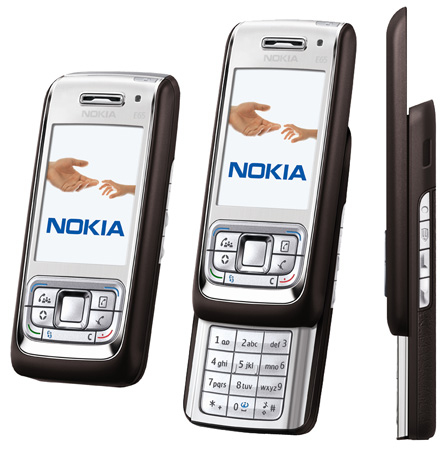 The E65 has a sliding front fascia and the soft leather backing is reminiscent of a premium economy airline seat. This outer styling is combined with a mere 115g weight, 105x49x15.5mm dimensions and a QVGA resolution display. All these combined meant it slipped easily and unobtrusively inside a jacket pocket.

Nokia has loaded the E65 with version 9.1 of the now commonplace Symbian operating system, as already featured on existing models including the N70. Symbian, though both dull to view and navigate around, is a logical OS that places all its applications just where you expect. So text messages are in a text message folder and Bluetooth, infrared and all of the E65's other connectivity applications are found (cunningly) within the connectivity folder. This helps to make phone navigation easier than a trip around Central London with a clued-up cabbie in your pocket (now commonly referred to as the TomTom).
In an attempt to make the working life of a busy executive slightly easier, the E65 features shortcut keys on its front fascia, such as for conference calls, and includes a "My Own" key designed to give the user immediate access to their favourite application – in our case the web. It also features a healthy six hours of talk time and an incredible 11 days of standby time – making it the perfect companion for the business traveller who's forgotten his charger.
Complimenting its stylish Italian suit look and feel, the useful OS, shortcut keys, and document transfer capabilities show that Nokia has clearly considered the requirements of the E65's primary market.
Most of the connectivity tools are nothing new, such as infrared and Bluetooth, and can be found on a host of existing Nokia models, but we were pleased to see a number of others that help to give the E65 a slightly more executive feel.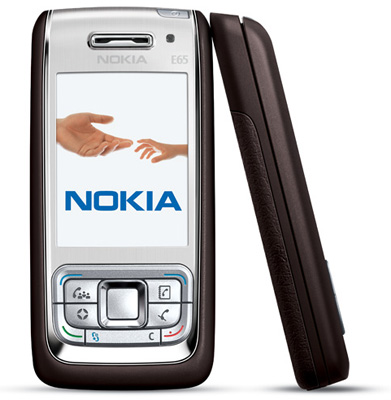 A Push To Talk (PTT) function allowed us to develop a "channel" and make group conversations about our news items for the following day. Most journalists have strong opinions and so constantly talk over each other in conversations, but thanks to a handy PTT function, only one participant can talk at a time. Presumably, Nokia would argue this results in quicker telephone meetings, improved productivity, and faster decisions, etc.
Other useful connectivity features included in the E65 are mobile VPN and a WLAN wizard, which helped us effortlessly scan for and connect to wireless LAN access points around the office. An EDGE data tool also ensures connectivity if you are out of coverage for high-speed data networks.
We were also pleased to see that the E65 came equipped with a clean web browser that, once it had connected itself, proved to be relatively fast at downloading pages and jumping from site to site.
The browser also offered us subscriptions to news feeds or weblogs, for which we opted to use the scroll key to navigate through Vulcan 22's 99 reasons about why Captain Picard is better than Captain Kirk.
We also accessed Google's Gmail service and had no serious problems, aside from slow connectivity. However, we put this down to geographic location and suspect that anyone seriously considering buying the E65 would also be equipped with a wireless-capable laptop or PDA, making surfing on the E65 only a backup option.
A slight indication that Nokia is hoping to lure customers outside the E65's primary target is the addition of a media player and instant messaging, which certainly caught the interest of our work experience dogsbody throughout testing.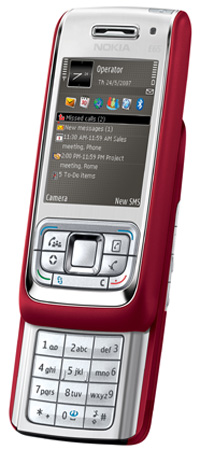 While IM is a useful feature that helps to enhance the E65's "always connected" design, the lack of a QWERTY keyboard means sending messages is slow and cumbersome, prompting us to think "sod it, I'll just ring them". However, we must admit that if stuck in a boring meeting or in one of those quiet carriages on trains (any young professionals still interested?), then the E65 will push your buttons on this feature alone.
Next, we spent a few minutes taking snaps of each other around the office and quickly noticed that, despite the camera's capable 2 mega pixel lens, its photo quality is decidedly poor. The E65's ample screen size seemed fine for taking photos on the face of it, but once in camera mode a mysterious grey banner appears to take up much of the visible area – reducing the available snapping size for those all important pictures - work Christmas parties, the boss falling over after too many Pernods, and your partner in front of a romantic backdrop.
However, we put our picture-based grievances aside and began snapping, but soon found that despite a 16 million colour display all pictures have a grainy grey quality to them – even in what's supposedly high-resolution mode (so we didn't even bother with the lower resolution modes).
Coupled with the E65's lack of any photo editing applications, such as those common to the N70, our opinion was later confirmed that Nokia is not targeting this model at the happy-snapper user because it lacks any clip-art capabilities. It does feature video capture and playback facilities though, which is a slight upside.
In all, we found the E65 to be a little like a tasty three course meal, but one followed by a defrosted chocolate pudding or instant coffee. If you are looking for a stylish phone that has all the basic applications required to keep you connected to the office, your work documents and not much more, the E65 is a solid choice.
However, if you also need your phone to entertain you on journeys and for multimedia over the weekend, it sadly lacks any capable features in this area.