Original URL: https://www.theregister.co.uk/2007/02/28/rim_blackberry_8800/
RIM BlackBerry 8800
A little tweak here and there makes a world of difference
Posted in Personal Tech, 28th February 2007 15:50 GMT
Review RIM is on a roll with another new BlackBerry that leans more toward a consumer construct than the previous devices. It takes the form factor of earlier models, adds in a welcome tweak here... and creates a device that borrows from both the consumer and corporate worlds.
The BlackBerry 8800, of course, owes a lot of its design features to the model that preceded it - the Pearl 8100. Like its lower numbered sibling, the 8800 is finished off in sleek black with silver touches here and there that work well together.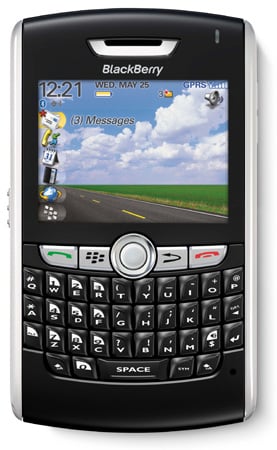 The 8800 ditches the side mounted click-wheel that previous models used in favour of the Pearl's trackball for getting around the interface. The ability to go left and right, as well as up and down, makes for a much better experience. It's much improved for jumping around webpages and finding your way through the user interface. When you've highlighted the item you're after, selecting it is simply a matter of clicking in on the trackball.
To the left of the trackball are buttons for dial and menu, while over the other side sits a cancel/go back button and hang up. The larger size of the device means the buttons are easy use. Below you'll find a full Qwerty keyboard which makes for much faster typing than on the Pearl which only has space for enough buttons to house half the number of letters and relies on software to determine what you're trying to type, similar to predictive text.
The keys are also slightly domed and angled away depending on which side of the keyboard they're located. So those on the left, for example, have a raised area predominantly in the bottom left hand corner, which makes for easier thumb typing and less mistakes due to hitting multiple keys. It still takes a little while to get up to speed with the keyboard, but you can pick it up and use it straight away without having to learn any new skills.
It's obviously wider than the Pearl - due to squeezing in a full Qwerty keyboard, but it's not much taller or thicker, measuring 11.4 x 6.6 x 1.4cm. It's piled on a bit more weight, but it's still easily portable at just 134g with battery. The increased form factor also means a larger screen can be incorporated, with a 2.4in landscape display offering a resolution of 320 x 240 pixels and capable of displaying 65,000 colours.
While it has more of business head, the 8800 is still capable of a little fun now and then. Although you won't find a camera there's a built in media player, which supports MP3, AAC, WMA and WAV tracks and on the video front it'll stretch to MPEG 4 Part 2 Simple Profile, H.263 and WMV. The screen's not bad for viewing video on - though given its size you'll probably want to stick to short clips rather than full length movies.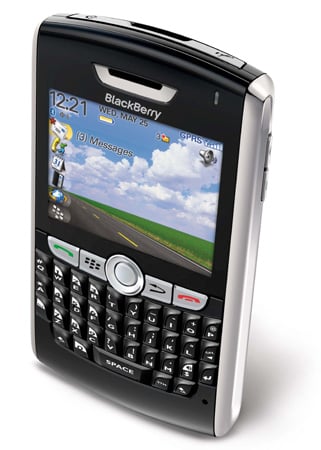 The built in speaker is relatively decent - although push it too loud and it starts to distort. Dare by the Gorillaz proved too much for it at full blast but was reasonable at lower volumes. For personal audio you have to use the included stereo hands free kit - the connector on the side is too small to take a standard headphone plug. The audio quality through the hands free is passable, but like the internal speaker will distort if you push it too loud.
The internal memory only stretches to 64MB, so you'll want to make use of the MicroSD slot for additional storage if you're planning on taking full advantage of the media playback facilities. To swap cards you need to remove the back of the unit and grapple with a cradle (similar to a hinged metal SIM card holder seen on some phones) that keeps it locked in place, which doesn't make for quick switching.
The 8800 is a quad-band handset, with support for the usual 850/900/1800/1900MHz frequencies and can handle GSM, GPRS and EDGE networks. You can hook it up to your PC via the mini USB port (which also usefully doubles as a charger) or if wireless is your thing there's support for Bluetooth 2.0.
RIM claims the battery lasts for 22 days standby and five hours talktime. With moderate use you should be able to get a week out of it between charges. The 8800 supports the standard BlackBerry email services so once you've tapped in your details then new mail will be pushed to the device. There's no need to manually refresh your inbox, new messages will appear soon after they've left the sender's outbox.
It will work with both the consumer/small business oriented BlackBerry Internet Service, which integrates with an existing email account, or the corporate focused BlackBerry Enterprise Server, which is likely to require the help (and approval) of an IT support department to install.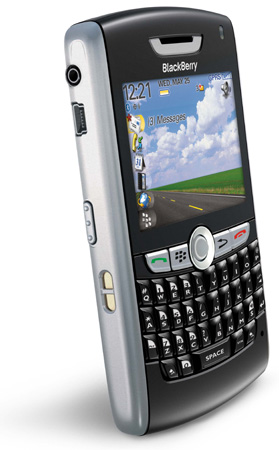 RIM has also included a GPS receiver in the unit, which when combined with the included BlackBerry Maps application allows you to find out where you are. Rather than store map information on the device, the application downloads the data as and when it needs it, which will increase your data use if you use it a lot.
While the free application does allow you to quickly find your location, its route planning abilities are basic to say the least and it's no replacement for a dedicated Satnav unit. However, if you just want a helping hand when you're lost, then it's more than adequate.
Verdict
The 8800 is aimed more at the BlackBerry converts and those that value a better keyboard over size. It's a stylish device too - taking a number of cues from the Pearl to create a handset that most people wouldn't be ashamed to have on show. Add in a decent-sized screen, QWERTY keyboard, media playback facilities, reliable BlackBerry email and built-in GPS and it's a well thought out and competent device. While its size may put some people off, if you value text over talk then it's an obvious choice.