Original URL: http://www.theregister.co.uk/2007/02/26/asus_w5fe_windows_vista_laptop/
Asus W5Fe Windows Vista laptop
Asus has produced the first laptop with a Windows Vista SideShow screen
Posted in Personal Tech, 26th February 2007 16:19 GMT
Review We already teased you not too long ago about the Asus W5Fe and now we've got our hands on an engineering sample of this innovative, compact Windows Vista laptop and an opportunity to put it through its paces.
Asus has produced the first laptop in the world that makes use of Windows Vista SideShow to support a secondary screen in the lid. This is a 2.8in screen with a QVGA resolution of 320x240, just like any number of mobile phones that are on the market. The lid of the Asus also holds 1GB of flash memory which stores a cut-down Operating System that powers SideShow and which also links to the main Vista Operating System.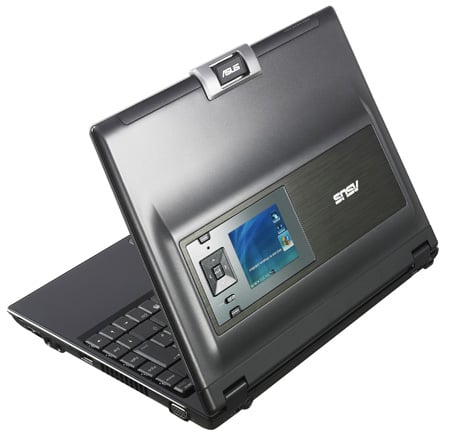 You can use SideShow to play music or games such as Solitaire (remember, you're limited by a tiny screen) but more usefully you can also check email and your calendar. There's an On/Off switch next to the screen along with navigation controls so you have no need to open the lid of the laptop to use SideShow. If you choose to open the lid the image on the SideShow screen flips over in order to remain the right way up.
SideShow operates when Vista is shut down to save battery life, but it will wake Vista every so often to synchronise data and to keep the music flowing. Asus pointed out to us that on this engineering sample the headphone socket is only turned on when the main notebook itself is powered up. It's a safe bet that this will be fixed in production units.
The software behind SideShow uses the Gadgets that appear in the Vista Sidebar so you can pick and choose which content uses SideShow. You can also opt to allow parts of Office 2007 to use the screen and no doubt software developers will shower us with SideShow plug-ins and apps over the coming months and years.
The styling of the W5Fe is slightly unusual as the lid has a pronounced bulge to contain the SideShow hardware. While the compact chassis looks very smart in its graphite grey finish we have a few concerns about the integrity of the chassis. For one thing there's no catch to secure the lid and we have a personal preference for a positive lock that protects the screen. The keyboard feels solid enough even when you type hard but the mouse touchpad uses a strange textured material with a small surface area and we often found our finger sliding straight off the side and onto the mouse buttons.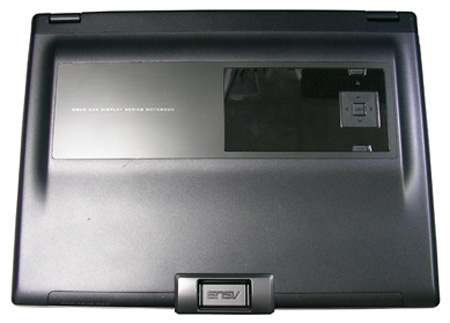 In the top edge of the bezel there's a swivelling 1.3Megapixel webcam that is a useful feature but it takes up a certain amount of space in the lid. Asus has chosen to install a 12.1in screen which has a resolution of 1,280 x 800, but this widescreen resolution is relatively small and if you make the most of the Vista Sidebar you'll find that there isn't much space on your desktop. Working your way round the chassis there's a reasonable selection of ports and connectors. Above the dual layer DVD writer there's a single slot xD/MMC/MS Card reader, with a mini Firewire, modem and 10/100 LAN on the left side, TV-Out on the back and on the right side there's VGA and an Express Card slot. There are three USB 2.0 ports arranged with one on the left, one on the back and one on the right so you should have no trouble plugging in a mouse and other peripherals.
Under the bonnet there's a 2.16GHz Intel Core 2 T7400 processor with 1GB of DDR2-667MHz running on an Intel 945GM/ICH7-M chipset and the usual Intel 802.11ABG wireless. That's a respectable Centrino platform however we were surprised to see that this Vista Premium laptop uses Intel 945GM graphics.
Windows Vista includes the Windows Experience Index, which rates the components of the computer on their ability to run Vista. The graphics are only rated at 2.3 on the Aero scale and the gaming graphics at 3.0, while the memory, hard drive and CPU are all rated above 4.5, so this laptop is very marginal in terms of its ability to run the Aero interface. We installed the latest Intel driver to see what difference it made and the WEI score creaked up slightly to 2.5, which wouldn't make a lot of difference.
Specification
Processor: Intel Core 2 T7400 2.16GHz
Memory: 1GB 667MHz DDR2
Hard disk" 160GB Hitachi HTS541616J9SA00
Optical drive: Matshita DVD-Ram UJ-842S
Chipset: Intel 945GM and ICH7-M
Graphics chip: Intel 945GM
Screen: 12.1in, 1,280 x 800
SideShow screen 2.8 inches 320 x 240
Weight: 1.8kg with three-cell battery
Dimensions: 30.5 x 22 x 3.1cm
When it comes to battery life we fully expect to see a real world life of three hours or more with the regular six-cell battery, however our sample had a three-cell unit that only lasted for 27 minutes. Clearly that's disastrously bad but we can't believe that this figure bears any relation to the production unit, however we feel it would be dishonest if we didn't report the figures that we saw.
Benchmark results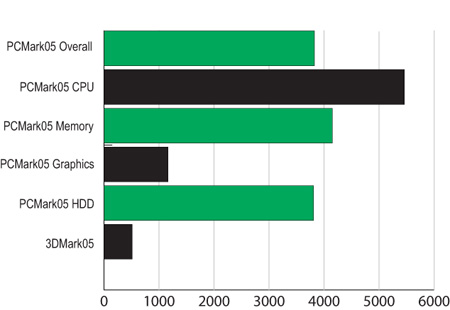 Verdict
[Dreamy M&S-style voice over] This isn't just a laptop; it's a Windows Vista laptop. The SideShow screen will boost your staying power and make you more appealing to women, while the Core2 processor and 1GB of RAM provide the power that will impress your boss.