Original URL: http://www.theregister.co.uk/2007/02/15/reader_review_nokia_smart2go/
Readers rate Nokia's free Smart2Go satnav app
Have your say
Posted in Science, 15th February 2007 11:59 GMT
Reader Review When Reg Hardware covered the no-show and then the late appearance of Nokia's free navigation software, Smart2Go, we invited readers to download the code and give it a test drive. Rather a lot of you did, and here's a selection of some of your experiences with the app on a range of handsets...
Steve Smith
First thing to get out of the way: this is a first-day test of beta software. My review is based on my personal experience. Second thing, it's free. For this reason alone you should go get a copy and have a play.
The currently supported devices are: Dopd 595 and 838; HTC MTeoR and TyTN; Nokia E61, E70, N73, N80 and N93; O2 XDA Trion; Qtek 8300, 8600, 9100 and 9600; Palm Treo 650w (700w?); T-Mobile MDA Vario II; Vodafone Compact III; and, finally, Generic Windows Mobile 5, this is the one I downloaded for my XDA Mini S.
I chose to download via PC and install from the memory card, but there is an option to do it over a SMS link but at 5MB this would be a bit steep for anyone not on an unlimited data package. Once downloaded installation was straightforward, but slow. Be warned the 5MB file unpacks to 20MB on the card once installed, and that's without maps or voice files.
After starting the app for the first time, it also installs a 500KB licence manager program which is needed to upgrade to the full navigation package.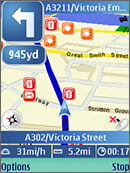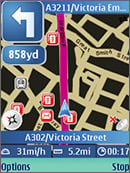 Pairing with a Bluetooth receiver is easy and the program will automatically search for a receiver if it can't find a built-in one. I have used both a SiRFStar III-based HOLUX 240slim and a generic (ie. cheap from eBay) receiver – based on the Trimmble FirstGPS chipset - and Smart2Gp had no problem talking to them with no need to set baud rates or comm ports.
Warning When you first start to play with this you should be connected to the internet by Wi-Fi or Active Sync as it will have to download some maps to start with and this sucks megabytes fast. However, once you have used it once you should be able to use the Nokia Maps Manager app from the Smart2Go website to download the rest of the maps you need.
When you start to navigate for the first time, the app will ask you to set the language and download the voice files (2.6MB). When it downloads, it shows how much it is downloading (for the maps) and how much in total (ie. for the voice file). This should help keep you reasonably informed as to how much data is being sucked up.
I'm dreading my bill now as I did all the updates over GPRS.
What I also did was spend money on the upgrade already. I started playing with the planning functions and it seemed straightforward enough for an experienced user of half a dozen previous GPS systems. I don't think the user interface or address entry system is quite up to TomTom standards, but not much worse than previous first versions.
'How much money?' I hear you cry. Well not too bad, but not peanuts either. For UK and Ireland, it's £4.27/€6.40 (one day's usage), £5.26/€7.90 (30 days), £39.50/€60 (one year); and £46.09/€70 (three years).
I went for the 30-day - only a pound more than the one-day licence. You can pay four ways, either on you phone bill - phone sends premium rate messages but charges £6 not £5.26- or by credit card. I tried the text message way but it threw up an error so I paid by Visa instead. An email contains you proof of purchase and your license code which will be needed if you reinstall or change devices - suggesting a transferable licence.
So what happened next? Basically, I crashed it and had to do a hard reset. I won't go into the hows as I just got a bit punchy and kept pressing buttons, but I managed to get it stuck on the stop over addition section and back/select didn't work. That said, after the reset it has behaved perfectly - remembering my last entered destination - letting me run it and plan and start to navigate a route with no problems.
BTW, the XDA Mini S only has a 200MHz processor with small available memory so getting it to lock up isn't that hard so I won't hold it against the software till I have tried it a bit more.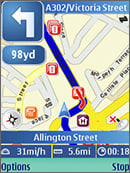 What I haven't done is tried to drive a full route or test the re-routing functions as it's 11pm and driving round in the dark playing with a new satnav is dangerous. So for now just first impressions. The pros:
It's free to play with...
...so if nothing else you can see where you are on the map - either moving or the map stays stationary and the icon moves.
It lets you search for addresses, post codes (seven-digit ish), locations, POIs (some are built in, I haven't found out how to add them yet) and plan a route.
The map is zoomable so searching by hand scrolling the map is easy.
Multiple stops can be planned.
As for negatives:
Data costs could be high, although to be fair Nokia have tried to keep it down with the map manager app.
Not exactly a fast acting program, as phones are not usually blessed with clock cycles this could be a problem and I'd like to see how it behaves on the S60 phones and on a high spec WM5 unit.
As for the upgrade costs, well £6 for a 30-day trial won't bankrupt me and £47 for three years doesn't look too bad either as the maps could theoretically be constantly updated (speed cameras database?) even while on the move.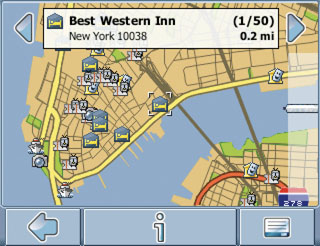 Chris Gent
Just to let you know that I took the plunge and risked killing my phone by installing this software on my N80 - along with approximately 90MB of UK maps - and it looks pretty nifty especially considering it's free. I tried planning a couple of routes across the country and they came out about looking about right.
I haven't tried any of the real-time navigation stuff with a GPS device though.
David Reeves
Downloaded Smart2go this morning and it really is rubbish. I've been using Wayfinder on a WM5 phone for a while so I know how these things should work. Within the first 30 minutes of use, large sections of the maps don't show, even though I have downloaded the maps using the maploading program. Routing doesn't work. The progress map gets to 95 per cent there and then freezes - I have to Cancel to get out.
Tried to look at the upgrade to navigation and the program crashed. I have a HTC TyTN which generally gets a reboot about once a month, so far today I have rebooted it five times! I had high hopes for this but so far it's not looking good :(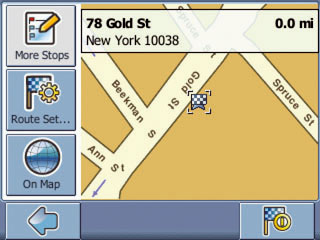 Steve Evans
Oh well, I thought it was worth a punt... Noticed that all the E and N series downloads seemed to all point to the same file, which just had S60 on the end of the filename... Seeing as my N70 is an S60 phone too, I thought I'd try it.
Unfortunately, all I get is "file corrupt" when I try to install it. So either Nokia has messed up its late arrival, or it's chosen to forget all the really old phones in an attempt to make us upgrade.
Gavin Hutsby
I'm just instilling the Nokia navigation app to my N73 now - should be interesting to see how it performs alongside TomTom Navigator 6, although the navigation function looks like it might be a chargeable upgrade!
Mind you, I'm still waiting for the thing to install. I put it on the phone 20 mins ago and its only halfway done!
David Roy
According to my N70 - admittedly not in the list of supported models, but still... - [the download] arrives corrupted, so the phone has refused to install it. Shame - I'd like to see what the software can do.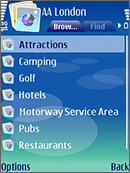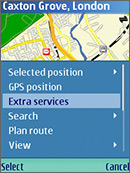 Josh Murray
I've just downloaded and installed Nokia Smart2Go on my N73 (3 X-Series). It took a while to install, and initially start, but it works well otherwise.
I'm currently in a 2.5G area and the map for my village took about 45 seconds to download. I'm not sure how much data it's transfering when it's getting new maps. I'm glad I'm on a flat rate plan! I can't find any info on how much it downloads, but I'd like to hope it's not much.
Daniel Jackson
Thought I'd give this a go - you can't argue with free stuff!
Downloaded it, copied it to my N80, ran the installation and 13 minutes later I'm still 50 per cent through the installer. Setup hangs and crashes File Manager.
Oh, but wait - just before I was going to hit the Send button a burst on the progress bar! 25 per cent to go!
... sometime later ...
Two per cent left.
... even later ...
All done, although it's still "installing".
Holy Moly, 24 minutes to install!
Ian Peters
Upon reading your story about the smart2go software, I downloaded it, and thought I'd give you a very quick first view.
It's not supported on my phone (N91 - latest firmware), but seeing as the N93 is also S60, I punted for it anyway. No problems during install. I'm roaming in the US at the mo, so rather than pay the extortionate roaming data charges (and there wasn't a friendly Wi-Fi nearby), I downloaded over the internet using MapLoader for my local area. Big ass file, took a while, but all good.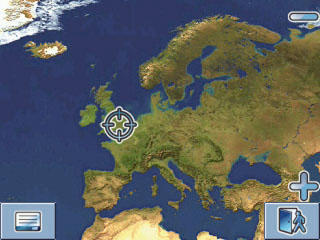 And it works. Soooooo nicely :) It's a bit slow at times, some of the text is a bit crappy, but navigation and location searches work fine. I haven't managed to download any premium content but will try when I've got Wi-Fi access. We'll see. It appears you can't download via a PC, rather annoyingly. Route-finding seems to work well, and the time estimates are okay tending to the optimistic.
Still, that's my first thoughts. I can't wait for the N95, for which (due to it's in-built GPS) this program may well be the killer app.
Michael Baxter
At first I thought, great if you have unlimited data on your mobile. I've used Route 66 (awful) and TomTom (great) on my N73 so it's nice to see a mapping program I don't have to spend £60-plus on.
I truly believe Nokia is the best handset designer. OK, its OSes are a bit dodgy but it pushes ahead with innovation, which shows in buckets with the N95, which craps on the iPhone from a great height. Nokia has done it again by understanding the "£5 for 2MBs" UK phone market by providing a program with Smart2Go called Maploader which lets you download the whole of the UK (90MB) to your phone so no need to down load on the fly. This transforms Smart2Go from a nice idea to something you can really use.
The interface on Smart to go is similar to Google maps - check out those bubbles! - and is smooth and quick. It's definitely worth buying a cheap secondhand N70 to try it out on.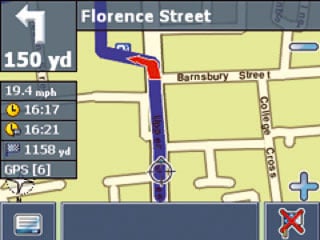 Lemuel Hydes
Well, it might be available to download, but it won't actually install - at least not on my N73 - as it claims to be incompatible, which is nice...
---
Thanks to all of you who submitted their reactions to Nokia's new app - send us your addresses and we'll get some Reg Hardware T-shirts out to you.
And don't forget, you can add your thoughts to any product review published in Reg Hardware by clicking on the Comments button.