Original URL: https://www.theregister.co.uk/2007/02/14/review_good_mobile_messaging_client/
Good Mobile Messaging 4.9 push email client
Very 'Berry?
Posted in Personal Tech, 14th February 2007 12:55 GMT
Review Whether push email really does improve office-worker productivity is open to question, but there's no doubt that it's become a must-have. There are few smart mobile devices that don't enable its delivery, whether by bundling Research in Motion's BlackBerry Connect software or one of the handful of competing applications.
In addition to RIM's signature BlackBerry handhelds, many Windows Mobile 5.0 devices offer push email as standard, and Nokia, Sony Ericsson and co are all keen to bundle the aforementioned apps with their business-oriented handsets.
But while all these providers' offerings will end up in hands of individual users, the devices and software tend to be pitched at business' technology providers, whether in house or out. Product marketing tends to focus on a given product's benefits to the IT manager - think inventory management, over-the-air software provision, remote security lock-down - rather than how well they help users get to the information then need, quickly.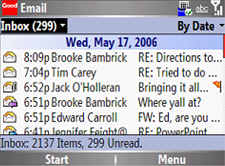 So, in an occasional series, Register Hardware will be investigating how well the major push email offerings co-operate with a variety of mobile devices to deliver email and other personal data to the user. First up, one of the biggest enterprise-oriented email software providers behind RIM: Good Technology and its newly renamed Good Mobile Messaging (GMM) product. Late last year, Motorola acquired Good, which is now known as Motorola Good Technology Group.
Installation is simple enough. Navigate to Good's download site - get.good.com - and get the software. The system sends over a setup app that grabs the correct version of Good Mobile Messaging for your device and pulls down all the relevant components. During the installation, you'll need to enter the PIN you've been supplied with, your email address and the phone number associated with your handset - write this one down before you start, if you haven't remembered it yet.
I tried GMM initially on a Nokia E61 running on the Vodafone 3G network. The setup app was a 175KB download; GMM itself weighed in at just over 2MB, so make sure your data tariff's up to it.
Good's strength is its multi-platform support. In addition to Nokia Series 60, there are versions for the Palm Treo 650, 700p, 700w, 700wx and 750v. All HTC's Windows Mobile 5.0 devices are covered, as are their many carrier-branded derivatives. So too are Motorola's Q and HP's hw6500 handsets. It's not a comprehensive list, perhaps, but it covers the latest devices.
Each incarnation has the same look and feel, so should you change smart-phone vendors, you're not only going to be able to re-install the software, but you won't have to learn everything over again. Crucially, all your information is held on Good's server so, again, moving from one device to another is straightforward, as I found when I tried GMM a second time, on a Windows Mobile 5.0-based Vodafone Palm Treo 750v.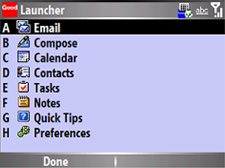 With the software installed, running any of the device's native email and personal information apps calls up Good's code instead, which is run automatically whenever to re-start your handset. It's modular, so you no longer have to leave the host operating system and live in Goodworld, as you did with past versions, though there's a utility, Launcher, that provides a single front-end for all the Good apps, and each app replaces all the usual status icons with GMM's own set.
This separates out email viewing and composition, though you can access the latter from the former, as you'd expect. In addition to Email, GMM incorporates Calendar, Contacts, Tasks and Notes. All five apps have links to the Preferences panel, which is also a Launcher entry, as is Quick Tips, a handy run-through of the features on offer.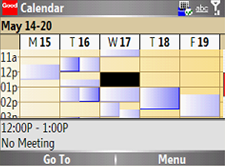 The apps are simple but functional - it reminds me of the early Palm OS. All the data entry basics are covered, just don't expect any fancy customisation options, like adjusting column widths in Email, the creation of extras archive folders, or listing email from the newest to oldest or vice versa - it's newest first only. You can't create multiple calendars for work and home, or different projects. Contacts can't have pictures.
You can choose whether the Email app displays a message preview panel a la Outlook, Thunderbird etc., but you can't change how much of the screen it takes up. On the E61 you get a couple of lines of message and three email headers if you select the two-lines-per-header option, or more if you have one header per line.
Inviting participants to meetings automatically sends an email to invitees, but adding more than one person involves multiple selections of the Add Invite... menu option. Well, it does until you realise hitting the comma key automatically adds a recipient. In fact, there are a stack of such keyboard shortcuts, but you'll have to visit the aforementioned Quick Tips to find out what they are - unless you hit upon them by mistake, of course.
The apps may be separate from the host OS, but they do tie in where necessary. Contact entries' phone number can be clicked on to dial, for instance, and URLs will invoke the phone's browser. There's even cut and paste, though it's all done through menus not shortcuts, so it's a little cumbersome.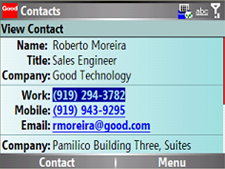 Good's done a decent job of adapting its code to the E61, which unlike the Palm or Windows Mobile-based devices GMM originally supported doesn't possess a touch-sensitive display. Still, there are times when you'll see a panel pop up, usually when you have an attachment to view, that clearly has an exit box that on any other device you'd dismiss with a tap of the stylus. The Treo 750v, with its OK button, can get rid of these panels with a single key press, but the E61 couldn't.
Speaking of attachments, GMM lists them with tiny icon. Most files can be viewed in a rough and ready text, or you can choose to download each attached document to the device or read it as is in a viewer app if you have one. As the file's transferring, GMM displays an inline progress bar. While a file's downloading, you're free to go and read other messages or even exit the app. If you're in any GMM app, a popup panel will appear to tell you the file's ready for you. However you choose to view the attachment, it still has to be downloaded to the phone, though the text view mode downloads the files in chunks.
Verdict
GMM's pitch is bringing the benefits of push email and personal information to a range of devices, not just the ones RIM makes. And that means you have the freedom to change hardware at a future date and retain the Good look'n'feel. The downside is that look and feel: it's basic and functionally a long way behind the PIM and email apps integrated into today's smart phones and PDAs. That said, it certainly works well. But if you're used to using a device's own apps, GMM feels like a step backward. GMM's server side may appeal to IT departments, but the client needs sprucing up if it's to win over end-users.