Original URL: http://www.theregister.co.uk/2007/02/09/review_belkin_easy_transfer_cable_vista/
Belkin Easy Transfer Cable for Windows Vista
Does exactly what it says on the box
Posted in Personal Tech, 9th February 2007 14:13 GMT
Review As the name implies, Belkin's Easy Transfer Cable for Windows Vista allows you to transfer your files to Windows Vista, easily. It'll help you to copy over all your files and settings from your shattered old XP PC to your shiny new Vista box.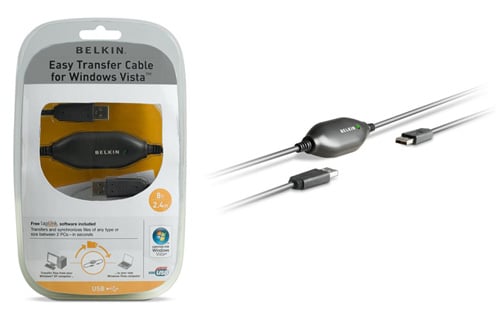 In the pack you get a two-headed USB cable with a soap-on-a-rope bulge in the middle housing the clever parts. You also get a CD containing the Windows Easy Transfer software for XP - you don't need anything additional for Vista, as it's included as standard.
First thing you have to do is load up the application on your XP machine - it's also best to check your computer is up to date as the Easy Transfer application will only work on machines running Service Pack 2.
Once you've got everything installed, then switch over to your new machine and start up Windows Easy Transfer - you'll find it in Start>Accessories>System Tools or just type 'transfer' into the Start menu's search box.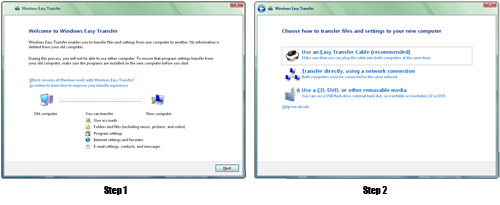 Click images for full-size screengrabs
The program will prompt you to close any open applications that might get in the way of the transfer, then ask you if this is your old PC or you new PC - choose new. You then just need to tell it you're using an Easy Transfer Cable and then sit back and wait for a connection from the other computer.
On you old PC, load up Windows Easy Transfer, tell it you want to use a cable to transfer your files and then plug the cable into both PCs - wait a couple of seconds and the connection should be recognised.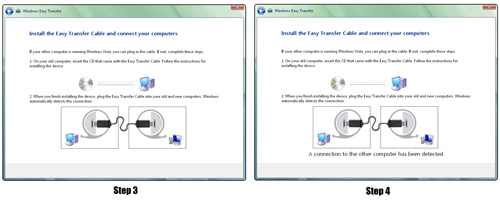 Click images for full-size screengrabs
All that now remains is telling the program what you want to transfer and then sitting back while it dutifully copies over all your files and settings. The default option is all user accounts, files and settings, which will pretty much get you up and running on your new PC as you were on your old one.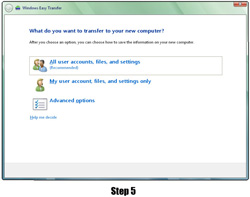 Click images for full-size screengrabs
If you know which files you want to transfer, then you can choose Advanced Options and manually specify what you want to copy over. Finally, it's simply a matter of setting it running and leaving it to get on with it.


Click images for full-size screengrabs
By default, Easy Transfer copies over your My Documents folders, email messages and settings, program settings and user accounts. It doesn't actually transfer programs, though, so you'll need to install them on the new PC first before moving over your old settings.


Click images for full-size screengrabs
The cable supports USB 2.0, so providing your XP machine isn't too old you shouldn't be hanging around too long waiting for everything to copy over.
In terms of performance, we tested it between two USB 2.0-equipped laptops, one running the final version of Vista and the other running XP SP2.
When it comes to transferring files, we found it was a lot quicker with large files than with lots of small ones. Copying over a single 1GB file took just three minutes 54 seconds, which isn't too bad at all.
However, copying over 8,192 small 128KB files, amounting to 1GB in total, took much longer: 11 minutes 22 seconds, nearly three times as long. Given that you're likely to have many more small files than big ones, if you want to transfer the best part of 30GB then it's likely to be an overnight job.
Verdict
Manually shuffling your digital bits from one PC to another is a laborious task, so anything that makes the process a little easier is to be welcomed - and it doesn't get much simpler than this. If you'd rather get on with using your new PC instead of messing around copying everything over then it's a great help.