Original URL: https://www.theregister.co.uk/2007/02/08/walmart_online_service_misfires/
Wal-Mart online service misfires, as iTunes readies video for Europe
What's wrong? Where do we start ...
Posted in Policy, 8th February 2007 22:27 GMT
Analysis There are so many things wrong with Wal-Mart's attempt to break into online video downloads this week, that we're not sure whether to write a long diatribe denouncing it, or if we should just list a few details and get it over with.
There has virtually never been a giant in the physical world that has gone on to become the giant in the online version of that same world, and the reason is always that whatever the company launches, it is trying to defined what it already has instead of replace it.
Video downloads will replace the DVD. Period. It's just that no-one is quite sure how long it will take for it to happen. So offering a service with quotes from the launch manger that talk about using it to bring people into the Wal-Mart store, suggest that Wal-Mart, the world's biggest retailer of DVDs, is thinking mostly about stopping the online revolution from happening rather than making it happen.
Back in November we admitted to being baffled by a film download service tied to the purchase of a DVD from the store. Well that at least has changed. The online version can be bought on its own, OR you can download it and get the DVD in the post to you as a back up.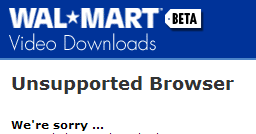 But it's still Microsoft formats only, working on a PC or PlayForSure Microsoft player, and it is limited to the US, and the web site simply slams the door unceremoniously on anyone from outside.
But if we were to point to one thing it would be price. Film download prices are download to own, and range from $12.88 to $19.88 on the day of the DVD release with older movies starting at $7.50. TV shows start at just under $2.00 an episode, the same as the iTunes pricing.
Taking the film Superman Returns as an example we find that the download can be bought for $14.88, and that this includes a portable playing file and a PC file. The DVD at the Wal-Mart online store is priced at $19.87. It can be bought more cheaply at Amazon, but not an online version.
So there's a difference of $4.99 between the two, and one needs physical delivery, and needs to go through a physical manufacturing process. Try to use the site and you get a clear idea of how the physical and the digital are going to work.
Ask for Donnie Darko and the video is only available as a DVD, and Wal-Mart can send it to you, search for King Kong and you get the same result, The Lord of the Rings and all three movies are the same, DVD only.
An online only service would go to the trouble of negotiating for these items, not offering to post you a DVD.
We put in Potter, thinking that all the Harry Potter films would emerge, but it threw up films where someone in the cast had the surname Potter. One such was Fierce Creatures, a film made 10 years ago, and yet it is still priced at $12.50 for download only. Amazon had it on sale for anywhere from $5 to $10.
Such films are already fully exploited and need to be on the books at something like £2.50 rental or $6 to buy before anyone is going to take an online service seriously.
The Long Tail material, that which is old enough to be out of print and not worth holding physical stock for, is well served by the second hand market at Amazon, with physical DVD's at customer homes up for re-sale, and to address it properly, the films need to be at a viable price level and plenty of them.
For people entering the online film business the strategy is clear, don't even try to make money on the current top 100 films, offer them at whatever price that the studios insist on, but take the price to the bargain basement for Independent and Long Tail (old) films and use this as the basis of your profit line.
Someone has to convince the studios that they cannot miss out on an online market, and Apple's refusal to take much in the way of Hollywood material until it is sensibly priced, is the right strategy, because once inclusion on iTunes offers serious money to a film studio, then it will finally be ready to accept the $9.99 maximum that Apple's Steve Jobs wanted to place uniformly on all download to own movies.
All the press statements wax lyrical about Wal-Mart having the power to attract all the six big US studios, Disney, Warner Brothers, Paramount, Sony, 20th Century Fox and Universal, not to mention the biggest tier two player, Lion's Gate.
But it's easy to be the ONLY company that has signed a deal with all of them when pricing is dictated to the online service by the studio and it is unrealistically high.
Wal-Mart previously launched into the online DVD rental market and ended up dropping it and giving the business over to Netflix. It cannot afford to lose its entire DVD franchise and will have to follow the lead when someone in this market creates the right conditions to innovate. But don't expect it to revolutionize the online film market, because it doesn't have a vested interest to do so.
In the meantime rumors are rife that Apple is on the verge of taking its online video downloads into Europe. What we presume is meant by this is that the there is enough licensed material to officially launch iTunes video in Europe.
But you could download some video from day one, for instance the Pixar short films, which were controlled by Apple's Steve Jobs at the time of the video iPod launch. The company has since been sold to Disney, making Jobs the biggest shareholder in Disney, in the process.
It took Apple roughly a year before it could get licensing sorted out for its basic iTunes music service, after the US launch. We noted at the time of the video launch 15 months ago that it should take a little longer for video licensing, because it is more complicated. The individual talent is a much larger pool of individuals, and there are more permissions needed, including the soundtrack rights.
It is unlikely that iTunes will have a lengthy collection of video for Europe, but it should have most popular TV series, which can be released in sync with the prevailing broadcasts of things like "24", "Lost" and "Desperate Housewives."
Mostly Apple watchers are saying the service is set to go live Europe wide from a service based in Luxembourg, primarily because the finance minister there said that Apple would launch there in Spring to Agence France-Presse and also because VAT is lower there.
Once both Apple, and Amazon with its "unbox" video, are launched outside the US, the numbers of potential purchasers of Hollywood video is going to go up and up.
Many locations across Europe and in other parts of the world, have far poorer coverage of cinemas, although many European countries have rampant DVD piracy, which dilutes film revenues. Our take is that as these two online services drive up volume, the pressure will be on the film studios to take iTunes volumes seriously and listen to their requests to drive down pricing.
Copyright © 2007, Faultline
Faultline is published by Rethink Research, a London-based publishing and consulting firm. This weekly newsletter is an assessment of the impact of the week's events in the world of digital media. Faultline is where media meets technology. Subscription details here.