Original URL: https://www.theregister.co.uk/2007/02/07/ebay_gearbox_shocker/
eBay in gearbox sex doll snap shocker
'Modded at rear' but box unaffected
Posted in Bootnotes, 7th February 2007 14:18 GMT
NSFW Any reader looking for a second-hand "Ford/Westfield/locost/kitcar type 9 gearbox" with a bit a added va-va-voom is advised to get down sharpish to this eBay auction where there's one available right now complete with "standard ratios, short nose" and "shortened gear lever included".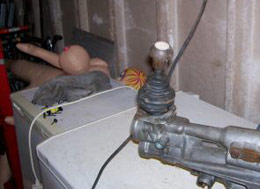 There's more, though. Try the alternative photos on offer, specifically the one shown here.
Crikey. In case you're wondering just what's the condition of the pneumatic accessory shown, the blurb helpfully explains: "Casing modded at rear to take Westfield gear lever extension, does not affect box in any way." This will no doubt come as a relief to those potential buyers who already boast a meaty gear lever extension, but prefer their boxes unmodified.
The bidding on the type 9 gearbox plus friend currently stands at a very modest 99p, with three days left to run. Go to it.
Bootnote:
Thanks to eagle-eyed Reg reader Adam Wawn for the tip-off.®