Original URL: https://www.theregister.co.uk/2007/02/06/pasemi_samples/
PA Semi starts dealing samples
'Go on. Have a taste'
Posted in Servers, 6th February 2007 02:08 GMT
Chip darling PA Semi has gone from "all talk" to "a lot of talk" with samples of the company's first processor now making their way to customers.
More than 100 companies have voiced interest in seeing what PA Semi's dual-core PA6T-1682M PWRficient chip has to offer. The potential customers span a wide range of industries and share a curiosity for the low-power, custom take on IBM's PowerPC architecture. PA Semi's first chip, as promised, eats up between 5-13W at 2.0GHz, making it a nice choice for players in the embedded and storage markets.
"The good news is that it meets our previously stated objectives for frequency and power," PA Semi CEO Dan Dobberpuhl told us. "We are delivering what we said we would do."
The chip industry has been buzzing about PA Semi for a couple of years. The company recruited top chip designers with histories at giants such as DEC, AMD and Intel. It also secured close to $100m in venture funding and has a unique design.
Like most start-ups, however, PA Semi has faced a few trouble spots on its way to production. The samples, for example, arrived a quarter late - not bad for a chip company - and the final chips will arrive a quarter late as well - at the end of this year. PA Semi has also lost two key executives and been rejected by Apple - a pair of Register exclusives.
Beyond these issue, PA Semi faces an army of detractors who complain that picking IBM's Power instruction set was a mistake given the health of the x86 market.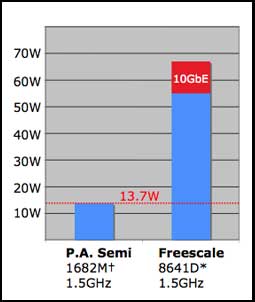 Blah, blah, blah, says PA Semi's management.
The company's new 64-bit boards consume about one-fifth the power of decent x86 server chips and perform even better against Freescale's 32-bit 8641D processor, which PA Semi sees as its main competition. PA Semi gets much of its power boost from some fancy power supply controls that let it run the CPUs at the lowest possible voltage for a given frequency and through a mind-bending 25,340 gated clocks.
You can find out just how great PA Semi's part is here.
The technology edge has been key to convincing customers such as Curtiss-Wright Controls Embedded Computing, Extreme Engineering Solutions (X-ES), Mercury Computer Systems, Performance Technologies, Splitted-Desktop Systems and Themis Computer to admit out loud that they're testing boards. All told, PA Semi has 10 customers designing boards around its chip and another 90 or so companies that have expressed interest in the product through a phone call, email or expressive facial gesture.
And, to that software issue, PA Semi touts versions of Linux, QNX Neutrino and VxWorks for its chip along with a software development kit.
With the samples now in the market, PA Semi wants to focus full-time on sales and getting next-generation products designed.
"You could characterize this as a huge relief," Dobberpuhl said. "For a start-up, we have spent a lot of money, and it feels good to get to this milestone. I think we have demonstrated tremendous capabilities, and we have to work hard to stay ahead." ®