Original URL: https://www.theregister.co.uk/2007/02/05/gates_apple_outburst/
Mac TV ads: Gates loses cool
A tale of egos, fortunes, and potty training
Posted in The Channel, 5th February 2007 10:18 GMT
Comment In his public appearances, Bill Gates often appears to be so heavily sedated that the the private, peevish Bill we know and love from his internal emails rarely erupts.
So it's with some relief we learn that normal service has been resumed, after Newsweek magazine's Steven Levy, an Apple acolyte, solicited chairman Bill's opinion of its latest TV advertising campaign, "I'm a Mac - I'm a PC".
It's no secret that the ad campaign is a continuation of a 30-year feud between Steve Jobs and Bill Gates, a tedious psychodrama between two megalomaniacs. Jobs takes Gates' success personally, as he indicated to Mark "Robert X Cringely" Stephens in the documentary series "Revenge of the Nerds":
"The only problem with Microsoft," said Jobs, "is they just have no taste, they have absolutely no taste, and what that means is - I don't mean that in a small way I mean that in a big way..."
Yes, in a big, big way.
And you can see why. Bourgeoisie Bill's career was helped by his parental connection to the business charity The United Way; IBM may well have lost patience with the tiny contractor Microsoft if Big Blue chairman John Akers hadn't indulged the son of fellow board member Mary Gates. Meanwhile, Orphan Steve was raised in the lower middle-class trades and had to acquire his own wit and nous, and develop his own sense of which technologies could be made malleable and sellable. It's entirely understandable then that when Bill made off with the loot, Steve felt cheated.
Over the years, Steve has communicated his displeasure at this injustice through pointless gestures, purchased through corporate advertising budgets. For example, while Bill was brown-nosing IBM, Steve was making juvenile advertisements about crushing IBM and liberating the human race.
So in the latest TV ads, Jobs once again gets the chance for his wheedling kind of revenge. He casts an acutely nerdy version of Bill as the part of "PC guy", and an extremely flattering version of himself as "Mac guy". They even look alike.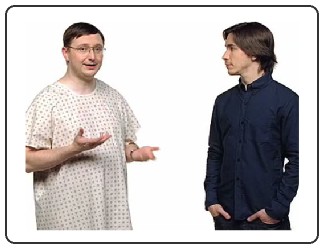 Bill Gates and Steve Jobs... as imagined by Steve Jobs
And idealistic it certainly is.
In the Jobs-directed movie of Jobs' life, the "Steve Jobs" character doesn't throw hissy-fits, doesn't persecute journalists or bloggers, and doesn't banish blood relatives and lifelong friends to Siberia (that punishment was meted out to Jobs' biological sister Mona Simpson, for daring to "reveal" in her novel A Regular Guy that the Apple founder didn't flush his turds down the crapper if the Great Man was in the middle of developing A Great Idea [see note].
Gates isn't impressed by the latest Steve vs Bill goading, but he makes the fatal mistake of showing his annoyance.
"I've never seen it," he told Levy, before revealing, in so many words, that he had.
"I don't think the over 90 per cent of the [population] who use Windows PCs think of themselves as dullards, or the kind of klutzes that somebody is trying to say they are."
A fair point, because surely most of the people who use a computer are trying to find their way to the much-fabled Intarweb, or trying to print a jam jar label - and the PC is cheap and ubiquitous.
If only Bill Gates had only possessed the good sense to leave it right there, he'd have carried the high ground.
As we've reported before, with its three per cent market share Apple has a fiendishly difficult job trying to persuade the 97 per cent of the market who use Windows that they're being stupid, without telling them that they're being stupid.
But Bill has an itch to scratch, and off he goes.
"And I don't know why [Apple is] acting like it's superior," fumes Gates.
"I don't even get it. What are they trying to say? Does honesty matter in these things, or if you're really cool, that means you get to be a lying person whenever you feel like it? There's not even the slightest shred of truth to it."
Pot, meet kettle.
The problem for Gates, which his minders must be now ruing, is quite straightforward.
When you're the market leader, you can never, ever be permitted to be annoyed by a rival. Even when your market share lead is a fraction of a per cent, to show any kind of irritation by a rival (however exaggerated the claim) is not only bad manners, but suggestive of some kind of insecurity.
The most insecure person in the PC business has just exposed his rival as being even more insecure than he is, and I bet Steve Jobs - as an austere fruitarian - will be waving an organic carrot around in triumph this evening.
We'd leave it there, but for this awkward factoid. If Jobs is so annoyed with Gates for stealing his vision, taste, and brilliance at execution - why does he still talk to him?
Rather than developing his own uniquely brilliant office technology, when Jobs returned to Apple he went grovelling to Gates to secure Microsoft's continued development of Microsoft Office for Mac and Microsoft Internet Explorer for Mac.
And yet Jobs casts his biological sister into purgatory - for revealing that Great Men take Dumps. You can rip off my ideas and my style, Jobs seems to be suggesting, and I'll forgive you. But don't ever, EVER, suggest I have a bodily function.
In an ideal world, Steve Jobs and Bill Gates would be granted a late night cable channel of their own devising. There they could create hugely expensive advertising campains about each other, and where we would never have to see either of these two hugely unappealing characters ever again. ®
Bootnote: "He was a man too busy too flush toilets... He didn't believe in deodorant and often professed that with a proper diet and the peppermint castile soap, you would neither perspire nor smell". So begins Mona Simpson's novel An Ordinary Guy (1996)