Original URL: https://www.theregister.co.uk/2007/02/05/army_tech_obsolete/
UK makes complete FIST of hi-tech soldiering
Shop online for tomorrow's fighting technology - today
Posted in Policy, 5th February 2007 15:08 GMT
Analysis Anyone who likes gadgets should give some thought to joining the infantry. Okay, the pay is peanuts, the work is grim, you'll have to live in a baking fortified camp in Southwest Asia, where you might easily get blown up, shot, or have to strip naked and fight your buddies with rollmats. But you will get some neat toys. Already the soldiery have thermal imagers, night sights, headset radios, and a military wireless network called Bowman.
And this existing gear is old hat, it seems. As well as Bowman, the British army has a project called FIST, or Future Integrated Soldier Technology. FIST doesn't include any actual weapons. It is meant "to provide an intergrated fighting system in order to improve the operational effectiveness of individuals".
The idea is that FIST will kit our lads out with a helmet-mounted heads-up display, gunsight, and helmet cameras with various kinds of imaging, GPS mapping, and probably laser range finding. All this will be tied into the Bowman network using a secure wireless link. So the squaddie of tomorrow (well, the squaddie of 2015 - if the programme runs to schedule) will be able, as they say, to "Do Amazing Things".
He'll be able to point his rifle round a corner and see the picture from its gunsights. He'll have a moving-map navigation display at last. A mere 10 years or so after minicab drivers got them. Not only will he know where he is, but so will his various bosses. Perhaps best of all, our soldier can potentially ping an enemy tank with his rangefinder and send the target coordinates out on the network. This will permit some kind of major bad news to fall out of the sky on that exact spot - a smart bomb, a salvo of artillery, or a cruise missile.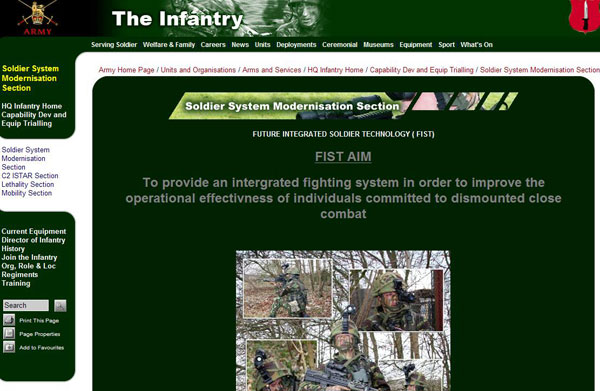 Interestingly, under current plans our soldier's basic pay will still be about £14k pa. This, despite the fact that he's doing a literally life and death, mission-critical job, personally carrying well over a hundred grand's worth of stuff and perhaps directing other things which cost tens of millions. His pension scheme is good, of course, but the sting in the tail is that the army can, and often does, throw you out after 22 years - so, in fact, most soldiers don't get the kind of pleasant retirement that, say, policemen or firefighters do. In the case of infantrymen, they're also significantly less likely to live that long.
Funnily enough, the infantry has always had recruiting difficulties. These days it's getting hard to find anyone at all, in the UK, anyway, willing to sign up. The army hasn't yet reached the point of formally outsourcing, but it does hire an awful lot of people overseas.
Any of this sound familiar to IT professionals?
Still, maybe things aren't all bad. At least a tightfisted employer like the army must be keen on value for money when it comes to sourcing the hardware – which would be good news for UK taxpayers.
Well, you might think so: but you'd be wrong. The FIST programme is to cost a cool £2bn for 29,000 sets of kit, putting each package at £70,000. The gear is supposed to be up and running around 2015. In defence-procurement terms £70,000 is chickenfeed, of course. But it would buy a pretty sexy set of gadgets, right now, off the shelf. Retail, actually.
A UMPC needn't cost more than £1,000. Even a pointlessly expensive, ruggedised mil-spec job with built-in GPS, lots of software and 3G connectivity doesn't go more than £4,000, and it might well be easier to put ordinary machinery in a suitable case. You want a heads-up display, to mount on the safety eyewear already being issued? £1,400 tops. Tough waterproof video cameras? From £100. Binoculars which will mark targets for your GPS-enabled computer? To you, sir, £2,000. It won't be long before you can buy a thermal-imaging version: the US Marines already have, at just over £6,000 per unit, over a year ago. How about a nifty thermal-imaging gunsight/helmet visor which can feed its image to your UMPC and heads-up display: just £7,000. Let's top things off with a laser-dot and tactical lamp gizmo to go under our rifle barrel.
Some of this stuff is potentially a bit delicate for field use, but in fact it's probably at least as robust as most of the gear on current issue. If troops genuinely like or need something, they'll manage to preserve it. A paper map, after all, is scarcely very rugged. Nor is an ordinary cellphone. Nor is a standard issue sleeping bag, which left to itself will become useless every time it rains. But soldiers need these things to stay alive, so they look after them.
Off-the-shelf weapons add-ons won't attach easily to the current SA80 rifle as they stand. One could equip the SA80 with standard picatinny mounting rails, of course, but it's never been all that popular even after its latest expensive refit. Why not just get a trendy new rifle that already has picatinny rails, like the Diemaco C8 favoured by the special forces, or the Heckler and Koch G36 recently selected by the London cops. Even the MoD admits that it couldn't cost more than £2,500 per weapon. Funny, that. As recently as 2001 the MoD said it couldn't afford £2,500 per man for new rifles – hence it made sense to stick with the wildly unpopular SA80 – but just a few years later the brass find that they've got £70,000-plus per man for electronics and optics. Must have left it under the sofa cushions or something.
Anyway. Now we need to hook up our soldier to the Bowman network. Theoretically, there's at least one Bowman node in each four-man team already, but the team leader's Bowman radio doesn't seem to be what you'd call a massive success. The higher echelon, mostly vehicle-mounted parts of the Bowman network are said to be reasonably functional at long last and great cost, but foot soldiers have been heard to suggest that "BOWMAN" must stand for "Better Off With Map And Nokia". Unsurprisingly, the MoD has a separate project called Integrated Soldier System (ISS) which is supposed to connect FIST into Bowman at some level above the four-man team, presumably cutting out the unpopular, extremely heavy team leader radio.
Given that most of our boys seem to wind up using cellphones anyway, we might as well go with the flow. A 3G datacard comes included with some UMPCs, or is easily slotted in. Backhaul will be available at the various higher-level Bowman nodes scattered across the battlefield or in the sky above it, and commercial pico/microcell hardware is insignificant in weight and power consumption compared to Bowman. An off the shelf solution shouldn't be difficult at all within the ISS funding.
We're pretty much there. Chuck in £20,000 per soldier for software, cables, belt pouches and so on, and another few grand for AA batteries and black masking tape. Job done, using retail gear which is available right now, for an absolute maximum of £45,000 per man. And it seems reasonable to suggest that one might get some kind of discount buying in these quantities.
So actually a unit price of £70,000 for delivery by 2015 starts to look pretty unimpressive. The more so as the FIST project team has actually been up and running for 13 years now. The cost-consciousness the army exhibits when hiring its people doesn't extend to the way it buys its equipment. Even if FIST comes in on time and budget, it would be hard to see it as anything other than behind the times, overpriced, and overcomplicated. The shooting-round-corners bit is fairly comical, for a start. Anybody who's ever fired a rifle knows that you need more than a sight picture – you also need to be able to control your weapon, which means having the butt against your shoulder.
In fact, the only people likely to be genuinely happy with FIST are the vendors. To a jaded and cynical eye, FIST looks not unlike an attempt by the UK defence sector to monetise the last part of the armed forces that wasn't bringing them any significant revenue. Even a more positive commentator will find it hard to describe FIST as impressive, certainly by the time it actually appears. Already one can buy something just as good, retail, for much less cash. By 2015, FIST is going to look like shocking value for money.
All in all, the average UK taxpayer might well prefer at least some of his or her £2bn spent on the soldiers rather than the hardware. They seem like the part of the system most in need of investment.®
Lewis Page spent 11 years in the navy, mostly as a specialist in underwater bomb disposal. Highlights of his service included commando training with the Royal Marines, and the opportunity to render safe bona-fide "weapons of mass destruction". Disappointingly, these WMDs were discovered in Wales rather than any sunnier clime. On leaving the service he wrote a book, Lions, Donkeys and Dinosaurs: Waste and Blundering in the British Armed Forces, which was so successful that it is now almost impossible to obtain, though a paperback is forthcoming. Page can be found on the web at www.lewispage.co.uk.