Original URL: http://www.theregister.co.uk/2007/02/01/roundup_valentine_day_gadget_gift_for_him/
Valentine's Day Gadget Gift Round-up... for him
Reg Hardware's first round-up of cool kit. This time, stuff for the man in your life...
Posted in Personal Tech, 1st February 2007 16:22 GMT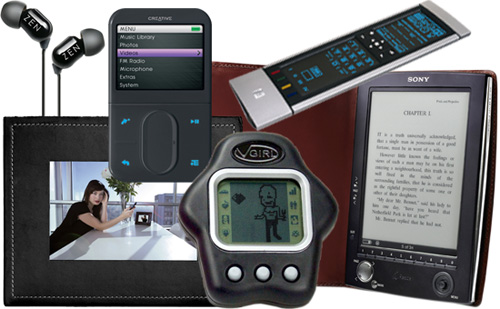 Yes, it's that time of year again when your relationship hangs in the balance dependent purely on how good the prezzie you buy your better half really is. Well worry not, you romantic fools - we've done the hard work for you. Disclaimer: if he/she thinks it's rubbish, we accept no responsibility for relationships dissolved...
Virtual Girlfriend
Sick and tired of him and fancy a change? Or do you just think he needs some practice at keeping you in the manner to which you want to become accustomed? Then look no further than the virtual girlfriend, a Tamagotchi for adults, if you will, where your boyfriend can meet, court, fall in love but have absolutely no chance of copping off with, up to eight virtual lovelies by showering them with gifts, complements and even a bit of dirty talk. Each character has her own personality, from "unhinged Goth" to "vacuous airhead", so pick the one that suits you best and get him training for the real deal. He won't know what hit him...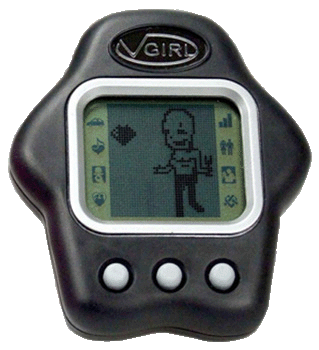 Virtual Girlfriend
---
| | |
| --- | --- |
| All the good bits without all the bad bits? Hmmm... Still, some blokes out there really need the practice... | |
Dooney & Bourke Limited Edition Sony Portable Reader
A tenuous Valentine edition of Sony's excellent e-book this may be, but we love it nonetheless. And that crocodile-esque textured red leather cover is enough to have him stroking away long after he's tired of actually reading anything. Talking of reading, you can use the e-book's software to search online from thousands of book titles, transfer something suitably romantic to its in-built memory - may we suggest Shakespeare's Romeo and Juliet. No? OK, how about Fiona Locke's Over the Knee, ahem - and leave him happy with his half-inch thin new techno toy.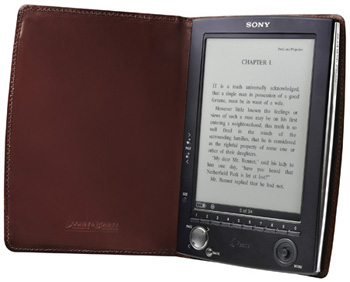 Sony Reader PRS-500-U2DB
---
| | |
| --- | --- |
| A novel take on the old-style... um... novel. But it may be a modern classic... | |
Creative Zen Vision:M and Aurvana in-ear 'phones
Show him you really care with the award-winning iPod nemesis, Creative's Zen Vision:M coupled with a set of Aurvana in-ear 'phones. While the Vision:M has the capability to keep any man occupied for hours on end thanks to its capacious 30GB or 60GB memory that can hold thousands of songs, tens of thousands of photos and hours of video, all displayed on the crystal clear 2.5in screen, it's the Aurvanas that signify the piéce de rèsistance. Why? Simple: these in-ear 'phones are among the most effective noise-blockers we've ever come across. Once in his ears, he won't be able to hear a single word you're saying. True love indeed.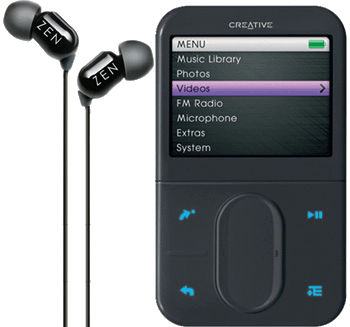 Creative Zen Vision:M and Aurvana earphones
---
| | |
| --- | --- |
| Come in, iPod, your time is up... | |
Parrot 7in Photo Viewer
One of the boom areas of technology over the last two years, the digital photo viewer has morphed from naff novelty gadget to picture frame for the 21st Century. And Parrot's excellent Bluetooth-enabled seven-incher is a stellar example guaranteed to brighten up any man's abode. Available with a variety of frames - we like the leather - it can store and display up to 500 photos on that bright and clear screen in either freeze-frame or slideshow style, and automatically rotates the image to landscape or portrait depending on your taste. Load it up with 500 pictures of you and never let him forget what he's got...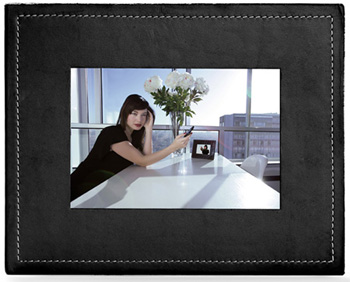 Parrot 7in Photo Viewer
---
| | |
| --- | --- |
| Back-lit digital picture frames are the way forward, and this one is among the front runners... | |
One-For-All Kameleon UCR8308 remote control
If there's one gadget guaranteed to make him feel like a man in command, it's a remote control. And they don't come much more controlling than the Kameleon 8308, a touch-control remote that not only takes care of up to eight gadgets like TV, DVD player, amplifier, Sky+ and stereo, but can also control up to 256 lights to create the ultimate mood for your Valentine evening's activities. Just hook up an OFA lighting system and while he turns down the lights for the latest Steven Segal actioner you can kid yourself it's because he's being romantic.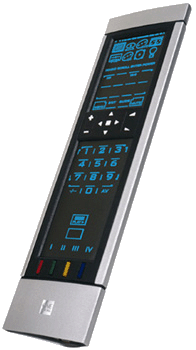 One-For-All Kameleon UCR8308 remote control
---
| | |
| --- | --- |
| Finally, complete control... Mwahahah-hahaha!!! | |
Verdict
There's no doubting Valentine's Day is the weirdest holiday of the year. You don't get the day off work, it sucks if you're not in a relationship and if you are, it can suck even worse with the pressure on to make it great and keep the fires of love a-burning. But we think you'll agree, with this little lot to stoke the embers, it should be an evening of unabashed romance for all and sundry. Probably...