Original URL: http://www.theregister.co.uk/2007/01/26/review_nokia_n800/
Nokia N800 internet tablet
It's a phone... but not as we know it...
Posted in Personal Tech, 26th January 2007 11:16 GMT
Review The original Nokia tablet, the N770, was something of a departure for the Finnish phone maker: here was a device without cellular connectivity, running a Linux-based OS, and generally unlike anything Nokia had produced before. So here we have an updated version, the N800. But is it a phone or not, that is the question?
The N770 was widely considered an aberration: a skunkworks - officially non-existent - project that had reached fruition and might provide an interesting platform for development or demonstration. Some technical staff convinced their bosses to buy them an N770 on that basis, and some bought one for themselves, but sales were minimal and the whole thing generally had nothing to do with the mobile phone business.
The N800 still feels like a skunkworks project: it lacks the finesse of a typical Nokia product in both usability and stability, and it's unclear quite who the product is being aimed at. But it does offer some real new usage models and a glimpse to a future where handset manufacturers are no longer beholden to network operators to get their products to consumers.
Larger than all but the most unwieldy mobile phones, the front of the N800 is filled with an exceptionally clear screen, offering 800 x 480 resolution. The screen is touch-sensitive, usable with a finger, but easier with the stylus that slides out from the back of the device. The screen lacks the surface film visible on most touch-screen devices - and thus the reflection that goes with it, making N800 clearer and brighter than similar devices.

The interface is driven from a Home screen comprised of applets that can display data as well as providing shortcuts to applications. Examples include an RSS display, an internet radio player, a contacts list and a clock. Clearly Nokia is hoping that third-party developers will create new applets, as well as other applications for the platform. Installation of additional applications is automated, and though there is currently only one available - a streaming media client, which works well - the process is simple and intuitive. Installed applications can be accessed through the menu system, using either on-screen controls or buttons.
For one-handed use, the buttons are a better option than stabbing at the screen with a thumb; a four-way rocker switch, with a central selection button, allows control of most applications and is mounted on the front above three buttons allowing access to context-sensitive menus. On top, a button hides all the menus; allowing full-screen web browsing, while two more provide zoom functions or volume control depending on the application. The last button is for power, though this isn't a device that will often be turned off, and is also used to lock the keys and screen.
No attempt is made to protect the screen, which survived a week in a jacket pocket without difficultly, so it's as robust as any average handset. On the side there's a standard headphone jack and (new style) Nokia charger connection, a folding stand swings out to reveal an SD Card slot. Lastly comes the video camera, which pops out from the left of the device, and prompts the device to ask with whom you would like to establish a video call with.
For while this device is not a phone, or at least lacks the cellular connectivity normally associated with a telephone, it can make and receive phone calls using VoIP over a Wi-Fi connection. Google Talk comes pre-installed on the device, while a Skype client will be available for download, allowing voice and video calls to be made as long as Wi-Fi connectivity is available.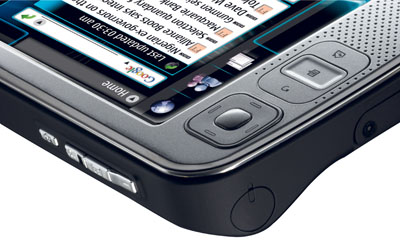 Wi-Fi is certainly the preferred connection mechanism for the device, which will happily connect to a network, download RSS feeds and email, and disconnect, all without the user being aware. Indeed, whilst wandering around London with the N800 in my pocket it had been downloading up-to-date information without my knowledge. In a mobile phone such behaviour would be annoying, as it would probably incur network charges, but on a Wi-Fi tablet it was pleasant to have this information close to hand when I wanted it, without having to think about when to connect or where.
The Wi-Fi capability of the N800 was generally impressive; it managed to find access points that were too distant for my (much larger) laptop. However, while it was frequently able to connect to hotspots with weak signals it would equally often refuse to connect to hotspots with good signals.
Reliability is a serious problem for the N800, and would certainly test the patience of most users. The device crashed on a daily basis, especially if disconnected from a Wi-Fi connection while downloading data, something more likely with a device of this kind. While no data was ever lost, the N800 did sometimes require removal of the battery to get started again. When it didn't crash the battery life was impressive: happily staying on standby - still regularly trying to connect and update over Wi-Fi - for days and allowing hours of usage without a problem.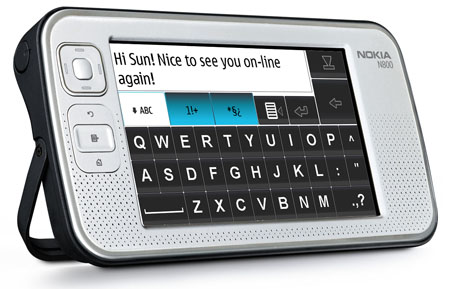 Verdict
Maintaining a connection in order to receive calls will seriously reduce the battery life and make wandering around impossible, but that must be weighed against the cost saving of not having a mobile phone. The fact that capabilities such as Skype are coming later is indicative of how Nokia sees the device; users are expected to add new software, and update what they have, so stability and functionality should improve over time.