Original URL: http://www.theregister.co.uk/2007/01/25/hp_tv_kamb/
Exec slaps HP with pretexting and Dell hunting charges
While his ex-wife discloses HP's TV sham
Posted in The Channel, 25th January 2007 01:28 GMT
Analysis Sex, lies and flat panel TVs. Dear lord, what has become of HP?
In November of 2005, HP struck out at a group of former executives. It alleged in a lawsuit that the employees used HP's intellectual property, research and funds to create a flat panel TV start-up on the side. At the same time, the workers advanced HP's own flat panel TV business, although with less efficiency than their own endeavor, according to HP.
HP remained clueless about the whole affair until the "ring-leader's" wife served the company with a subpoena during her divorce proceedings. She wanted to know what HP knew about byd:sign Inc., and HP became very curious.
One fantastic lawsuit, however, deserves another. "Ring-leader" Karl Kamb returned fire last week with a lawsuit of his own. And what a lawsuit it is.
Kamb's complaint leads with the "I learned it by watching you" charge familiar (video) to anyone growing up in the US during the 1980s.
In its lawsuit, HP knocked Kamb, the former VP of business and development in Japan, for violating the company's code of conduct and various non-dislcosure understandings.
So what? - Kamb asks, having watched HP implode in the public over the past few months as a result of its reporter and executive spy scandal. "HP expects each of its employees to exhibit 'loyalty' and 'a personal commitment' to the company," his lawsuit states. "HP, however, does not adhere to its own rules.
"For the past several months, HP has been embroiled in a scandal concerning its own ethical misdeeds. Headlines across the country have reported that HP engaged in improper attempts to obtain the telephone records of its own board members, its own employees and members of the media."
And then you get the kicker.
"Karl Kamb is a victim of HP's use of pretexting."
Kamb's lawsuit claims that HP and its "co-conspirators" used information such as his social security number to weasel phone records out of T-Mobile and Sprint.
Even more titillating, the lawsuit portrays HP as instructing Kamb to pay for intelligence about Dell's entry into the printer market. Kamb contacted a Japanese consumer electronics whiz who obtained the desired dirt on Dell and then asked HP to channel its payments through a third party, the lawsuit alleges.
HP, which characterized Kamb's counterclaim as "wholly without merit," can blame itself for opening the gateway to such lawsuits. The company's self-inflicted spy wound makes the pretexting and lack of ethics charges appealing to any party battling HP in court.
"You want to mess with me? Fine, we'll just rehash your spy issues in the press for a few months."
That said, a lengthy confrontation between HP and Kamb appeared inevitable, spy scandal or not, if you read the two sides' complaints.
The HP Way
As HP sees it, Kamb, a former Compaq and then HP executive, recruited a number of helpers during his time in Japan to form a TV and consumer electronics start-up. The helpers included some of HP's top executives such as its director of HP Labs in Japan Mark McEachern and other finance and strategy chiefs, HP alleges.
The start-up "would be separate and apart from HP, and the enterprise would design, develop, manufacture and sell flat panel televisions, monitors and other devices obtained in Japan and East Asia - precisely the kind of products and opportunities that Kamb, McEachern and (others) were supposed to be finding and developing on behalf of HP," HP alleges in its lawsuit.
HP goes on to claim that Kamb channeled HP's funds to a Japanese electronics expert named Katsumi, the former president of Dell Japan, through an LCD maker called Dinner Inc. and through a consulting firm "Imagine That." Some of these consulting fees were then returned to Kamb from "Imagine That," according to HP's lawsuit.
Next, HP alleges that files on company computers, which survived "despite some of the defendants' attempts to erase them" - show the workers and the consultant forming plans to set up a company called byd:sign, which would make LCD and plasma TVs, DVD players and other consumer goods.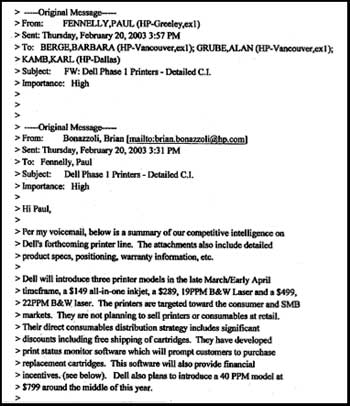 By August of 2003, Kamb had purchased the rights to the byd:sign web site, done some negotiating with the US Patent Office and incorporated the company in Texas. "Emboldened" by these moves, Kamb informed his boss that he was "not feeling the love" at HP and had started considering other options. Not wanting to let a star worker go, HP threw more money at Kamb and offered to help him "feel the love" by giving the executive more responsibility.
One month later, Kamb had both a raise from HP and funding for byd:sign. But, despite his side ambitions, he still pitched the flat panel TV business and strategy to HP executives, who "reacted enthusiastically" and planned a meeting between Kamb and CEO Carly Fiorina.
Fiorina in October of 2003 did in fact hear Kamb's ptich.
"Fiorina endorsed Kamb's proposal, and HP placed Kamb on the team in charge of developing that business strategy - unknowingly placing a fox in the henhouse," HP confessed.
Naturally, Kamb then tried to get HP to buy TVs from byd:sign, HP alleges, and started sending confidential documents to his coworkers at the start-up.
HP went on to pay byd:sign $250,000 over three months for consulting services.
Meanwhile, byd:sign started pumping TVs into the US and Japanese markets, while HP still studied the feasibility of such a move.
At the 2004 CES Show, "HP CEO Carly Fiorina publicly announced HP's intent to enter the flat panel television market. HP's display at the show included HP prototype LCD and PDP televisions, which, unbeknownst to HP, were the same televisions that had been manufactured for byd:sign with only the front bezels modified to include HP logos."
It took until March of 2005 for HP to confront Kamb about byd:sign, according to the lawsuit. The executive "denied having any affiliation" with the start-up.
Things, however, changed in August of 2005 when HP received a subpoena from Kamb's wife, who - HP was kind enough to point out - filed for divorce from Kamb citing "adultery." The subpoena asked for information relating to byd:sign, and HP finally got a clue. And now to Kamb's side.
Kamb, of course, sees things very differently from HP.
According to his lawsuit, the Japanese chap Iizuka was not a personal consultant helping out with the start-up but rather the informant HP hired to spy on Dell. In addition, Kamb did not take kickbacks from Iizuka or use HP's money to fund his own start-up.
"Due to the highly covert nature of the Dell data collection project, certain persons within HP erroneously assumed that Kamb had misappropriated funds that were intended for Dinner," the lawsuit states. "HP also erroneously believed that Kamb was using those funds to form a competing company. As a result, HP engaged in clandestine acts to obtain Kamb's private telephone records through false pretenses in order to confirm its suspicions."
Kamb claims to have been called by a supposed T-Mobile worker who asked for his PIN number, which Kamb refused to handout. He then called T-Mobile to report the incident and was told T-Mobile had made no such call. Still, "HP obtained access to Kamb's confidential social security number and billing address" through his employee file and used the data to grab his phone records, according to allegations in the lawsuit. Similar incidents occurred with Sprint.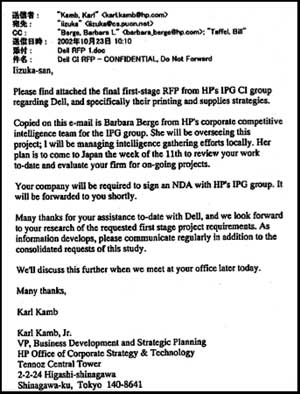 After being visited by HP investigators, Kamb complained to HP's ethics chief and spy scandal star Kevin Hunsaker about the tactics. "Hunsaker purported to speculate that the attempts to access Kamb's phone records were likely perpetrated in connection with his pending divorce proceeding in Texas."
Cough.
Kamb's lawsuit then cites a memo written by HP's lawyers during the spy scandal which states,
Hunsaker first learned that HP had used pretexting to obtain phone records in July 2005 in connection with an unrelated HP investigation. One of the subjects of that investigation was going through a messy divorce, and his attorney contacted Hunsaker claiming that HP had tried to change his PIN to access his voicemail. Hunsaker's team told him they had not altered the subject's PIN or voicemail, but had used pretexting to obtain phone information about the subject.
Cough.
"The claim that pretexting was involved in this investigation is, to the best of our knowledge, patently untrue," HP said in a statement to The Register.
And the lawsuit goes from there to wag a finger at all of HP's spy scandal cast of characters, including Hunsaker, former Chairwoman Patricia Dunn and hired snoop Ron Delia.
The totality of this mess points to how seriously HP took Dell's entry into the printer market, despite public claims to the contrary. The exhibits in Kamb's lawsuit show executives scrounging for every last detail about Dell's rebranded Lexmark products. And, at about this same time, HP employees were in fact complaining about a printer company spying on them.
As the squabbles between HP and Kamb make their way through court, more dripping details are sure to leak out. Sadly for HP, the juicy counterclaims are much more believable these days than they were a few months ago. ®