Original URL: https://www.theregister.co.uk/2007/01/17/review_lacie_ethernet_disk_raid/
LaCie Ethernet Disk RAID 2TB entry-level NAS box
Nice price, shame about the performance?
Posted in The Channel, 17th January 2007 12:02 GMT
Review Two terabytes of network-attached storage SATA-based RAID storage and an iSCSI desktop disaster recovery platform all within one small compact unit for under £900? Seems unlikely, yet LaCie, with a little help from its friends, appears to have pulled it off. Or has it..?
The imaginatively titled Ethernet Disk RAID is the first released result from LaCie's new storage partnership with Intel - a bold decision to move away from own-manufactured products to an OEM line built by a white-box builder. This premier product is intended to be a pro NAS box for a small- to medium-sized business, a marketplace in which Intel is already successful having launched the Intel Entry Storage System SS4000-E in March 2006.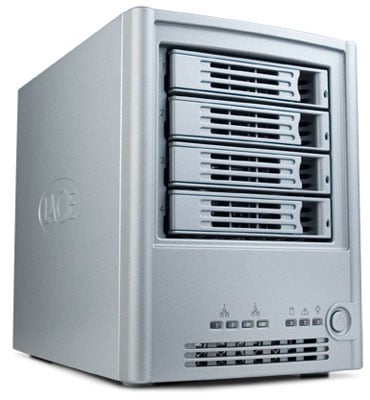 In fact, this is the very same product, just rebadged by LaCie and accompanied by four 500GB Hitachi SATA II drives making the maximum 2TB of storage supported as a single space. Intel doesn't supply its SS4000-E with hard drives - they're left to the end-user or system builder to acquire and fit.
The XScale 400MHz processor is reasonable for the system's operational needs. This is bundled with an non-upgradeable 256MB of DDR SDRAM for memory and an OS based around a Linux 2.6 kernel co-developed by FalconStor - a company with a good history in storage. We were puzzled to see the disk connections were the 1.5Gbps SATA I when 500GB drives only ship in the 3Gbps SATA II variety. This means the drives will step down in performance and run at a compatible SATA I throughput, not a problem as such, but a surprising discovery nonetheless.
The Ethernet Disk RAID arrives as just an open chassis, with four open bays for the hard drives. The drives are included in the pacakge. Starting from drive installation and running through a few configuration wizards on its web-based administrator console, the product was up and running within 15 minutes. An impressive time to achieve a near-complete setup, although the full synchronisation of the RAID array drives is performed once the system is active and optional.
All the usual RAID and drive configuration suspects are here, from native, single-space storage to the surprisingly high-end RAID 5 with hotspare. As that level of complexity is unusual in an entry-level system like this one - but a pleasant surprise nonetheless - we opted for that ourselves. The first option given for allocating the size of 'shared folders' - user storage space on the Ethernet Disk RAID - is only 200MB, with the remainder to be used for the storage of iSCSI-based hard drive back-ups.
The iSCSI-based desktop backup and recovery system the Ethernet Disk RAID exclusively uses a portion of the storage space for this purpose alone, once configured no longer accessible by any other means. This reduces the available storage space on the NAS for data, so how much space to allocate to this partition, if any, needs careful consideration. After all, 200MB per-user isn't much these days.
Only a complete system rebuild and reconfiguration will free up any space at a later date, not the most amenable practice by any means. The software used in backup and recovery - also by FalconStor - is intuitive and easy to use. Only one client licence was provided - presumably for evaluation, as the NAS system is marketed and sold with a disaster recovery feature set and can support a maximum of 128 users. More licenses can be obtained directly from Intel, but this could be quite costly. An additional need for this software to function is the Microsoft iSCSI initiator, to be installed on each and every system that is backed-up. This changes the overall build of that PC, which might not go down well within some IT departments.
Connection to the network is provided by two autosensing Gigabit Ethernet ports, the second of which can also be used to issue IP addresses by way of a DHCP server in the OS. Otherwise this port needs to be on a different subnet or network, not an ideal solution. It's not possible to use the two ports for load balancing on the NAS traffic or in a fault tolerance scenario - quite common with two ports present and noticeably absent here.
The default IP address - 192.168.0.101 - of the Ethernet Disk RAID initially clashed with another device on our test network causing some minor problems. This is down to the old firmware, version 1.1, on the review unit. Future firmware versions will obtain an IP address automatically so this problem won't arise from the end of January when LaCie will be shipping the next firmware release, version 1.3.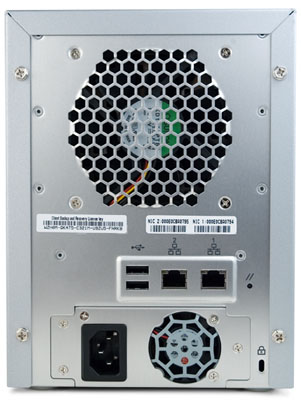 There have been many significant changes made to the firmware since Intel began shipping this unit last year that show how much the system has been developing. At one stage it couldn't accept files larger that 4GB. The web-based administration utility was originally only accessed using HTTP and not the secure HTTPS. Active Directory was not supported until recently. Active Directory can take over all accounting on the NAS, which is beneficial and less of a headache. There's a good level of support for operating systems connecting to the NAS ranging from popular ones, Windows 2000/2003/XP to Linux from Kernel 2.6 upwards, with Mac OS X.
Down to essentials. We found transferring files let the system down tragically with the slow speed of transfer rates, even over Gigabit Ethernet connection. This is all due to the RAID system being controlled by software rather than dedicated hardware thus creating substantial overheads and a burden on the system. Although this is what you would expected in an entry-level platform, we were still quite surprised how much of an impact it had. With only 6.5MBps transfer speeds at Gigabit level on just one file, with the LaCie Ethernet Disk RAID being in a RAID 5 with hot spare configuration. This severely outweighs its usefulness as a main network-based storage device, as we even saw through the web-console the processer was running at 100 per cent capacity just for this - a cause for concern.
Verdict
As an entry-level NAS product LaCie's Ethernet Disk RAID appears to hit all the right notes. It offers a good potential amount of disk storage, an easy to use administration web-console along with a good range of bonus features found in the iSCSI-based backup, among others. What lets it down is the transfer speed.
Still, in a small company and used just for additional rather than primary storage it will be adequate system and an affordable one. You'll be hard pushed to find a more-cost effective way of adding 2TB of storage to the network. ®