Original URL: http://www.theregister.co.uk/2007/01/15/review_devolo_dlan_200_avdesk/
Devolo dLAN 200 AVdesk HomePlug AV network adaptor
HD-ready wired networking over your home's powerlines
Posted in Personal Tech, 15th January 2007 12:02 GMT
Review Driving data over mains power cables is nothing new, but products based on the latest, fastest incarnation of the HomePlug Ethernet-over-powerline standard have only recently started to appear, over a year after the specification was finalised, in August 2005. The new version of the standard delivers a claimed bandwidth of 200Mbps and is called HomePlug AV. The 'AV' is the clue to what it's for - this is the version of powerline networking designed for the HD era...
Here's the pitch: a 1080 HD stream fills about 20 megabits (Mb) of network capacity every second, HomePlug AV has the bandwidth to deliver multiple HD streams around the home today, while a wireless equivalent isn't due to be formally standardised until late next year.
That said, there are 802.11n-derived wireless products on the market, even if they're based on early drafts of the specification and not its final implementation. And they're not yet guaranteed to be interoperable with similar kit from other vendors.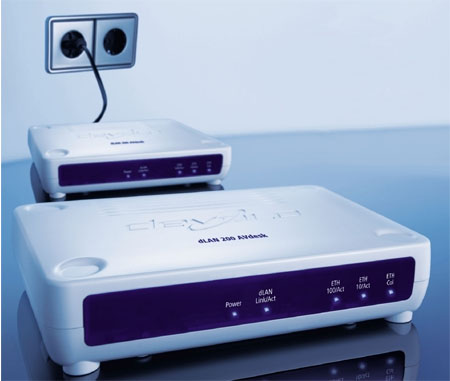 HomePlug AV kit is here, however. Devolo began shipping its dLAN 200 AVdesk adaptor in November 2006, and the product arrived in the Reg Hardware office on the same day as UK supplier Solwise's own 200Mbps powerline Ethernet adaptor. Both are based on powerline networking chip maker Intellon's recently released INT6000 chipset. That should be enough to ensure compatibility with each other, though not with non-HomePlug devices such as Netgear's HDX101 unit, which is based on different technology but one that also claims to deliver a 200Mbps raw - aka PHY - throughput.
Netgear's product has been out for some time, getting to market earlier than HomePlug AV-based offerings by using an incompatible chipset from DS2 which uses technology originally designed to deliver broadband over mains transmission lines. I'll be looking at the HDX101 and Solwise's HomePlug AV product in the very near future, but it's worth stressing the compatibility aspect up front.
Netgear's HDX101 is incompatible with the HomePlug AV-based kit, which in turn are incompatible with the older HomePlug 1.0 14Mbps and 85Mbps - aka HomePlug Turbo and HomePlug 1.0 Plus - specifications. They are, however, all capable of co-existing on the same cabling, so if you're connected your Xbox to the internet using a pair of 85Mbps units, you can still plug in a pair of 200Mbps to link, say, a set-top box and a remote media player.
But back to the Devolo box. The dLAN 200 AVdesk looks not unlike an old-style external analogue modem. There are a series of LED status lights behind a wide blue panel on the front, and the 100Mbps Ethernet and power ports on the back. The base has four notches to allow you to wall-mount the unit in either portrait or landscape orientation - a nice touch. So too are the dips on the AVdesk's upper surface placed to take a second unit's feet should you need to stack these things.
Incidentally, a plug form-factor unit, like Devolo's MicroLink dLAN Highspeed I reviewed early last year, should be shipping by the time you read this.
Installation is simple: plug the unit into the mains then connect it to a computer, network router or other device. Once a second unit's powered on, the two register each other's presence very quickly, which is handy if you're the sort of person who likes to turn electrical gadgets off at night, or someone accidentally pulls the plug on one of them.
Devolo provides software tools to set the network's encryption passphrase - encryption has been upgraded to 128-bit - that run not only under Windows but also Linux and Mac OS X, the latter now as a Universal binary for both Intel- and PowerPC-based Macs. The app allows you to set the password on any networked units remotely, but you do need to enter the security code stamped on the base of each adaptor to authenticate it as part of your network.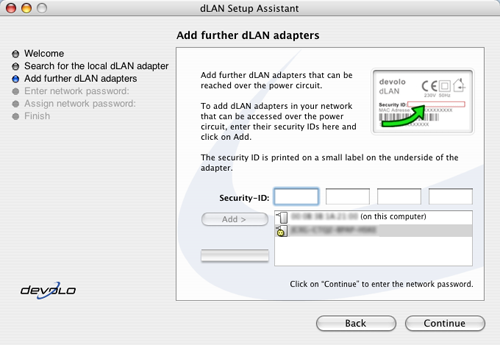 That's essentially it as far as network security goes, but unless you're living in a block of flats that share a meter, you're unlikely to risk treading on someone else toes. Just make sure you set your network's password to something other than the default. Networks can host up to ten nodes easily - you can go up to 32, but on-device memory issues reduce the effectiveness of the network beyond ten adaptors thanks to the way each builds and stores a connection map to all the other nodes.
Some readers may have spotted that the Devolo box uses a 100Mbps Ethernet port - surely a big limitation for a networking technology that runs to 200Mbps? So you might think, but 200Mbps, like 802.11g Wi-Fi's 54Mbps, is a raw, ideal-world data rate and real-world speeds are much slower. You can knock at least 50Mbps off the maximum to cover all the error correction codes and other network protocol traffic that uses up bandwidth. According to Intellon, the best you're ever going to get out of HomePlug AV is 120Mbps, and once signal attenuation over the power cabling has taken its toll you're down to 100Mbps or less. The bottom line, the company told me, is that the 100Mbps delivered by the Ethernet port is plenty for now.
Indeed, the best Intellon guarantees for its chipset is the ability to host two HD video streams simultaneously. That's essentially 40Mbps in total - well within the Ethernet port's capabilities, but not quite what some buyers might have hoped for.
I used two dLAN 200 AVdesk units to connect a MacBook Pro and a Sony Vaio notebook between upstairs and downstairs rooms in my apartment. By necessity, the upstairs box was connected to a small extension cable. Powerline Ethernet adaptor suppliers warn against using multi-socket boards, but I had to and so, I suspect, will many other users. The key, I'm told, is to make sure the board doesn't contain surge-protection circuitry - that's the killer. For testing, I used a simple two-socket extension cable with nothing plugged into the second socket.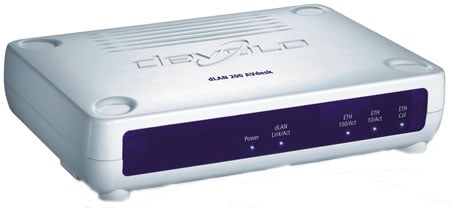 First of all, I shared a folder on the PC and used it to copy almost 4.5GB of data across the network. Windows' SMB file-sharing system isn't the most efficient of protocols, and the data took 20m 12s to transfer, or 29.44Mbps. That's rather better than the 20.86Mbps I got from Devolo's 85Mbps product.
I also used the open source network testing tool iperf to measure the link's TCP bandwidth and got 43.5Mbps - just over the guaranteed minimum. Compare that to the 11.6Mbps I got from my 802.11g wireless network - in the vicinity of six other WLANs - using the same test.
Using the open source media playback and streaming application VLC, I was able to stream a 1080i HD video in MPEG 2 from the PC to the Mac with no trouble at all. Simultaneously streaming a standard-definition video from the Mac to the PC was likewise smooth at both ends. Replacing the SD stream with a second 1080i HD stream was less successful, causing occasional distortion to the Mac's incoming stream, but plenty at the PC end.
To be fair, that was more to do with the processing burden placed on the three-year-old Vaio than a network bandwidth limitation. With a more powerful processor and a more up-to-date GPU, the PC wouldn't have been so handicapped. Indeed, I've seen the Devolo boxes demo'd steaming two HD streams and a SD stream simultaneously, albeit on a simulated real-world room-to-room powerline link rather than the real thing.
Back to my results, compare that to streaming the HD over my 802.11g WLAN via an access point: I couldn't get the HD to play beyond the opening frame. The 85Mbps Devolo boxes managed a single SD stream with no problems but two SD streams together yielded occasional picture break-up. Swapping one SD stream for 1080i HD content produced an unwatchable, broken picture.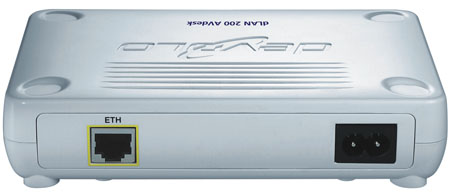 You may fare better, because so much depends on the quality of the electric cabling in your home or office and what else you've got connected at any given time, though I found the network to be pretty robust with a range of household appliances plugged in and operational. The problem is, how are you supposed to know what you'll get before you buy and try?
More importantly, of course, is the extent to which you expect to be sending HD content around your home. Devolo's 200Mbps product is slightly more expensive that its regular 85Mbps kit - a two-unit starter kit costs £180 for the HomePlug AV version, £120, for the older standard - but the 60 quid difference isn't exactly bank-breaking. But if you don't need to, why pay it? For example, 85Mbps is entirely adequate for internet browsing and network-level file-sharing, if you're finding you WLAN's airspace is too crowded, or you need to connect a wired-only device such as Sling Media's Slingbox in one room to a broadband link in another.
Verdict
Devolo's dLAN 200 AVdesk brings solid, standards-based HD-ready content streaming to the home via mains wiring. But if your hard drive's not packed with HD video you want to send to your TV, you may want to wait for technology to get cheaper. ®