Original URL: http://www.theregister.co.uk/2007/01/12/review_abit_kn9_sli/
Abit KN9 SLI Socket AM2 motherboard
SLI for less
Posted in Personal Tech, 12th January 2007 12:02 GMT
Review Built around Nvidia's nForce 570 SLI chipset for Socket AM2, the KN9 SLI generated a fair amount of pre-launch anticipation based, not only on the chipset, but also its clean layout, expected selling price and well-rounded spec sheet. Was that anticipation justified?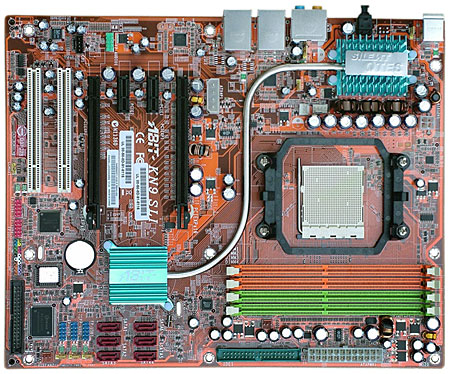 For around £80, the KN9 SLI features a variety of gamer-friendly features, including Nvidia's FirstPacket technology, a chipset-controlled system allowing the user to configure precisely how game data, VoIP and file transfers are prioritised over the network. In addition, dual Gigabit Ethernet takes care of LAN requirements while visuals are hurried along by the implementation of SLI allowing a pair of suitable graphics cards to run in tandem.
One of the primary differences between nForce 570 and nForce 590 chipsets is that the latter offers two full-bandwidth, 16-lane (x16) PCI Express channels while the 570 allows for only eight-lane (x8) channels. In gaming terms the difference between dual x8 and dual x16 SLI implementations will range between minimal and nil, certainly based on current games and graphics hardware.
Using Abit's now familiar orange and bronze PCB colour scheme, the KN9 SLI is a distinctive-looking board. The orange and green memory slots are quite tightly spaced which can potentially make for less efficient cooling with all slots populated. Somewhat confusingly, Abit has also chosen to use the same colour for adjacent memory slots rather than colour-code them according to memory channel.
Both the ATX power connector and the single ATA133 IDE connector are placed well out of the way on the perimeter of the board and all six SATA connectors are readily accessible, even with longer graphics cards in place. In addition to the four hardwired USB 2.0 ports there are three on-board headers for a further six ports, four of which can be exploited using the supplied expansion bracket. There's no bracket for the last two but with the majority of cases now equipped with USB ports this shouldn't be a problem. The same expansion bracket also comes with a four-pin and a six-pin FireWire port for the two onboard FireWire headers.
Other than those already mentioned there aren't many more rear I/O options. There are, of course, the usual PS/2 keyboard and mouse ports, and an optical S/PDIF output alongside six 3.5mm audio jacks, but that's all you get. With air-flow and cooling in mind a large, yawning gap between the I/O connectors exists to accommodate a beefy heat sink. This not only draws heat from the power regulators beneath it but also disperses heat via a winding S-shaped heat-pipe rising from the MCP. Abit calls this the Silent OTES (Outside Thermal Exhaust System) and, while it's usually sufficient for heavy loading, your case needs to have adequate airflow if it's to work efficiently.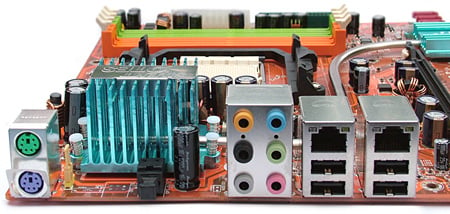 Tucked away close to the capacitors above the CPU socket are the main four-pin CPU fan header and a three-pin system fan header. Both are tricky to get at, more so if the board is already installed and cabled up. Two additional fan headers make it possible to set up a fairly comprehensive board-driven cooling system. Additional power requirements are met through a standard four-pin 12V auxiliary connecter near the right-hand edge of the board, while a four-pin Molex power connector, sited alongside slot one, provides extra juice for the PCI Express slots.
In total there are six expansion slots with two standard PCI slots and two x1 PCIe slots accompanying the two graphics slots. With no redundant spacing between them you'll block a PCI and a PCIe slot by installing a pair of double-width graphics cards.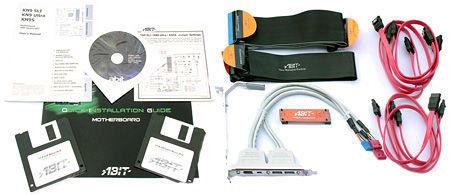 In audio terms, the KN9 SLI utilises the ever-popular Realtek ALC883 7.1+2 HD codec offering 7.1-channel output plus an additional two independent stereo channels for multiple streaming. The codec also supports Beam Forming technology though no hardware is included to exploit it. S/PDIF digital in and out also feature in the ALC883's specifications but despite the presence of solder points and screen printing on the board for both input and output, Abit only includes an output. As we've come to expect, audio quality was excellent but it can't compete with discrete high-end offerings.
Moving on, the KN9 SLI's initial Award BIOS offered relatively few hardcore tweaking options. Abit quickly realised this was a mistake and has since released a more feature-rich version. CPU clock frequencies are now selectable from 200MHz through to 400MHz, PCI Express frequencies range from 100MHz to 145MHz, vCore ranges up to 2.10V and memory voltage climbs to 2.30V. The usual array of memory clock settings are available covering 400MHz, 533MHz, 667MHz or 800MHz and all the typical memory parameters can be manually set to taste. Of course, all these can be left at their default or automatically defined values making life simpler for those who'd rather not scour the murky depths of their system BIOS.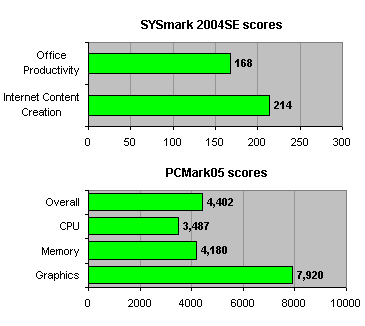 Testing was performed using an Athlon 64 X2 4600+ at its stock 2.4GHz. For graphics we used a pair of Sparkle 512MB GeForce 7950 GTs, which we ran in SLI configuration at their default 550MHz GPU and 1.4GHz memory frequencies. 1GB (2x 512MB) of Kingston DDR2-8500 memory, a Seagate Barracuda 7200.7 hard drive and a 420W Tagan PSU completed the test system.
General performance and stability under extended testing were excellent, and despite some very flaky early BIOS revisions and some inconsistency issues with the latest revision, I didn't run into anything that could be considered serious. Of course, the fact that there have been almost monthly BIOS updates since the end of May suggests that Abit rushed this board out of the gate, or at least released it without thorough in-house testing.
That said, things like improved memory compatibility and the inclusion of a functioning PCI Express frequency lock all served well to dismiss some initial gripes while early POST problems seem to have been all but eradicated, with our particular hardware setup at least.
Verdict
Aggressive pricing, a passively-cooled design and decent stock performance all count in the KN9 SLI's favour but it's difficult to feel any respect for a product that seems to have been nursed through teething problems. It may be that the next BIOS revision will transform this into the must-have Socket AM2 motherboard in its class, but from our point of view it's a genuinely excellent motherboard that fails to inspire confidence in the long term. ®