Original URL: https://www.theregister.co.uk/2007/01/10/review_evesham_iplayer_hd_media_centre/
Evesham iPlayer HD 80GB DVR
Extra definition for couch potatoes
Posted in Personal Tech, 10th January 2007 12:02 GMT
Review Evesham's iPlayer is a Freeview box with a difference. With a built in hard drive, HDMI output and the ability to receive HD broadcasts it would be remarkable enough, but it also manages to fit an internet connection and network media player into the box too, making it potentially the only set-top box you'll ever need...
The original iPlayer was a very popular set-top box, combining a Freeview receiver with internet access, and the new model, sold by UK PC supplier Evesham, builds on that. As well as receiving the standard-definition Freeview broadcasts, the new iPlayer can decode High Definition using the H.264 codec, should the current tests in London ever move to a full broadcast service. And since HD isn't much use with a SCART connector, the box sports HDMI too.

There's an Ethernet link as well, so you can connect to your network and browse the web, or play back media files stored on your PC. There's also a USB port, a SECA2 card slot for pay TV and an 80GB hard drive for recording without messing around with tapes. In theory, it's a pretty attractive proposition, helping you go digital, giving you access to media on your PC and being fairly future-proof into the bargain - all in a compact box, too.
For £300 you receive the box, a SCART cable, remote control, a very long Ethernet cable and a CD with software and the manual. There's also a quick-start card included, though the initial setup is pretty much plug and play. I connected the iPlayer to an HDMI-equipped HD TV. I needed to press the HDTV button on the remote to bring up the display settings, but besides that, tuning in to Freeview was quick and easy.

Picture quality was excellent - at least on the main channels - and the upscaled HDMI output certainly gives a crisp display, though not even this box can rescue the abysmal quality of some terrestrially broadcast digital channels. Channel changes are reasonably quick, if not the fastest I've seen, and interactive works extremely well. In all, the iPlayer is one of the fastest boxes I've come across.
And Freeview watching is where that hard drive can really come in useful. First, you can pause and rewind live television; once you're used to this, it's invaluable. And you can schedule recordings, simply by selecting them in the on-board electronic programme guide (EPG), which is clear and straightforward to use, complete with channel logos fetched via the net connection.

But, with only one tuner, it still can't record one channel while you watch another, and the 80GB hard drive will store between 40 and 80 hours, depending on which channels you record from - and as little as 12-15 hours, when you start recording from HD channels. The current HD trial broadcasts aren't picked up automatically by the iPlayer, but I did manage to tune in, and the results were excellent, with the Dolby Digital sound fed via the iPlayer's optical output to my surround sound system.
Evesham's response to suggestions that 80GB isn't enough disk space is to point out that you can export recordings from the iPlayer to a shared folder on your network. Unfortunately, in the current firmware, export stops at 2GB of data, which is not quite enough for an hour from BBC 1, though it'll be over two hours from lesser channels. When you do export successfully, you'll have no problems playing the clips on a PC using VLC, or converting for DVD, using tools like MPEG StreamClip.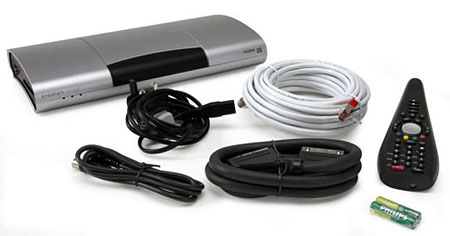 Next to Freeview, media playback is a big selling point for the iPlayer, and the supplied CD contains Windows Media Connect, which can make your PC-based media available - though in fact, once you've created settings for a folder to export recordings to, it will appear in the list of servers to browse as well, though sometimes I had to restart the iPlayer before it would find the network share. In other words you could just use Windows' SMB to share files.
It was when I started playing back media that I noticed more quirks. Firstly, the interface has some inconsistencies - and can be slow at times, too. For instance, press Menu, and you can access your recordings, timer list, Media Centre and the TV Max online service; from most of those - but not recordings and media centre - pressing the red button takes you back to the main menu. From the lists of recordings or media files, it exits completely.
While Media Centre Connect shows only files it understands, the iPlayer will play back more via SMB, though format support seems patchy. It played files from a Topfield PVR directly, for example, but wouldn't play MPEGs I'd created with MPEG StreamClip for burning to DVD. And while it will play some DivX files - the box isn't officially certified - it won't play back HD ones, which is a shame. Nor will it play AAC audio, and it didn't like one of my test AIFF files, either. DRM files cause problems too. And again there are interface inconsistencies: select an MP3 file, and you're taken to a playlist screen while it plays. But for an AIFF file, you remain in the file browser.

TV Max is a portal service available via the main menu. At present, it's really not much more than some links to online radio and podcasts. It works pretty well though, and IPTV - including 'catch up' services for popular broadcasts - are promised for later. You can also browse the web - with varying results - and access your email; the USB socket on the side of box can be used for a keyboard, which will make it less painful than using the remote.
Verdict
The iPlayer HD DVR is a very capable Freeview box, and with the HDMI output it can produce a very good upscaled picture. But with only one tuner and a smallish hard drive, the DVR is outclassed by the competition. As a media player, things are better. HD playback looks excellent, and promised features like catch-up viewing and IPTV will make it stand out. But until these servcies come on stream, and with the playback and interface quirks that I found, £300 seems like a bit too much to pay right now. ®