Original URL: https://www.theregister.co.uk/2007/01/09/youtube_waxed/
Brazil's ISPs stuff YouTube
Blocked, then unblocked, as sex vid rumpus continues
Posted in Policy, 9th January 2007 16:42 GMT
A Brazilian judge has lifted an order which caused the country's ISPs to block access to YouTube following a ruling last week over a sex-romp video of footballer Ronaldo's former missus Daniela Cicarelli.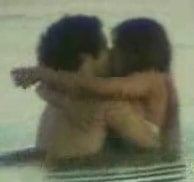 According to local reports, confirmed by Register readers on the ground, Brasil Telecom and Telefonica responded with enthusiasm to the court order issued in Sao Paulo "requesting that YouTube be shut down as long as the video is available to users", and duly blocked the site.
The film in question shows Cicarelli and Tato Malzoni giving it some stick on a Spanish beach. It proved quite a hit with Brazilian YouTubers, prompting the couple to seek an injunction.
Sao Paulo state Supreme Court Justice Enio Santarelli Zuliani clearly thinks things have got a bit out of hand, and has accordingly "asked the companies to unblock the site and let him know why they can't simply prevent the video from being seen", according to AP.
The companies had already explained that the "only way they could ensure that the video would not be seen was to block the entire site". YouTube last week reported it had purged the video. ®