Original URL: https://www.theregister.co.uk/2007/01/09/griffin_unveils_journi_evolve/
Griffin Evolves wireless speakers
Journi = boombox Ikea-style?
Posted in Personal Tech, 9th January 2007 21:02 GMT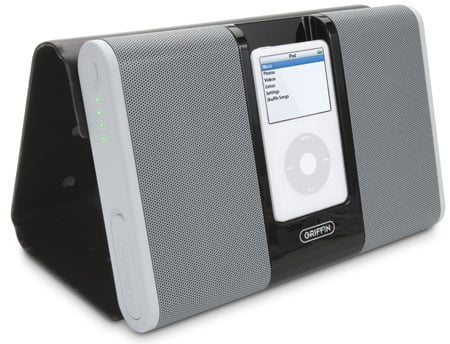 CES 2007 It sounds like Ikea's latest dinning table, but Journi is in fact Griffin Technology's latest portable iPod speaker set, built into a slimline package and with a wrap-around cover that cleverly doubles as a stand. And for your lounge - or dinning room - how about Evolve, the company's new wireless speaker set?
Journi packs in a pair of 5cm high and mid-range speakers and a pair of 6.4cm passive raditors for bass. The unit also incorporates SRS' Wow sound booster technology. The unit takes any dockable iPod, powering the player from its internal rechargeable battery, which also drives the speakers for 8-10 hours.
Into the back slots a six-function remote control, and there's a USB port to charge everything up and to sync the docked iPod. There's a 3.5mm mic socket to connect other players.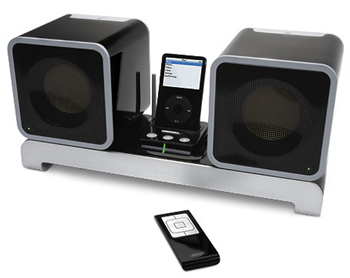 Evolve's wireless speaker set comprises a pair of cubic speaker units, each with their own ten-hour play-duration battery, and a docking stand. The 10cm speakers can be placed on the stand, either side of the iPod dock connector, where they'll be recharged, or they can sit up to 150ft away and receive the audio signal beamed over by the stand.
The wireless data stream is sent at a 44kHz, 16-bit sampling rate so if your iPod contains CD-quality music you won't lose any fidelity sending it to the speakers.
Journi and Evolve are set to ship this coming summer for $130 and $350, respectively. ®
Read our complete CES 2007 coverage at Reg Hardware
Related reviews
Apple iPod Shuffle 2G
Apple's second-generation iPod Nano
Gear4 BluEye iPod-phone adaptor
Audioengine A5 amplified iPod speakers
Eye-Theatre video glasses for iPod