Original URL: http://www.theregister.co.uk/2007/01/04/review_netgear_digital_eva700/
Netgear Digital Entertainer EVA700 wireless media streamer
Pump HD content around your home
Posted in Personal Tech, 4th January 2007 12:02 GMT
Review Another day, another media streamer. True, the concept isn't a bad one - video content is best enjoyed on a big telly in the comfort of your lounge, rather than hunched up in front of a computer screen. But with numerous offerings on the market, there's little to tell them apart. Netgear's Digital Entertainer EVA700, however, has a nifty little feature up its sleeve...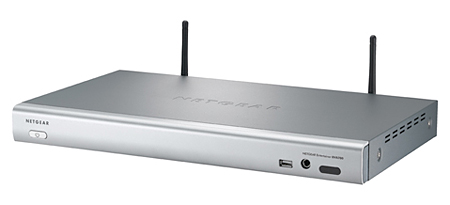 Like many such gadgets, it comes with standard composite-video, s-video and SCART connectos, but it's also packed with an HD component-video output. This means if you're HD ready but your component-video ports are just sitting there gathering dust, the EVA700 makes an ideal lounge-side companion.
Sadly Netgear hasn't gone the whole hog and included HDMI as well, which would provide flexibility depending on what HD sources you already have, and could prevent a plug fight at the back of your TV. Whatever your configuration the EVA700 has support for both 720p and 1080i HD resolutions, but not 1080p which some high-end sets are starting to support for the Blu-ray/HD DVD era.
The EVA700 offers both wired 100Mbps Ethernet and wireless 802.11g network connections. For standard-definition (SD) content either will be adequate. But if you're looking to push HD through the device, you're probably better off sticking to the wired link. With an un-congested 802.11g network and the wind behind it, it'll just about cope with HD over wireless, but if anyone else is using the connection, then dropped frames and blocky pictures could ensue.
If you're stuck with an older 11Mbps 802.11b wireless network, it'll still work for SD but you can forget about enjoying HD material, unless you consider YouTube to be the bastion of jitter-free video quality.

Setup is easy - plug the EVA700 in, turn it on and then configure your network security if necessary. It'll then probe the network and see what devices it can find. As it's Windows Media Connect compatible, if you've already got a machine set up to share your files you are but a click away from your media. If not, simply bung the bundled CD in your PC, install the software and point it in the direction of your media content.
It also picked up a NAS (Network Attached Storage) drive sitting on my network automatically - a nice surprise - providing full access to the files stored on it. Furthermore, you can access and play files saved on a USB storage devices, such as Flash memory keys or even an iPod, by using the front-mounted USB port.
The interface is easy enough to navigate through - basically, pick the device you want to view content on and then drill down until you find the file you're looking for. It's far from pretty, though, and lacks the visual bells and whistles of, say, Microsoft's Media Center Extender. It's also a bit slow in responding to remote control clicks, at times leaving you wondering whether you pressed the right button or not.
Once you're watching a file though, the output is very good. Comparing an HD DivX trailer of Madagascar to the SD version showed much more detail and a crisper image.
The EVA700 can also handle both SD and HD files in Xvid format, should you happen to have any content encoded with that codec. It can also turn its hand to WMV and MPEG 1, 2 and 4 formats.
That said, there was a slight issue with 1080i WMV content resulting in black bars at the side of the screen and the image stretched vertically. The same content encoded at 720p played back without any problems. Switching output from 720p to 1080i didn't rectify the problem.
In addition to video, the EVA700 can also play music in MP3, WAV, WMA, M3U and AAC formats as well as display JPEG, BMP, PNG, TIFF and GIF images. But there's no support for iTunes-downloaded songs, alas. Content from Plays For Sure services should have no problem.

The included remote control works, but lacks the consumer-friendly touch a home electronics manufacturer like Sony or Philips would bring to the party. All the buttons you need are there, it's just a case of finding them. As for the silver box itself, it shouldn't standout beside most lounge kit, although those two stick-up Wi-Fi aerials do ruin the overall look. Size-wise it's roughly the same as a compact DVD player.
The £200 recommended price tag is also a little steep, although fish around online and you should be able to pick it up for around £50 less.
Verdict
Netgear's Digital Entertainer EVA700 is a competent media streamer with good format support. It's a welcome additional HD source too, but it's not without its problems. The ugly interface and basic remote control you can learn to live with, but the issues with 1080-resolution WMV content are more worrying. ®