Original URL: https://www.theregister.co.uk/2007/01/04/goddard_launch/
Amazon boss fires up space vehicle
Bezos's Goddard is go
Posted in Science, 4th January 2007 13:30 GMT
Amazon founder Jeff Bezos has released pictures and video of the first launch of his Goddard private spacecraft - rising majestically above Texas to a modest height of 85m.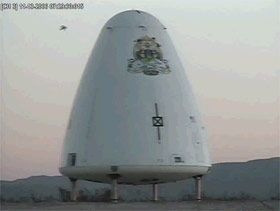 The cone-shaped Goddard took off on 13 November last year, but only now has Bezos's Blue Origin company trumpeted its success. The vehicle is part of a programme called "New Shepard" - a "vertical take-off, vertical-landing vehicle designed to take a small number of astronauts on a sub-orbital journey into space", as Bezos explains.
The blurb adds:
We're working, patiently and step-by-step, to lower the cost of spaceflight so that many people can afford to go and so that we humans can better continue exploring the solar system. Accomplishing this mission will take a long time, and we're working on it methodically. We believe in incremental improvement and in keeping investments at a pace that's sustainable. Slow and steady is the way to achieve results, and we do not kid ourselves into thinking this will get easier as we go along. Smaller, more frequent steps drive a faster rate of learning, help us maintain focus, and give each of us an opportunity to see our latest work fly sooner.
Technical details on Goddard and New Shepard are not forthcoming, but the Blue Origin site suggests Bezos is taking his space baby very seriously. The company is hiring and is "particularly looking for experienced propulsion engineers and experienced turbomachinery engineers, as well as a senior leader to head our turbopump group". It adds: Folks with turbopump or propulsion experience on large, modern, cryogenic engines such as the RS-68 are of particular interest. Another high priority for us is an experienced leader for our structures team. Structures experience on large, modern vehicles such as Delta IV or Atlas V is of particular interest."
The brief flight of Goddard may have heralded a new space race between world superpowers Amazon and Virgin. Richard Branson's Virgin Galactic is already taking bookings for its SpaceShipOne-based sub-orbital vehicle, and hopes to have the first batch of private Yuri Gagarins on the edge of infinity in 2008. ®