Original URL: https://www.theregister.co.uk/2006/12/28/reg_mobile_heroes_villains/
The Vulture's Mobile Awards 2006
Heroes and villains, vapourware and clunkers. They're all here
Posted in Networks, 28th December 2006 08:59 GMT
Villain of the Year

Everyone All of the operators, for their rip-off roaming data charges. For much of the past decade, operators have made excessive profits from voice calls between networks, and from roaming calls in Europe. Roaming voice is now cheaper, but roaming data users can expect to pay a pound for a typical page (100kb).
And if you thought US carriers were backward - your reporter recently got charged $50 by Cingular for an amount of roaming data that clocked up a bill approaching $400.
How do they get away with it? Thanks to a dozy regulator. In January, Ofcom announced it was investigating roaming call charges and texts - but not data. Thanks, Ofcom.
---
Hero of the Year

The 3 network for losing its fear of the internet - and for bringing Sling and Orb on board. 3's X-Series plan open up the network, allow you to make Skype calls, and listen to your media at home - all for a flat fee. Whether the public buys into this remains to be seen. There's only one handset, Nokia N73, that works with the X-Series plan (3 quietly dropped a too-buggy Sony Ericsson after launch). 3 makes existing subscribers sign up for a new 12-month plan; and for many people the mobile intarweb isn't worth even £5 on top of their monthly bill.
Honorable mention: T-Mobile for its flat rate Web n' Walk data plan. Or rather, to T-Mobile for having the good sense not to enforce its own Ts&Cs. The operator turned a blind eye to its bans on using your phone as a modem, and for VoIP calls.
---
The Best App You Can't Use

Zi Corporation's Qix. Nokia's S60 user interface is a sprawling mess: even Nokia can't seem to remember where it's put the configuation options. You'll find Bluetooth over here, Profile settings over there, and something like SIP buried four menus down. Themes is nowhere near Display.
This makes Qix a must-have for any S60 owner. It works like QuickSilver on the Mac: indexing every application, function and contact (and now every media clip too), so they can be launched from the keypad by typing in the the first letters. It's quite painful to use a Qix-free phone again.
Unfortunately, it's only available through carriers, and not many of those have inked deals with Zi. So you'll have to scrounge one from somewhere.
---
Turkey of the Year

UIQ. Sony Ericsson had such a nightmare integrating UIQ 3.0 into its previously successful smartphones that it eventually bought the company off Symbian.
The damage has already been done, however. The most-talked about phone of the 3GSM Show in Barcelona, the W950 (the first Walkman smartphone) failed to make it to market in time for Christmas. 3 humiliatingly pulled it from its X-Series roster (of two) in December. And the much-anticipated successor to the P910, the P990i arrived months late and half-cut.
Previously, Sony Ericsson has made light work of repairing serious bugs in early production models. But five months on, severe problems remain, with rumoured firmware updates failing to materialise. By the end of the year, even the P-series' most loyal defenders had agreed it was a disaster. Fortunately for Sony Ericsson, its mid range is strong.
Next year can't be any worse - although how much lasting damage has been done to the P-series brand remains to be seen.
---
Best Innovation

Motorola for its F-3 Motofone. It's a low cost phone aimed at the developing world that, amazingly, doesn't look crap. To date, handset manufacturers have tended to treat developing countries like pharmaceutical companies: shove them last year's dangerous rubbish. The F-3 takes a different approach, with an emphasis on style. Motofone uses an eInk display to save battery juice, and two antenna, because rural areas often have poor reception.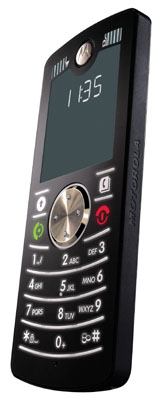 Motorola's F3 Motofone: cheap, but not nasty
Moto won't disclose the cost, but it's believed to be around $50.
Honorable Mention: Sony Ericsson's K800i- Phone of the year.
---
Biggest Waste of Time

Mobile Web 2.0 fends off a strong challenge from "Mobile TV" to scoop this year's award.
There was no contest, really. Web 2.0 is the hype with no trousers. Early in the year, Yahoo! illustrated how annoying Web 1.0 can be when put in your hand. How will Web 2.0 - the one with added Javascript security flaws, bloatware, and junk pseudoscience - fare?
You already know the answer to that one. What makes the web useful is that it isn't tied down to a tiny screen. What makes mobile data useful is that isn't encumbered by web cruft. Vive la difference.
As we discovered when the Web 2.0 evangelists met the carriers The Web people in October, the Webbies need mobile far more than the mobile industry needs the Web.
---
The Special Award for Unstoppable Incontinence:

Jointly to Microsoft for Windows Mobile and to HTC for several dozen quite unlovable smartphones - often the same model rebranded.
2006 was the year Windows matched the competition feature for feature. They were everywhere, because network operators love Microsoft's co-op marketing. But the historical problems of Windows CE remain: the phones are big and clunky, sluggish, and guzzle battery life. Your reporter finally tracked down a couple who enthused about their HTC Windows smartphones.
"We have our own Exchange Server," they explained. Which shows that every ugly duckling finds a home, somewhere.
---
Best Kept Secret

No, we won't tell you either.
---
So there you have it: no prizes for the winners, and just (virtual) ASBOs for the villains. But if we've missed off some categories you think we should have included, let us know. ®