Original URL: http://www.theregister.co.uk/2006/12/20/review_samsung_sgh_z560/
Samsung SGH-Z560 'super 3G' phone
Broadband clamshell
Posted in Personal Tech, 20th December 2006 17:27 GMT
Review HSDPA can deliver broadband to your mobile phone, and Samsung's SGH Z560 – enabled by T-Mobile's Web'n'Walk service – is leading the way. A two megapixel camera and some thoughtful features make the Z560 a one-stop-shop mobile multimedia prospect. But is the experience any good?
Samsung's recently released SGH-Z560 clamshell mobile phone was the first HSDPA (High-Speed Download Packet Access) model launched in Europe. HSDPA is a 3.5G technology that can transmit data at speeds up to six times faster than the 3G network, and its current top download speed of 1.8Mbps promises a meaningful mobile-based multimedia experience.
However, whether you get close to that is another matter. For example, I sent myself a 5.5MB QuickTime movie trailer via webmail, and 130 secs later was enjoying it on the Z560's vibrant 240 x 320 pixel, 262,144-colour TFT. That's an average of 336Kbps (0.34 Mbps), which is what I'd expect from 3G, not HSDPA. That said, the webmail server could have limited the test so I downloaded a few mobile music videos which gave me an average of around 0.68Mbps.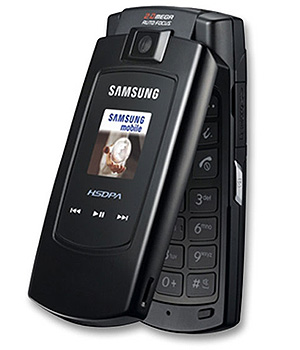 This broadband experience is driven by T-Mobile's Web'n'Walk service, which gives unlimited web access on compatible mobiles. If you're worried that poor 3G/HSDPA network coverage may scupper your mobile broadband experience, then T-Mobile's "Street Check" service allows potential customers to check if signal strength in their postcode area is strong enough to warrant signing up. If coverage fails to meet your needs, T-Mobile will give you 14 days to return the phone.
With Web'n'Walk it took just over six seconds to launch the NetFront microbrowser and load the Google homepage. Mobile-optimised sites such as bbc.co.uk take around three seconds to load, but image-heavy non-optimised sites – and they are bountiful – can take ten times as long. They're not fun to navigate either – rather like reading a broadsheet through a letterbox. The result is you have to be very selective about which sites to visit, but once you've amassed a decent array of mobile-compliant sites then the experience becomes far less painful.
When closed, the Z560 acts like a dedicated digital music player. On its outer face are lit brush-touch keys for fast-forwarding, rewinding, pausing, and stopping music. The pause/stop key doubles-up as a hot key, activating and deactivating the media player without the need to open folders or fumble with menus. A one-inch external TFT screen also plays visuals to accompany what you're listening to. Although it does have embedded dual speakers, these hardly deliver the "great open 3D stereo sound" claimed by Samsung. For half-way decent sound quality you're better off using the bundled ear bud headphones.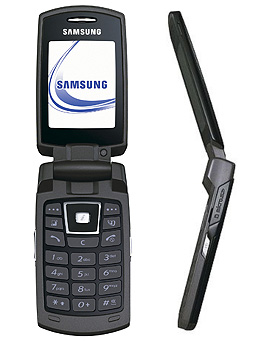 The Z560 can play MP3, AAC, AAC+, e-AAC+ and Real file formats, but for a multimedia phone, the digital imaging offering seems a tad undercooked. It packs a two megapixel camera, with a typical 4x digital zoom, but no flash. It does have auto focus, but this increases shutter lag and means many shots will pass you by - although this can be partially overcome by using the burst mode. In short, you won't be hanging Z560 pictures on the wall, but they'll more than suffice for sharing via web galleries or email.
Using the Z560's abundance of menu options is made easy by an icon-based home navigation window, which feeds into logically ordered nested menus. Menu items are large and bold, and remain legible even in direct sunlight. The same goes for dialled numbers, which are displayed large enough for even the most optically challenged user to read. Call quality itself is clear and crisp.
One irritation with navigation is that the selection button sits in the middle of points-of-the-compass direction keys, and is flush with these, making it easy for fat fingers to hit enter by mistake.
A second VGA camera below the main TFT screen allows for video telephony, something that's made possible by the HSDPA connection. The phone can also shoot up to an hour of video with sound in H.263 and MPEG4 formats but only two resolutions are available - 128 x 96 and 176-x-144. To store these and other files, the Z560 comes with 30MB of built-in memory (of which 17MB is free) and a microSD slot for future expansion.
The fully charged Li-ion battery withstood just under four hours' intermittent web and camera use, so if you plan to fully exploit its broadband capabilities the spare battery will come in handy.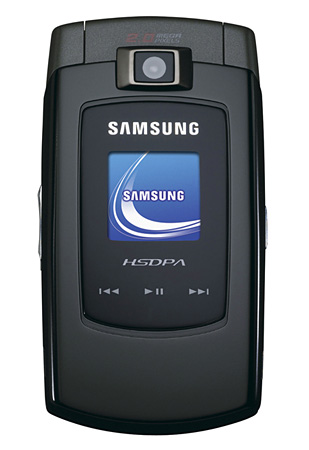 The Z560 is available from T-Mobile at a sliding scale of price plans, from £139.99 to free, depending on which plan you opt for. If you sign up with Web'n'Walk Plus, in addition to a monthly price voice plan, you can use the Z560 as a modem with unlimited internet access (subject to a 3GB per month fair use policy). If you opt for the Web'n'Walk Max version, the fair use policy jumps to 10GB and you get VoIP thrown in.
On modem-use compatibility, the accompanying PCStudio software is PC only, but the Z560 should be configurable as a modem on Macs using the launch2net software from Nova Media – that will set you back around £60 though.
Verdict
The Samsung SGH-Z560 is a pioneer mobile phone, leading the way in the HSDPA handset market. The one thing about leading the way is that others – including web designers – have to catch up; the number of non-mobile-compliant sites make phone browsing a painful rather than rewarding experience. That said, having snappy internet access - albeit variable - is invaluable, as is being able to use the Z560 as a broadband modem on PCs. The Z560's music and digital imaging functionality combine to make this a compelling mobile multimedia offering. ®