Original URL: https://www.theregister.co.uk/2006/12/20/2006_top_20_weirdest_gadgets/
The Top 20 Weirdest gadgets of 2006
Robot guinea pigs, solar-powered insect theatres and more
Posted in Personal Tech, 20th December 2006 08:51 GMT
It's been one of those years when technology came on in leaps and bounds. Around the world, thousands of pointy-headed scientists and product designers beavered away in high-security laboratories, investing time, money and effort to create... more silly USB gadgets.
Yes, 2006 has been the year when gadgets got a bit ridiculous. And it wasn't just USB devices either. Here's Tech Digest's pick of the year's gadgets that got us chuckling, frightened, or just scratching our heads in bafflement.
1. Gupi the robot guinea pig Complete with his animatronic carrot and 30 different sounds (most of which are presumably a variation on "WeeEEEeeeEE!"). Read more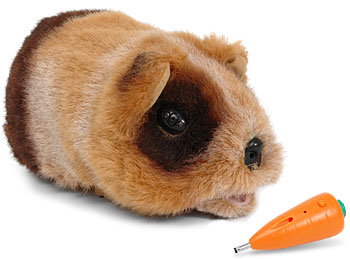 2. The BeerBelly Released in time for the World Cup, this gave football-loving men a false beer-belly full of, yes, beer. Complete with a rubber tube to suck the booze through. Read more
3. Solar-powered insect theatre This eco-gadget isn't that silly, actually. It stores power in the day, then lights up at night to attract moths and butterflies for you to watch. Their version of Hamlet is a bit rubbish, mind. Read more
4. LumiGram fibre optic clothing Scared you won't stand out from the crowd at your office Chrimbo party? How about clothing with fibre optics inside for a shimmery effect? Nigel from Accounts will love it. Read more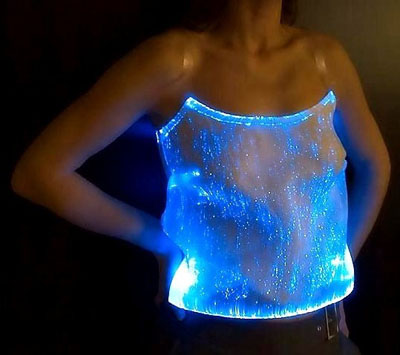 5. Froot Loop cereal bowl light Very strange indeed. Dip your spoon into this bowl of Froot Loops, and it lights up. What are Froot Loops anyway? Read more
6. Geek-a-cycle It's a reclining exercise bike hooked up to a computer desk, ensuring you can spend four hours a night updating your MySpace page and have Calves of Steel. At last! Read more
7. USB pole dancer For the man who likes his desk to have a classy vibe. She's an eight-inch bikini-clad blonde, who dances on a lit-up podium. Nice. Read more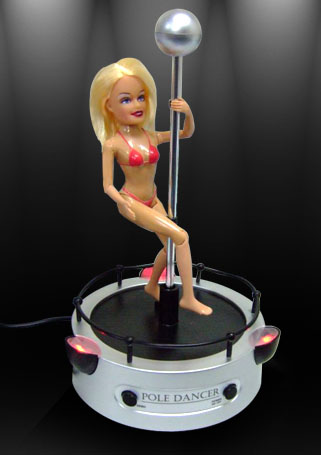 8. Fatman referee suit Should become standard issue in Premiership grounds next season. Read more
9. Crazy Frog karaoke mic Somewhere, in a company boardroom, someone actually had the idea of teaching The Kids to sing Crazy Frog songs better. Strewth. Read more
10. Spray-on condom Safe sex in a can! And gives you a choice of strengths and colours. Possibly good for preserving courgettes for a few more days in the fridge, too. Read more
11. Walking Gundam robot He's called GuardRobo, he's 3.4m tall, and can stomp forwards, backwards and sideways. That said, he can only fire foam bullets, so Robocop would make mincemeat of him. Read more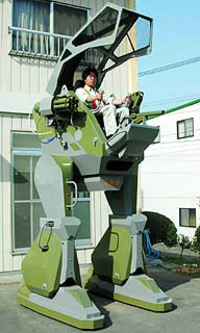 12. V Girl virtual girlfriend Think having cybersex is sad? Now imagine having cybersex with a Tamagotchi... Read more
13. Inflatable office in a bucket Designed for both indoor and outdoor use. Here's a tip: maybe don't pin anything on the walls. Read more
14. Lockup cup Another office gadget, this time a ceramic cup with a lock at the bottom so nobody else can use it. Be warned, workmates may see this as petty, and take to weeing on your cheese in retaliation. Read more
15. Slade-singing toy dog Christmas genius! video here
16. Flying alarm clock Wakes you by taking off into the air while making a siren noise. Not recommended for any war veterans, in other words. Read more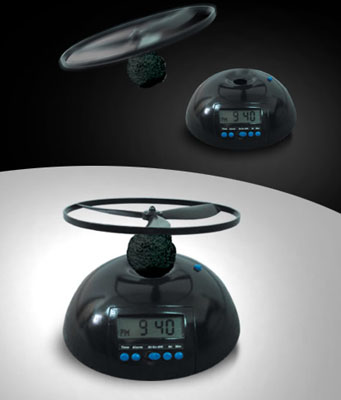 17. Pimp My Bed Make your bed glow like a boy racer's car, giving the impression that it's floating. And spooking the bejaysus out of your cat. Read more
18. Zaporozhye, the musical condom Has mini-speakers that play music louder and faster as your bumping'n'grinding becomes more frantic. Would be marvellous teamed with the Crazy Frog mic. Sorry, did I say marvellous? I meant arrestable. Read more
19. iBuzz Two MP3 vibrator The sex toy that was so good, Apple called in the lawyers! Connect this to your MP3 playing device, and it buzzes and pulses in time to your tunes. I'm guessing sales of pounding Belgian techno have soared on the iTunes Store as a result... Read more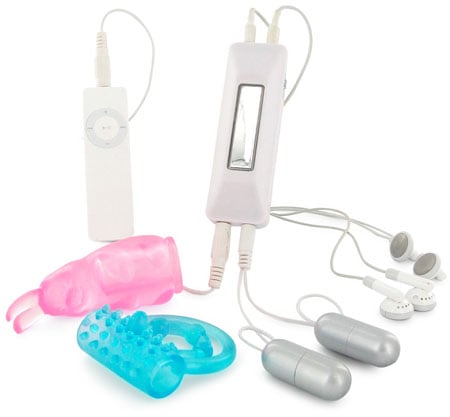 20. Duck Fadar. Part rubber duck, part Darth Vadar. And it lights up to give your bathroom a comforting glow. Although not quite comforting enough to make you forget the fact that you've just spent £6.95 on glowing Star Wars duck. Read more
Twenty odd gadgets not enough for you? Then take a peek at Reg Hardware's Useless... but Cool channel for more USB-connected curiosities than you can shake a James Bond-branded Memory Stick at...