Original URL: http://www.theregister.co.uk/2006/12/18/review_ikey_plus_portable_usb_recorder/
iKey Plus portable USB recorder
Connect iPod, press Record
Posted in Personal Tech, 18th December 2006 13:15 GMT
Review For budding DJs, or musicians who want to record live sets or gigs, the new iKey Plus portable USB recorder could be just what the beat doctor ordered. Designed to work with - yes, you've guessed it - the iPod, or any other external USB storage device, the iKey Plus can record live audio in MP3 or WAV format without the need for a PC...
Portable digital audio recorders are nothing new. DAT and MiniDisc have both been around for years but neither format records directly to MP3 or WAV. This normally means you have to replay the audio back out in real time while recording it to a PC in the format you want. Alternatively, many of today's personal MP3 players offer direct encoding to MP3 from any line-level source, such as a CD player. However, few let you manually control the record level and many limit recordings to low bit rates. This, though, is where the iKey Plus steps in, at a reasonable £145.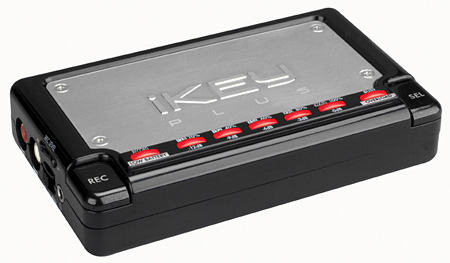 Able to record audio in uncompressed WAV format or as MP3s encoded up to 320Kbps, the iKey Plus is the higher specced version of two similar products from iKey-Audio, a division of GCI Technologies. Compared to the standard iKey recorder, the 'Plus' model features additional inputs, a VU meter display and a headphone monitor output.
Measuring a compact 13.8 x 8.3 x 2.8cm, the main body is constructed of gloss black plastic and feels sturdy enough in the hand. A full metal construction would have been preferable, but the snazzy aluminium faceplate-cum-battery cover should keep the metal junkies happy. Alongside this is a row of seven multi-function LEDs, as well as the main Record and Select buttons. More on these later.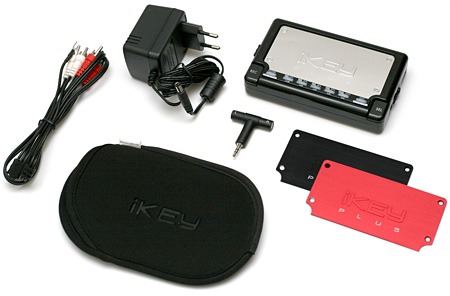 Batteries are not included but if four rechargeable AAs are fitted, the iKey Plus will operate as a charger. Of course, regular alkalines are fine but, as the manual mentions, don't connect the power adaptor at the same time - there's a risk the batteries will explode. As for battery life, a set of 2000mAh rechargeables lasted just over five hours with constant use. Included in the box is a mini stereo microphone, stereo phono connector lead and a soft carry pouch, as well as two additional faceplates finished in red and black.
Taking a tour around the iKey Plus, on the left side are the gold plated phono inputs, a 3.5mm mic socket, the record-level control and a three-position input selector. Switching this between the left and middle positions adjusts the iKey's phono input sensitivity to accept either a line-level source or "phonograph" - that's a record player to you and me. Conversely, switching it to the right sets up the mic input.
On the other side are the main on-off switch, DC power input, 3.5mm headphone socket, reset button and, of course, that all-important USB port for your storage device. Port layout is sensible, but because the phono sockets are now recessed, chunkier plugs usually found on high quality leads will not fit.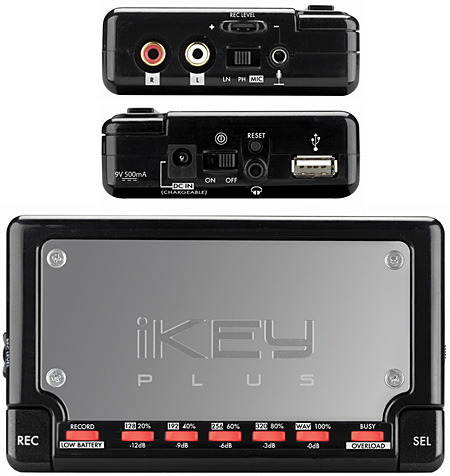 Making a recording with the iKey Plus is straightforward. After connecting it to an audio source and plugging in a suitable USB storage device, the first step is to set an appropriate record level. The decibel level of the input can be monitored - with or without headphones - using the five-LED VU meter display. Ideally, the level should be set so that it occasionally lights up the 0dB indicator. Any higher and the Overload LED will light up to warn of distortion. Next, choose the desired recording format and bit-rate by pressing the Select button until the relevant LED illuminates.
Once you're happy, press the Record button to start recording and again to stop. By repeatedly pressing the Select button while recording, the LEDs will display either the selected recording format, the decibel level of the audio input, or the amount of occupied storage space. Audio recordings are saved in the root directory of the USB drive or in the iPod's hidden Music folder. It's also worth noting that each file is respectively named and numbered according to the format and sequence in which it was recorded, eg. ikey_mp3_2. Before removing your USB storage device an eject procedure must be followed to avoid data corruption. This is done by holding down the record button for three seconds.
The WAV recordings I made of various music CDs were practically indistinguishable from the originals. Only by repeated comparative listening was I able to detect subtle differences such as slight background noise during quieter musical passages.
MP3 recordings were respectable too, but not quite as crisp as the WAVs, even at 320Kbps. Basically, they were marred by a low-level processor noise clearly discernible on certain tracks when the volume was turned up. Hopefully, this is something that can be resolved in a future firmware update. Without a record deck at hand, I couldn't test the phonograph input, but the stereo microphone was ideal for recording interviews and speeches.
Although the irritating MP3 processor noise was largely inaudible on most types of recordings, those planning on recording, say, classical music or a cappella material would be better off sticking to the WAV format.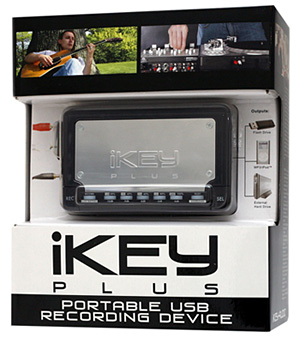 Sound quality aside, recording to my iPod Video was a hit and miss affair. Occasionally, the iKey would freeze, leaving me with no option but to press the reset button and lose the current audio file. Thankfully, I had no such trouble with my USB Flash drive, which worked faultlessly throughout testing. It's just a shame the iKey Plus doesn't have a memory card slot as an alternative to the rather awkward arrangement of protruding USB sticks or dangling iPods.
Verdict
It might not be perfect but the iKey Plus provides an innovative platform for anyone requiring a simple and affordable means of recording high quality audio, particularly in live environments. ®