Original URL: https://www.theregister.co.uk/2006/12/18/developing_blind/
Developing blind
Open your eyes to the potential of the disabled
Posted in Software, 18th December 2006 11:50 GMT
In general, you are not allowed to discriminate against the physically disabled in the workplace. When one thinks of a job in software development, however, one conjures up the image of programmers building applications or writing code in front of a computer screen - tasks apparently relying on good vision.
So what must it be like for someone with impaired sight to work in this field?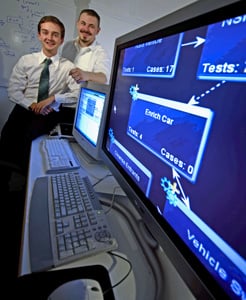 We asked Nick Smith, one of 20 programmers within Erudine, a Harrogate-based software development company, about this. Nick is registered partially blind following the onset of a genetic disease at the age of 13. He has been involved in programming since 2001 when he completed his PhD in genetics.
Over to you Nick:
I got my first taste of programming during my studies and enjoyed it so much that my career decision was made then. I think what I enjoy most is the creative side of programming – having something I've made become a useful application. However, while the decision to become a developer came easily, finding a position proved much more difficult. I found that factors that fully sighted job candidates would not even consider could prove significant obstacles for someone with impaired vision.
Firstly, actually getting to the interview could be challenging at times. Information technology companies tend to be located on large industrial estates far removed from the city centre and often with poor public transport links.
Secondly, once in interview, the inability to read prospective employers' facial expressions in response to answers was disconcerting. Often, important subtleties are picked up on the face of the interviewer and behaviour or responses can be reviewed accordingly.
Finally, potential employers frequently requested that a written test be completed – a task that is obviously ill-suited to someone with partial vision.
I had been to numerous interviews over a six month period before my current employer took me on. For any employer anticipating the arrival of a partially sighted programmer, there are a number of important considerations and preparations that must be made.
At Erudine, I've been provided with a 52-inch plasma LCD high-resolution anti-flicker monitor, which is complemented by a piece of software called Zoomtext. The software magnifies what is on the screen, highlights the cursor and the mouse movements and allows me to change the colour and contrast settings of my screen. In addition, there are speech settings available that will read out the text on screen. I routinely use the magnification and contrast settings, as well as employing a CCTV magnifier when reading hard copy and text.
For communicating verbally with clients, my mobile telephone has a speech setting for finding contacts, which is helpful; although creating text messages remains a struggle. I also have a colleague, Martin Rock-Evans, who is partially deaf and uses very sensitive hearing aids, and he's also benefited from some workplace adaptations. For instance, the flooring has been carpeted in order to reduce background noise. "Even the sound of employees' footsteps, for example, can prove incredibly distracting and make it difficult for me to concentrate," comments Martin. "The extra carpeting has gone a long way to alleviating some of the problems that I was experiencing."
What I enjoy most about my job is the company's Extreme Programming policy; and, specifically, pair programming. I find it helpful working with another developer as I can learn a considerable amount from my partner, thereby alleviating the pressure on me to read everything. In Martin's case, the pair programming helps him to interact better with his colleagues as it allows him to get to know someone better and thereby familiarise himself more with their speech patterns.
Obviously both Martin and I have to perform our jobs to the same high standard as our colleagues who do not have disabilities, as in a competitive field like software development our company cannot afford to make special concessions. I would encourage all employers to consider hiring programmers with disabilities as a successful company requires a range of different skills. For example, I have developed the ability to maintain a much larger and more detailed mental model of the systems I work on than most developers and, as a result, I need to refer to documentation and architectural diagrams far less.
I feel especially that the equipment I use has helped to remove the obstacles presented by my "disability". I think I've developed into a very good programmer because my disability has been rendered unimportant. I don't feel my sight really impedes me at all. Any physical problems I have are fundamentally irrelevant to my job.
All of my specially adapted equipment has been provided by the Access to Work scheme, which funds people with disabilities and encourages them into the workplace. I was able to try out all of my equipment before it was provided. As Access to Work (AtW) points out, if you are thinking about recruiting a disabled person, you will know they have the skills and potential to do the work, but there may still be practical problems to overcome.
AtW can help in a number of ways. For example, it can help to pay for:
Communicator support at interview (CSI) which meets the full cost of hiring an interpreter to remove barriers to communication at interview.
A support worker, which allows the applicant to use the services of a helper. Types of support might include reading to a visually impaired person, communicating for a hearing impaired person via sign language (other than at interview which is covered by CSI), providing specialist coaching for a person with learning difficulties, or helping a person with care needs.
Special aids equipment to help a disabled person function in the workplace.
Adaptation to premises or to existing equipment.
Help with the additional costs of travel to, or in, work for people who are unable to use public transport.
As to my long-term career aspirations, ultimately I want to ensure the software development kit that I'm working on is one of the best in the world and delivers the best possible experience to users.
Not a bad ambition, it seems to us, for any developer in any company. ®