Original URL: http://www.theregister.co.uk/2006/12/13/titanic_sierra/
Mile-high mountains pop up on Titan
Cassini captures ice-capped sierra
Posted in Science, 13th December 2006 14:33 GMT
NASA's Cassini spacecraft has snapped a mile-high mountain range on Saturn's moon Titan, the agency's Jet Propulsion Laboratory announced yesterday.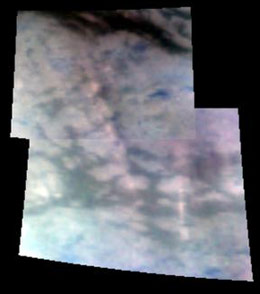 Titan's sierra - possibly capped with methane "snow" - runs just to the south of the moon's equator for around 150km (93 miles). It's about 30km (19 miles) wide and reaches 1.5km into Titan's atmosphere.
The pic seen here was obtained on 25 October during a Cassini flyby "designed to obtain the highest resolution infrared views of Titan yet". It's a composite image grabbed from a distance of 12,000km (7,200 miles).
Dr Bob Brown, team leader of the Cassini visual and infrared mapping spectrometer at the University of Arizona, said: "We see a massive mountain range that kind of reminds me of the Sierra Nevada mountains in the western United States. This mountain range is continuous and is nearly 100 miles long."
The boffins reckon the mountains "probably formed when material welled up from below to fill the gaps opened when tectonic plates pull apart, similar to the way mid-ocean ridges are formed on Earth". Dr Larry Soderblom, Cassini interdisciplinary scientist at the US Geological Survey in Flagstaff, elaborated: "These mountains are probably as hard as rock, made of icy materials, and are coated with different layers of organics.
"There seem to be layers and layers of various coats of organic 'paint' on top of each other on these mountain tops, almost like a painter laying the background on a canvas. Some of this organic gunk falls out of the atmosphere as rain, dust, or smog onto the valley floors and mountain tops, which are coated with dark spots that appear to be brushed, washed, scoured and moved around the surface."
There's more on the mountains of Titan here. ®