Original URL: https://www.theregister.co.uk/2006/12/13/rim_sues_samsung/
Samsung dealt RIM lawsuit over BlackJack
Handset's name too close to BlackBerry, plaintiff claims
Posted in Personal Tech, 13th December 2006 08:52 GMT
Research in Motion (RIM) has taken Samsung to task over the name of the South Korean giant's latest smart phone. RIM reckons Samsung's BlackJack has a name that's too close to its own smart-phone brand, BlackBerry, for comfort - and it's asked the US District Court for Central California to force a change of handle.
RIM filed its complaint with the court late last week. It accused Samsung of "misleading the public" by calling the device BlackJack - RIM alleges Samsung's trying to hoodwink potential buyers into believing BlackJack is connected to RIM's own business.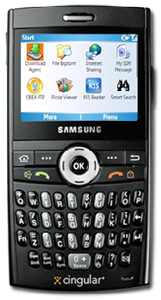 Samsung launched BlackJack in the US last month. The QWERTY keyboard-equipped device is black in colour and uses a similar form-factor to the one adopted by RIM's own BlackBerry 8700 series, though the two devices are not identical and run different operating systems.
RIM also objects to the Samsung brand name 'Black Carbon', used for a slimline phone. It wants the court to stop Samsung using Black Carbon and BlackJack in products sold in the US. ®