Original URL: http://www.theregister.co.uk/2006/12/13/lg_gbw_h10n_blu_ray_burner/
LG GBW-H10N internal Blu-ray disc burner
You pay for Blu-Ray...
Posted in Personal Tech, 13th December 2006 13:27 GMT
Review We previewed LG's Blu-ray drive a few weeks ago and it's the third Blu-ray burner we've tested, the first was the SH-B022 from Samsung, the second being Pioneer's BDR-101A. That had a 2x BD-R burn speed and cost £699 back in August, although it now fetches £520. In comparison, this new LG has a faster burn speed and retails for £459 - still a huge amount of money but an indication that prices are moving in the right direction...
Here's another sign of progress: the Pioneer drive weighed in at 1.1kg and had a small cooling fan at the rear of the unit. By contrast, the LG GBW-H10N weighs only slightly more than a conventional LG Super Multi Drive (960g against 910g). Unlike the Pioneer, the LG doesn't have a cooling fan and it does have support for the DVD-RAM format.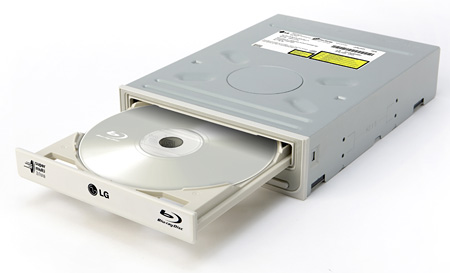 The LG is a conventional IDE drive with analogue and digital audio connections, a jumper block, IDE connector and a four-pin Molex power plug. The IDE cable is a touch unusual as there's a ferrite band around the cable just below the Master Socket at the top. The cable is even labelled to make clear it's the connection for your new drive.
The bundled software CD includes LG's ODD firmware update utility, which confirmed that we had the latest firmware version - GL04. Although we had no need to perform an update the warning notice is worth a read:
Not following the subsequent update instructions explicitly will result in permanent damage to your drive, for which LG will not be responsible. Connect the drive as Master by itself, on the secondary IDE controller with no other device on the same IDE cable, making note to set the jumper on the back of the drive to the Master position.
Ordinarily we have a cavalier approach to this sort of thing but would you play chicken with a £459 piece of hardware? No, neither would we. It's therefore a little surprising that LG hasn't minimised the risk by supplying an IDE cable with just two connection points and a jumper block that's fixed to Master.
Moving on, it's worth listing the read/write speeds of this drive just to be clear about its capabilities. A number of things stand out in the list: there's no writing support for dual-layer Blu-ray, the CD writing speeds are pathetic and DVD°R speeds aren't impressive either, now that 16x and 18x speeds are the norm.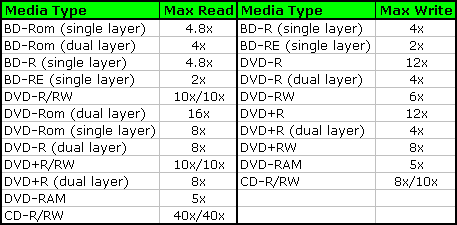 In short it seems unlikely anyone would dump their £25 Super Multi Drive in favour of a Super Multi Blue drive. You can stick any optical media you like in this drive and it will probably read it but what we're interested in is the BD-R and BD-RE write speeds.
Burning 16GB of file to a Verbatim 2x BD-R DVD took 16m 13s which is as close to double the speed of the Pioneer as makes no odds. It was a different story when we burnt 16GB of data to Verbatim 2x BD-RE media as it took 1h 28m. We switched to TDK 2x media and the burn took exactly the same time. We formatted the Verbatim BD-RE DVD with InstantBurn to UDF format and then dragged and dropped the 16GB of files in Windows Explorer which took 59m. That's considerably faster than the ISO 9660-based burns but still painfully slow.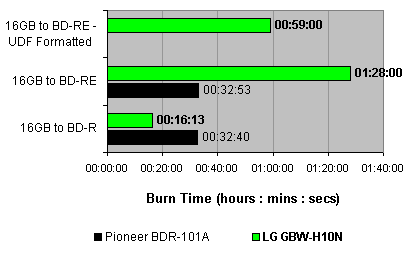 We also burnt 4.1GB of data to Verbatim 16x DVD+R media in 5m 46s and 4.1GB to Verbatim 16x DVD-R in 6m 12s which is reasonable but significantly slower than any DVD writer currently on the market.
As for software, LG supplies a CyberLink package called BD solution which consists of PowerDVD v6.6 BD, InstantBurn v5.2 for UDF Packet writing, Power2Go v5 for DVD writing, PowerBackup v2.5 and PowerProducer v3. It costs £25.32 including taxes to upgrade to PowerProducer v4 which adds the features to capture, record, author and burn Blu-ray and HD DVDs.
You also get a utility called BD/HD Advisor which scans your PC to see whether the processor, graphics card, optical drive, software and display can handle Blu-ray. Our test PC came up to scratch with the exception of the driver for our GeForce 7950 GT graphics card, which needed an upgrade from Forceware version 91.47 to 93.71. With that done we were able to watch Blu-ray movies, although we only had Lethal Weapon to hand. Nevertheless, we gave it a viewing on your behalf and very nice it was too.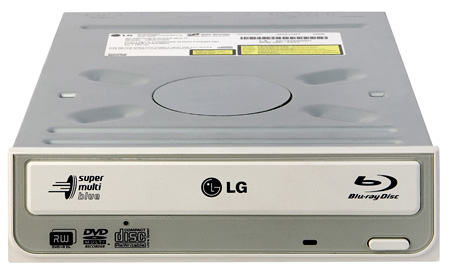 The CyberLink writing software uses a tidy interface that looks like four cubes stacked one on top of another. You drag and drop the files you wish to burn to one of the four cubes for data, audio, DVD/VCD or disc copy and then let the software get on with the job. Compared to Nero you get minimal control over the process - fine if granny is dropping a few photos onto a CD or DVD but when you've just spent the best part of £500, you'll probably want more control.
Verdict
Blu-ray DVD writing is going to be prohibitively expensive for some time to come but the LG GBW-H10N increases writing speeds by a useful amount and also brings the price down from 'ridiculous' to 'ruddy expensive'. ®