Original URL: https://www.theregister.co.uk/2006/12/13/amd_renames_chipsets/
AMD rebrands ATI CrossFire chipsets
Mine, all mine
Posted in Personal Tech, 13th December 2006 09:49 GMT
AMD has formally begun renaming ATI's CrossFire 1600 and 3200 chipsets as AMD products, a month after news of the scheme first broke. As expected, the two parts will now be called, respectively, the 480X and the 580X.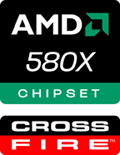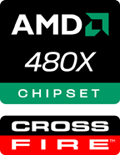 The single-chip 480X supports two 8x PCI Express slots for graphics and four more lanes for general-purpose 1x boards. It can host ten USB ports, four 3Gbps SATA drives and two parallel ATA peripherals. The 580X - also a single-chip part - bumps the graphics card support up to a pair of 16x PCIe slots. Other specs are the same as the 480X.
AMD has provided a list of 480X- and 580X-based motherboards here.
Future AMD-branded desktop chipsets are expected to be suffixed with T, G or V depending whether they're top-end, mid-range and budget integrated products, respectively. Mobile chipsets will be prefixed with M. ®