Original URL: http://www.theregister.co.uk/2006/12/11/nasa_night_launch/
Shuttle launch lights up the night sky
Docking with the ISS today
Posted in Science, 11th December 2006 10:17 GMT
Shuttle blasted off from NASA's Kennedy space centre this weekend, in the first night launch for four years. Discovery was due to take off on Thursday, but was delayed by bad weather.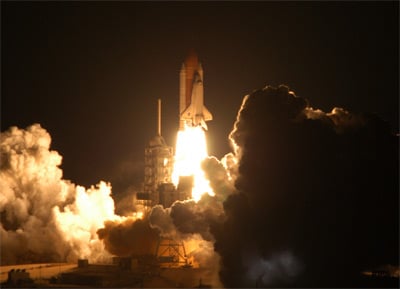 Night launches have been avoided in the aftermath of the Columbia disaster, while NASA has been gathering data on the safety of the launch process - collecting video of each launch to check for falling debris.
But following several successful day launches, NASA decided it is again safe to launch at night. Since the launch late on Saturday night (or early on Sunday morning, depending on your longitude) Shuttle has been inspected for damage in orbit and given the all clear. It is now preparing for docking with the International Space Station.
NASA has described this mission as the most complex Shuttle mission in the agency's history. They will install a new structural segment of the space station, the P5 truss, as well as undertaking a massive rewiring project to switch the station's power and cooling systems from temporary to permanent mode.
NASA explained in a press statement: "During the mission, ground control will shut down and reroute the station's power in stages so that the astronauts can reconfigure the power system and make the P4 solar arrays delivered during the last mission fully operational. This complex operation has never been done before."
In addition, part of a solar panel must be moved to make space for the P4 arrays to track the sun a full 360 degrees. This will provide power for the rest of the station.
As well as all the complicated rewiring and rerouting of power, the crew must install the 2,000kg P5 truss. This will extend the left side of the station, leaving space for future solar panels to rotate. ®