Original URL: https://www.theregister.co.uk/2006/12/11/mars_postcards/
NASA wants to fill your stocking with Postcards from Mars
Snaps from the red planet
Posted in Science, 11th December 2006 12:00 GMT
Jim Bell, the lead scientist on NASA's Mars Rover photography, has put together what is surely the perfect Christmas gift for the space geek in your life*: a book of 150 of the best images the rovers have sent back from the Red Planet.
The images have been hand selected from the more than 150,000 pictures that the two rovers have sent back since they landed on Mars way back in 2003.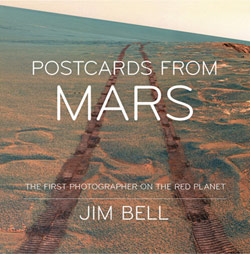 "The difference between the views of Mars from the Vikings and Pathfinder and the views from Spirit and Opportunity is the difference between 'acquiring images' and 'taking photographs'," Bell writes.
"We have not been the first to see the surface of Mars, but we have had the privilege of being the first to see the places we have visited in an entirely different, and ultimately more human, way."
Of the 150 glossy pictures, four are presented in their entirety as gatefold images—which extend over three feet in width. The publishers say this provides "a view of the surface of another planet unprecedented in its detail and clarity", and given what we've seen sent back by the rovers since 2003, it is hard to see how they could be overstating it.
Fans of the book include Buzz Aldrin, Dava Sobel and Ray Bradbury. Bradbury says: "Postcards From Mars is a masterpiece. It promises the future for all of us." ®
*Even if that space geek is you. It is Christmas, after all. Treat yourself.