Original URL: https://www.theregister.co.uk/2006/12/06/review_dell_inspiron_6400/
Dell Inspiron 6400 Core 2 Duo laptop
An inspired Inspiron?
Posted in Personal Tech, 6th December 2006 12:34 GMT
Review With the advent of Intel's Core 2 Duo processors we're at last beginning to see the kind of power and portability that was being claimed, somewhat optimistically, back in the early days of notebook computing. Not one to miss out, Dell has rolled out its Core 2 Duo based Inspiron 6400...
The 6400, like so much of the Dell range, comes in a variety of user-defined guises so bear this in mind when it comes to the performance numbers and features I'll be making reference to. Indeed, in the time we've had the notebook, a Dell special offer has upped the memory to 2GB from the two 512MB modules of DDR 2 SDRAM featured in our version.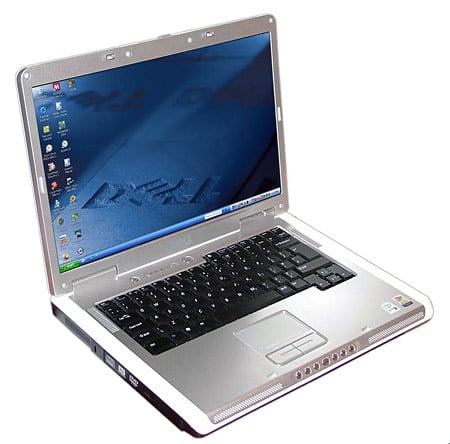 Our particular model also came equipped with Intel's impressive new mobile Core 2 Duo processor, the T7200, which ticks along at 2.0GHz off a 667MHz frontside bus. 4MB of shared L2 cache helps speed things along too. Like the entire mobile range of Core 2 Duo processors it operates at between 1.0375V and 1.3V and runs comparatively cool for its speed.
Furthermore, our test unit arrived with an ATI Mobility Radeon X1400 graphics chip and not the X1300 currently offered on Dell's website as standard for all but the most basic version of the 6400. The X1400 upgrade will set you back around £47 and is probably worth the extra money seeing as the X1300 combined with the 15.4in WSXGA+ screen will not be compatible with Windows Vista. In addition all models - again, except the basic one - now come equipped with an 8x dual-layer DVD°R/RW drive. The hard disk is a Samsung 120GB SATA unit which should fend off obsolescence over the life of the notebook.
Decked out in "Arctic Silver" with "Alpine White" accents, the Inspiron 6400 combines subtle curves with slab-like angles to create a distinctive look that may not be to everyone's taste. The chassis measures 35.6 x 26.6 x 3.7cm and tips the scales at a moderately beefy 2.8kg. Not the most portable of machines but the build quality appears to be excellent - a fair trade-off, some might say.
You can't alter the design but the use of a replaceable QuickSnap cover on the lid offers a degree of customisation. There are apparently eight alternatives, including Natural Leather, Cherry Burlwood, Carbon Fibre and Mediterranean Blue.

Proof of the Inspiron's multimedia aspirations is the array of seven external play control buttons lined up across the front face, all fully accessible with the lid closed. These are flanked on either side by a pair of what must be the loudest stereo speakers I've heard from a notebook. Small presentations with sound are now feasible without the burden of carrying amplified external speakers. And, like the control buttons, the speakers are unobstructed when the lid is closed.
Lifting the lid reveals a full 88-key keyboard that feels good under finger. It's possibly a little stiff for some but it'll probably free-up nicely after regular use. A smattering of multifunction keys gives quick access to oft-used functions like screen brightness, mute, battery state, Wi-Fi toggling and more. Key layout is sensible, although the whole board is shifted a little too far to the rear for my taste.
However, as a result the two buttons below the touchpad are nice and large, an asset spoilt by their vague and spongy operation. The touchpad itself is also large and has dedicated horizontal and vertical scroll areas along the lower and right-hand edges.
At the heart of any good notebook is the screen and this 15.4in widescreen doesn't disappoint. Our unit uses the standard 1,280 x 800 display but with Dell's Truelife glossy finish. It was bright, sharp and vivid though in common with other similar screens reflections are evident.
Connectivity is well catered for as it must be if it's to carry the multimedia banner with any aplomb. Along the rear edge are the power connector, network and modem sockets, and a pair of USB ports. There's also a VGA port if you want to hook up an external monitor and an s-video connector if you ever fancy watching movies on a suitably equipped telly. A DVI output would have been nice but not essential given the screen quality. Embedded 802.11a/b/g wireless and Bluetooth is also part of the package.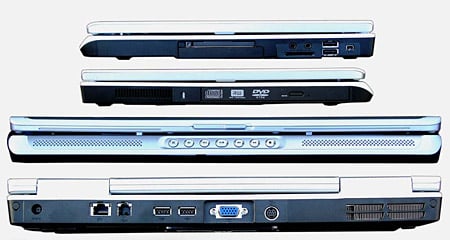 Down the right-hand edge you'll find an ExpressCard slot, and a five-in-one memory card reader supporting SD, MMC, Memory Stick, Memory Stick Pro and xD Picture card. There's also headphone and microphone audio jacks, a further pair of USB ports and a four-pin FireWire connector.
All of these connectors are crammed towards the rear behind the ExpressCard slot - a little unfortunate as it all becomes rather fiddly, particularly if you have a mouse plugged in there too. I'd certainly have preferred to have at least one USB port and ideally the FireWire port mounted toward or at the front for easier access. I should point out that the ExpressCard format isn't compatible with older PC Card/PCMCIA devices, so any that you currently own will be defunct unless a worthwhile adaptor appears on the market.
On the whole I was very impressed by the performance levels, although with a 3DMark06 score of 1,165 this isn't a gaming behemoth. Graphics drivers were left at the default (balanced) setting, and if you're more interested in benchmark numbers than visual quality I can tell you that setting the drivers for optimal performance resulted in a 3DMark06 score of 1,168 - clearly not worth the effort.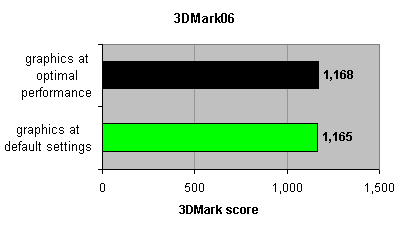 As a multimedia workstation the 6400 fares considerably better with a commendable MobileMark performance rating of 264 and 246 minutes' battery life, all recorded with no active CPU power management.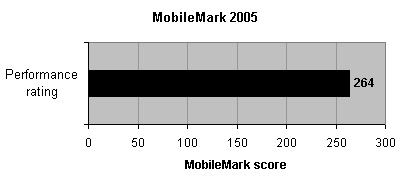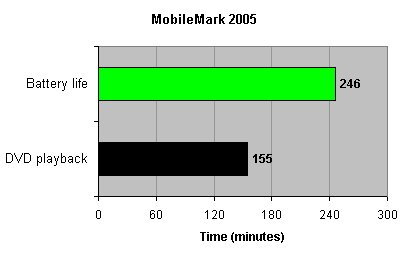 The MobileMark-measured 155 minutes' DVD playback time was also acceptable especially when testing was carried out using higher than normal screen brightness with the internal speakers set to full volume. However, I should stress that Dell supplied us with the upgraded nine-cell 85Whr battery rather than the standard six-cell 56Whr option - a £12 extra.
The overall PCMark05 score of 2,705 is pretty much par for the course, although the CPU score of 5,068 highlights the Core 2 Duo's general performance but also to PCMark's increased use of multithreaded tests.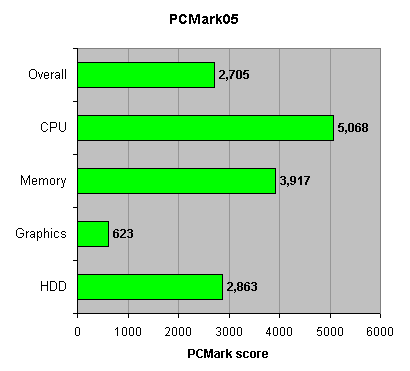 One small annoyance is that the integrated Philips SDVD8820 DVD±R/RW drawer tends to vibrate quite loudly when fed a less than perfectly balanced optical disc. This aside, the 6400 was generally very quiet in operation even when the going got tough.
I strongly suggest that Dell reconsiders the type and amount of pre-installed software. While having anti-virus, anti-spyware and firewall programs are a plus, apps like Google Desktop should be for the user to add later if he or she chooses to. A regular barrage of pop-ups suggesting things be fixed, changed, reconfigured or emailed back to Dell just serve to make the installed software feel sluggish and intrusive rather than reassuring or helpful.
Verdict
With a base price - for the T7200 Core 2 Duo - of £789 inc. VAT and shipping, the Inspiron 6400 is an excellent and affordable route into the Core 2 Duo world. It has all the credentials to be a dependable multimedia companion with its great screen, comprehensive connectivity and decent processing power. But be aware it's neither exciting to look at nor to game on. ®