Original URL: https://www.theregister.co.uk/2006/12/05/sco_web_down/
Concerns mount over missing SCO web admin
Cluster collapse
Posted in The Channel, 5th December 2006 19:15 GMT
Our SCO cluster watch has officially shifted from threat level "amusement" to "concern."
It's day five of the SCO High Availability Clusters link fiasco, and there are no signs of life from the Unix vendor. SCO's homepage link to the HA Clusters software remains down, despite our plea for the company simply to add "ing" to the URL to fix the situation.
It seems clear that demand for SCO's clustering software is running pretty low, since the company has failed to notice its broken link. It also seems clear that SCO's web staff has taken on skeleton crew status.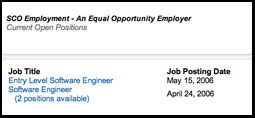 Our heart goes out to the great IP defender from Utah, which has struggled to find a few good men to help out with its IT operations. The company's job page - like its cluster site - has languished for months. The three positions currently up for grabs have been available since May 15.
SCO might have better luck finding software developers, if it tweaks the job disclaimer.
"This job description in no way states or implies that these are the only duties to be performed by the incumbent," SCO warns. "Incumbent will be required to follow any other job-related instructions and to perform any other job-related duties requested by any person authorized to give instructions or assignments.
"Some requirements may exclude individuals who pose a direct threat or significant risk to the health or safety of themselves or others."
On a more positive note, SCO's shares are only down 5 per cent today, breaking a two-day double-digit dip run. ®