Original URL: https://www.theregister.co.uk/2006/12/04/toshiba_handset_launch/
Toshiba touts slimline business phone
More colourful 3G handset too
Posted in Personal Tech, 4th December 2006 12:02 GMT
Toshiba's TS32 isn't the thinnest of candybar mobile phones, but at 10.3mm thick it comes very close. Launched today, the tri-band GSM/GPRS handset sports a 1.9in, 176 x 200, 262,144-colour display, Bluetooth 1.2 and a 1.3 megapixel camera.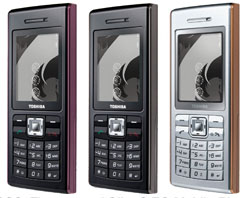 But thin though the 79g TS32 is - the other dimensions are 11.3 x 4.7cm - it also offers limited battery life: just 2.5 hours' talk time and 150 hours on stand-by. Its memory is a mere 5.5MB, though it's expandable using MicroSD cards of up to 1GB in storage capacity.
Toshiba also unveiled the TX80, a 3G clamshell handset that's curvacious and consumer-friendly where the TS32 is angular and businesslike. The TX80 has 40MB of memory, a 2.4in 240 x 320, 262,144-colour display and sufficient battery life for more than five hours' GSM talk time and just over three hours' 3G talk time. On stand-by, the battery will last for up to 470 hours. Toshiba claimed.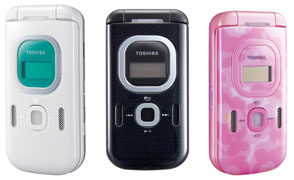 The 111g TX80 has a 76,800-pixel camera for video calls but a 3.2 megapixel job for photography. It's offered in a choice of colours: black, white and pink. The TS32 has a more subdued colour scheme: two models are black with purple or grey accents, while third is silver and gold.
All six handsets will be sold into the Hong Kong market. ®