Original URL: https://www.theregister.co.uk/2006/12/04/review_e-ten_glofiish_x500/
E-Ten Glofiish X500 GPS smart phone
Lean, mean location-tracking machine?
Posted in Science, 4th December 2006 16:23 GMT
Review You're about to launch your latest all-in-one Windows Mobile 5.0 device but need it to stand out from the plethora of similar PDAs and handhelds. What do you do? Simple, give it a quirky brand name and then tout it as the world's thinnest GPS and Wi-Fi enabled Pocket PC phone...
At least that's what E-Ten decided to do with its new Glofiish X500. According to the Taiwanese manufacturer, the two 'i's in the name represent the pairing between user and Pocket PC. Yes, well... moving swiftly on...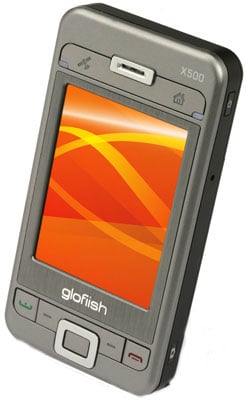 The X500 - kindly supplied by Expansys.com - is not the first fully-featured PDA to have the GPS antenna hidden inside the casing, but with overall dimensions of 11.3 x 6 x 1.6cm it's certainly one of the smallest and thinnest. It also looks rather chic with its metallic-silver finish and brushed aluminium trim around the edges of the 240 x 320 65,536-colour screen. Build quality seems excellent, and the device feels particularly solid in the hand.
In addition to quad-band GSM/GPRS/EDGE phone, the X500 features Bluetooth 2.0 and 802.11b/g Wi-Fi wireless connectivity, but no 3G or infra-red. There's even an FM radio included. A five-way navigation pad and two soft-menu buttons sit below the screen, along with the Call and End buttons. Two more hot keys are located at the top of the unit - one is reserved for E-Ten's GPS Viewer application and the other launches its M-Desk program manager software. Both buttons can be re-assigned to other apps if required.
Along the right edge you'll find the main power button, reset button and another to trigger the two megapixel camera that's built into the back of the casing. Image quality from the camera is reasonable, but shots taken with the integrated flash always seemed blurred. The camera also records videos in 3GP format, but at just 15fps the clips appear quite jerky, especially when shooting scenes with lots of movement.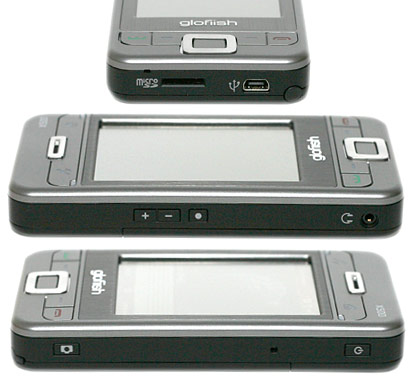 The volume controls are on the left-hand edge, alongside the record button, which also doubles-up as a hot key for Voice Commander, E-Ten's voice activation utility. A 2.5mm stereo headphone jack is present too, with a pair of stereo headphones and microphone supplied in the box. Bear in mind that an adaptor isn't included should you want to use your favourite 3.5mm hi-fi headphones.
The X500 is powered by a 400MHz Samsung SC3 2442 CPU that seemed to handle most tasks with relative ease. With 64MB of RAM built in and 128MB of Flash ROM there's enough space to back-up important data while out of the office. If you need more storage, a MicroSD card slot can be found along the bottom edge of the case. Next to this is the mini USB connector for charging and syncing with your PC, and the home for the telescopic stylus.
Using the Wireless Manager utility, enabling and disabling the GSM, Bluetooth and Wi-Fi connections is simple. By tapping the relevant icons you can turn each of the wireless connectivity devices on or off, or deactivate all of them in one go for flignts or to maximise the PDA's battery life.
For a GPS-enabled device you may be surprised to find the X500 comes without any bundled navigation or mapping software. I guess this is so the user has the freedom to install their own preferred package - such as CoPilot Live, reviewed here in its Symbian form - rather than pay for a software brand they don't want. However, there are a few basic GPS applications included to get you started. The GPS Viewer mentioned earlier gives a graphical representation of the satellite data and displays your current latitude, longitude, altitude and speed. Location SMS lets you send someone an SMS message with your current co-ordinates.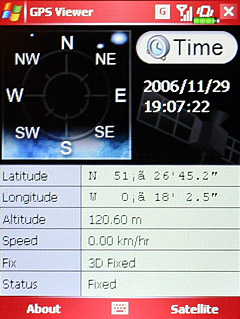 The software wasn't without faults. Even though Location SMS got my co=ordinates spot on, GPS Viewer consistently put me at least 20km South-East of my true location. It couldn't even display the correct symbol for degrees. This appears to be a glitch in the program rather than the hardware as the receiver worked fine with other GPS software. This issue aside, the X500's SiRFStar 3-based GPS pick-up worked very well and rarely took more than a minute or so to lock onto a signal.
Under the back cover sits a beefy 1,530mAh lithium-ion battery which, even with moderate phone and wireless use, easily got me through a working day. With the phone and Wi-Fi connectivity disabled, and the screen forced to stay on at half brightness, I also managed to get over six hours use out of the GPS receiver. The X500 will trickle charge over USB but it fills up much more quickly with the AC adapter connected.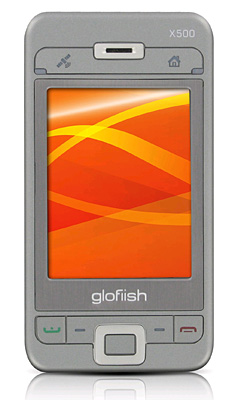 In common with other Pocket PC devices, the X500 ships with a copy of Microsoft ActiveSync and Outlook 2002 to help synchronise data with your PC. The CD-ROM also contains a full version of the user manual, but a useful quick-start guide will get most up and running straight out of the box.
A protective leather case is thrown in but bulks up the X500 to a less pocket-friendly size. Thoughtfully, E-Ten also include a peel-off screen protector to avoid any worries about scratching the display if you leave the case at home. One item that isn't included is a car mounting kit, so budget for that if you plan to use the X500 on the road.
Verdict
Although not perfect, E-Ten's Glofiish X500 stands out from the current Windows Mobile 5.0 crowd thanks to its compact size, metal finish, full array of connectivity options and integrated GPS. Disappointingly, 3G does not feature and at £430 without navigation software or a car kit it's not one of the cheapest GPS PDAs around. ®