Original URL: http://www.theregister.co.uk/2006/12/01/review_sandisk_4gb_sdhc/
SanDisk 4GB SDHC memory card
High capacity, low speed?
Posted in Personal Tech, 1st December 2006 16:50 GMT
Review The organisation that oversees the SD memory card standard announced the SD High Capacity (SDHC) format back in January, but it's taken the best part of eleven months for cards based on the specification to make it to market. There have been a fair few announcements of SDHC products, particularly in Japan, but the first to arrive in the Reg Hardware office is SanDisk's 4GB card...
That capacity is key to what SDHC offers over the vanilla SD specification. SD cards arrange the files and folders they contain using the FAT16 file system. SDHC uses FAT32. Don't worry about the jargon - what it means is that SDHC can support much larger storage capacities than the 2GB the SD format is limited too. As I say, SanDisk's debut SDHC card holds just under 4GB of information - the file system itself takes up some space - and 8GB cards have already been announced by other vendors.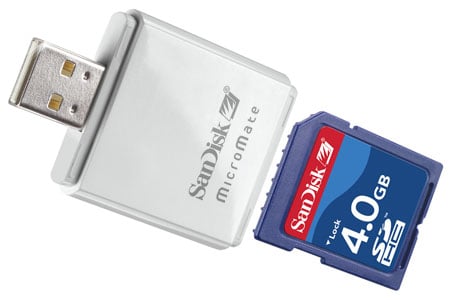 The downside is compatibility. A gadget that supports SHDC will read all your old SD cards, but don't expect your SD-friendly digital camera, memory card reader or that slot in your notebook to be capable of using SDHC cards. For now, devices with SDHC-compatible slots are few and far between - SanDisk's own documentation lists 35 devices, all cameras or camcorders from Japanese vendors - though the numbers are increasing, and are likely to balloon next year.
For now, SDHC support is limited, which is why SanDisk is bundling its SDHC cards with one of its USB-connected MicroMate card readers. It's a true USB 2.0 device, communicating at 480Mbps, and is compact enough to make it easy to carry around with you.
To test SanDisk's 4GB SDHC card, I plugged the MicroMate into my MacBook Pro's USB 2.0 port. I also used the card reader to test SanDisk's Ultra II SD card, albeit a 512MB version. I also ran the same tests on a 4GB Peak Xtreme USB Flash drive.
SanDisk's SDHC is rated a Class 2 device, which means its capable of a minimum guaranteed data transfer rate of 2MBps. The SDHC spec also includes Class 4 and Class 6 - respectively delivering at least 4MBps and 6MBps.
The test involved duplicating a folder containing ten 10MB files first on the card itself. I also measured how long it took to copy the folder onto the card and then from the card back to the hard drive. For the card write test, the SanDisk took 22.31s, a rate of 4.48MBps. The read test was completed in almost half the time: 11.56s, yielding a rate of 8.65MBps. The on-card copy speed was 3.00MBps, from a 33.33s timing.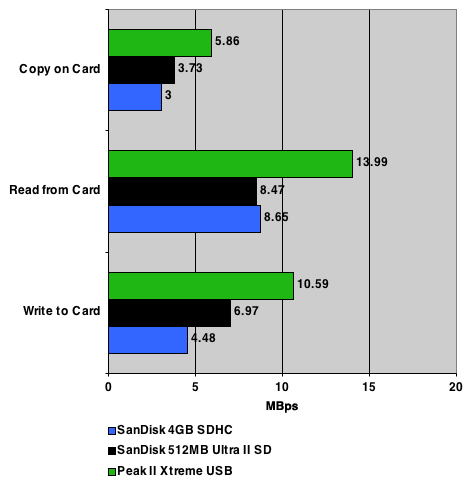 These numbers compare well to SanDisk's Ultra II, which is pitched as a high performance alternative to standard SD cards. The Ultra II's numbers: 3.73MBps for the on-card copy test, 6.97MBps for the copy-to-card run, and 8.47MBps for the copy-to-disk test.
The Peak II Xtreme yielded read and write speeds of 13.99MBps and 10.59MBps, respectively, and an on-card copy throughput of 5.86MBps.
SanDisk's SDHC card, then, offers comparable performance to the company's high-end SD card but with a much higher capacity - and the potential for more further down the line. But until Class 6 SDHCs become commonplace, the format isn't going to challenge good USB Flash drives.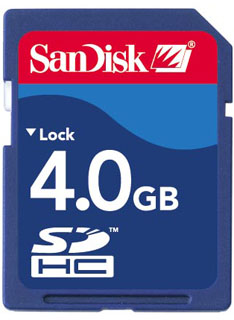 The Peak drive retails in the UK for around £50. The SanDisk SDHC costs approximately £70. Both offer the same capacity, but the USB key is faster. Of course, a USB disk isn't helpful if you want the card for a handheld device or a camera, but then the SDHC card may not be either, if your device doesn't have an SDHC-compatible card slot.
Verdict
SanDisk's SHDC card isn't the best computer-oriented removable storage offering - though tucked into the bundled MicroMate USB 2.0 card reader it makes for a neat USB Flash drive - and with limited gadget support for SDHC, it's not yet an alternative to regular SD cards. However, as more devices ship that are capable of handling SDHC cards, SanDisk's product will stand out for its speed and capacity. ®