Original URL: http://www.theregister.co.uk/2006/11/29/review_shuttle_xpc_x100/
Shuttle XPC mini X100HA slimline PC
Good things come in small packages?
Posted in Personal Tech, 29th November 2006 12:50 GMT
Review Most Shuttle XPC small form-factor systems such as the SN27P2 and the SN37PS look like a cut-down PC tower, but the XPC mini X100HA sets a new standard. It's absolutely tiny. We previewed the X100 here and now we've got our mitts on a real, live working example...
The photos don't do the tiny size justice, so to put things in perspective let's spell it out: the SN27P2 measured 32.5 x 22 x 21cm giving it a capacity of 15 litres, while the X100 measures 21 x 29.6 x 5.5cm for a capacity of just 3.4 litres. It's the 5.5cm height that makes the difference, as the X100 can either sit on your desk as a low-profile computer or you can stand it on edge in Shuttle's swish aluminium holder as a miniscule tower.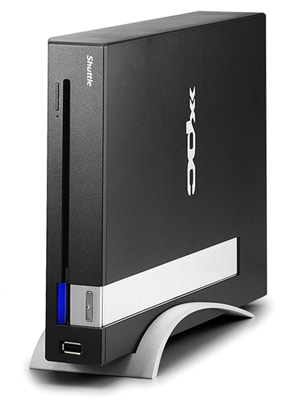 Shuttle could have styled the X100 as little more than a slab but it's used a silver XPC logo and silver stripe to give the unit some class and sophistication. You'd be quite happy to house this computer in your living room, most likely because it doesn't look much like a PC. The slot-loading DVD drive on the front is inconspicuous and so too are the four-in-one card reader and single USB port. The remainder of the ports are on the back and while four USBs sound generous you'll need to use two of them for your mouse and keyboard.
Shuttle has used an external power brick, similar to the type you get with a notebook, which helps keep the X100 small and also removes a source of heat from the case.
Likewise, the innards of the X100 use laptop technology, with the exception of the desktop hard drive, which is located under a cover on the bottom of the X100 and inside a steel caddy.
Remove the top cover and everything is packed in tightly - no great surprise considering that the front-mounted DVD drive and the hard drive at the rear leave little room for the motherboard, processor, graphics and memory. It's a rather cosy affair and raises the issue of cooling, which is never far from the forefront with small form-factor PCs.

The Socket 479 Core Duo and ATI Mobility Radeon X1400 graphics sit under a common cooling package that uses a heat pipe to connect the heatsinks on the chips to a single copper heatsink at the rear of the unit. A single quiet fan then blows the heated air out of the case. The packaging problems are eased as Shuttle is also a motherboard manufacturer familiar with designing and building the hardware that it needs to overcome a particular problem. Even so, it's a surprise to see the number of bespoke connectors and ribbon cables that have been used in this design. Although you can configure the X100 when you place your order it won't be practical to perform upgrades unless you happen to have piles of laptop components. For those that don't it's probably best to treat the X100 as a sealed unit.
It's tricky to pin down a UK price for the X100 as it's yet to go on sale here. However, we can give exact pricing in Euros. The most basic model comes with Windows XP Home, an 80GB hard drive, a combo drive and no wireless for €1,073 (£725/$1,412).
Our Windows XP Pro review unit came with 802.11abg wireless and an Intel T2050 1.6GHz Core Duo processor, all of which happily communicate with an Intel i945PM chipset. This is backed by 512MB of DDR 2 PC4300 memory in dual-channel mode, with storage covered by a 200GB Samsung SP2004C hard drive and that slot-loading Matshita UL8455 8x dual layer DVD writer with 5x DVD-RAM. The price for this spec? €1,238 (£840/$1,629). Push the boat out and move to a 2.16GHz Core 2 Duo and the price hits €1,630 (£1,100/$2,144).
Performance is exactly the same as a laptop with a comparable specification but that's not strictly relevant here. The Radeon X1400 graphics run at 445MHz core and 675MHz memory and just about have enough grunt to run games, as indicated by the 3DMark05/06 scores. Realistically, though, Shuttle has specified graphics that are the bare minimum to run the Windows Vista Aero interface.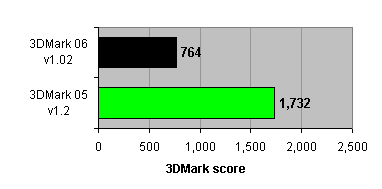 The PCMark05 score was helped by the HDD element as it uses a proper desktop drive while many laptops are held back by the 4,200rpm spin speed that is typically used in mobile drives.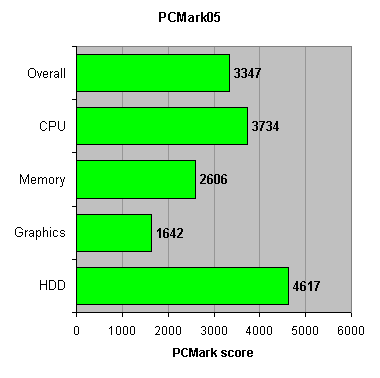 Overall, the Shuttle has the performance of an £800 laptop but the key point is that the X100 is near-silent in operation. This makes it ideal for use in the living room, or anywhere that you want to avoid a noisy PC. Let's face it, many laptops are fairly rowdy when the cooling fan kicks in.
Value for money is a bit of a vexed question as you can easily buy a laptop with this specification for a lower price and that will include a screen, mouse, keyboard and battery. Shuttle includes Nero 6 suite and a stereo edition of Cyberlink PowerDVD 6, which adds very little to the overall value. Despite that I still like the X100. It's stylish, quiet and has enough power on offer for a day-to-day PC.
Verdict
The Shuttle X100 is an unusual Windows PC that stands out thanks to its tiny size and stylish looks. It thoroughly deserves to reclaim the many receptionists' desks that are currently occupied by iMacs across the nation and it's ideal for duties in your living room where a noisy beige tower simply won't be tolerated. ®