Original URL: http://www.theregister.co.uk/2006/11/27/lacie_ships_biggest_fw800/
LaCie ships 2TB RAID-able desktop drive
On-board drive controller for speed
Posted in Personal Tech, 27th November 2006 12:43 GMT
LaCie has begun shipping its 2TB Biggest FW800 storage box, a unit that packs in four lock-in-place hot-swappable 500GB SATA drives and a dinky LCD status panel.
Despite the FW800 in its name, the Biggest FW800 can also connect by USB 2.0 and FireWire 400. The system can be set to combine the four drives as a single, large storage space or in RAID 0+1, 5 and 5+spare configurations. The RAID type is set using a switch on the back of the unit and maintained by the machine's on-board controller.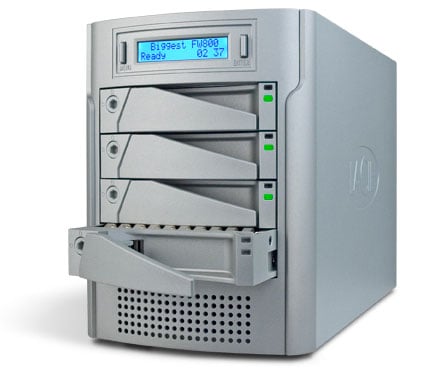 LaCie also said the drive will automatically respond to drive, fan and power failures, and will even shut itself down if the temperature rises above 55°C. Freshly fitted drives are automatically populated according to the RAID setting.
Available now, the 2TB Biggest FW800 costs £1,339 inc VAT. LaCie is also offering a 1TB version, for £839. ®
Related reviews
LaCie Safe 250GB biometric hard drive
LaCie Skwarim 30GB pocket hard drive
LaCie Two Big 1TB eSATA drive
LaCie Rugged 80GB portable hard drive