Original URL: https://www.theregister.co.uk/2006/11/27/altair_8800_replica_kit_on_ebay/
'Altair 8800' kit reaches $1,725 on eBay
'It's only a model...'
Posted in Personal Tech, 27th November 2006 13:24 GMT
We could describe this eBay auction as your opportunity to own a piece of computing history, but that would be an utter lie. No, this is an eBay auction that gives you the chance to own all the bits you'll need to make something that looks like a piece of computing history.
What we have on offer here is a replica of the original Altair 8800 kit-build computer.
Made up, it should look like this: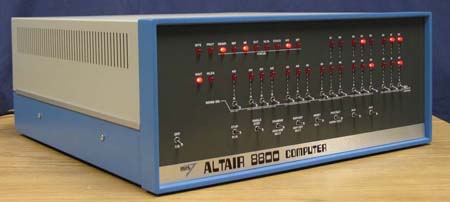 The original MITS Altair 8800 was designed more than 30 years ago, and apart from starting what became the home computing revolution also provided the first real job - coding a Basic interpreter - for a small Seattle-based company called Micro-Soft.
The kit comes with almost all the bits you need to build a repro Altair 8800. The only bit missing is the power cord, to ensure the seller doesn't become entangled in "possible liability issues". The kit's built primarily from new parts, though some old ones have been used where new units are no longer available.
There are some places where the replica doesn't quite match the original, but the seller's posted a list - with pictures - of them online. Correctly completed kits work just like the original 8800, though.
Bidding for the last Altair 8800 replica kit reached $1,725. ®