Original URL: https://www.theregister.co.uk/2006/11/23/rtx_dect_skype_first/
RTX ships 'first' cordless Skype phone
Exaggerated claim?
Posted in Personal Tech, 23rd November 2006 15:35 GMT
Danish handset maker RTX Telecom today launched what it claims is the first cordless Skype phone that doesn't require a PC. That's what the blogs are saying, at any rate. What RTX is really claiming is to have shipped the first RTX PC-less Skype handset, which is a bit like Honda making a big deal about how it's the first company in the world to ship a Civic with four wheels.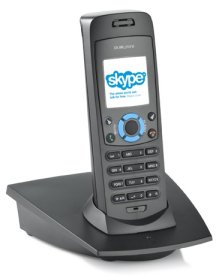 RTX's Dual Phone 3088 isn't the first PC-less Skype phone by a long chalk. Philips announced one back in September, and both Logitech and Panasonic launched similar products earlier this year. And then there are all the Wi-Fi-enabled Skype phones from SMC, Netgear et al that likewise require no PC.
The 3088 uses a DECT connection to communicate with its base-station unit, which plugs into a broadband router. It also hooks into the phone network to allow it to operate as a standard. Outgoing calls can be made either way.
RTX claimed the 3088 offers ten hours' talk time and almost six days' standby-by operation.
Available from today, the Dual Phone 3088 will retail for around €159 ($205/£107). ®
Related reviews
SMC WSKP100 Skype phone
Mobiboo UTstarcom F3000 Wi-Fi VoIP phone
Netgear SPH101 Wi-Fi Skype phone
TrendNet ClearSky Bluetooth 2.0 Skype handset