Original URL: https://www.theregister.co.uk/2006/11/23/review_auzentech_x-meridian/
Auzentech X-Meridian 7.1 sound card
At last, a real rival for Creative's X-Fi?
Posted in Personal Tech, 23rd November 2006 11:01 GMT
Review The vast majority of modern motherboards have integrated HD audio, and if you do fancy an sonic upgrade, most likely for gaming, the obvious candidate is a Creative Sound Blaster X-Fi. So where the heck does Auzentech hope its X-Meridian 7.1 sound card will fit in?
Integrated HD audio is fairly impressive and while the exact specification will vary from one motherboard to another you can expect to get mini jack support for 5.1 or 7.1 surround sound speakers. You may also get some sort of digital S/PDIF output. Taking the Intel D975XBX2 motherboard as an example - as we happen to have one on the test bench - there are five mini jacks plus coaxial and optical digital outputs.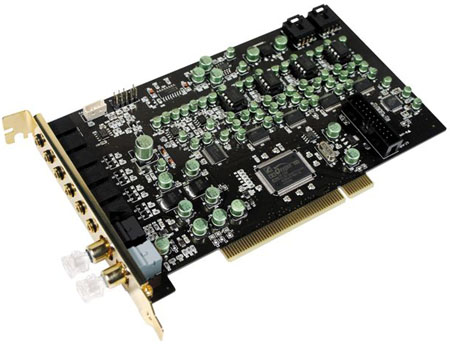 Intel backs up the SigmaTel 9274D HD audio chip with its own Audio Studio 2.0 software, which is a model of clarity and design that will help you set up your speakers and select ambient settings to enhance your music or game play. You also get one of those handy pictorial guides that help the bewildered check which of the many, many cables they've just plugged into the back of their PC are in the correct port.
What you don't get with integrated HD audio is EAX environmental audio so while you'll hear the thud of your enemy's boots behind you, you won't be clear whether they are walking on a steel floor or rock. And you'll miss the nuances when characters in games move around in a room as the sound won't reflect off the walls correctly.
Gamers, then, will certainly benefit from an upgrade to a decent sound card, but as I say, the vast majority will undoubtedly opt for some sort of Creative SoundBlaster.
The case for a sound card for other applications isn't so clear cut. A few years ago it was easy to tell the difference between basic AC'97 integrated audio and a Terratec DMX 6fire 24/96, Videologic Sonic Xplosion, M-Audio Revolution 7.1 or a SoundBlaster Live! A dedicated sound card had far more punch and precision, as well as a better range of connectors. Integrating HD audio, however, has changed all that.
For example, I plugged an Audigy 2 ZS into the Intel D975XBX2 and was unable to hear any difference when I played music or watched a movie. What is different is the stack of software that Creative bundled with its sound cards which is a whopping great pile of bloatware. It's taken Creative many years to come up with some decent software and I reckon only now has it come up to the standard of Intel Audio Studio 2.0 software. That said, the Creative mixer and mode switcher are very good indeed.
This is the background against which Auzentech has to convince us that its X-Meridian is worth considering as an upgrade. To do so, it has worked its socks off to come up with a sound card that has a startling specification. The X-Meridian uses a C-Media Oxygen HD CMI8788 processor which fully supports Dolby Pro Logic IIX, Dolby Digital Live, DTS Connect and Dolby Headphone Technology.
The X-Meridian has four DACS which give 24-bit/192kHz support for recording and playback with up to eight speakers with a ten-band EQ for each channel. Some sound cards can manage this in stereo but this is the first card I've seen that can manage it in surround sound.
This 24-bit/192kHz support extends to the S/PDIF transmitter and despite the minimalist looks of the Auzentech the two coaxial S/PDIF connectors accept adaptors - which are included in the box, incidentally - so you can plug in an optical connection.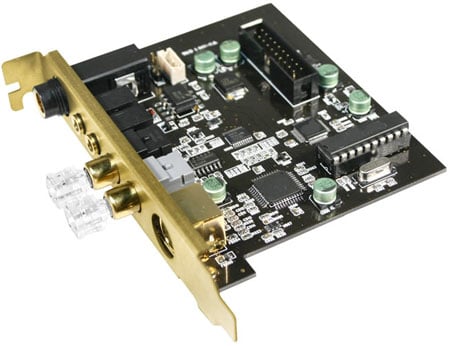 If the six mini jacks and S/PDIF aren't enough for you then you may want to consider the optional X-Tension board. This adds two more S/PDIF, one 6.35mm microphone jack, two 3.5mm jacks with adapter cables that connect to standard 5-pin MIDI in and out, and one S/PDIF DIN 9-pin mini DIN jack for 8-channel Pure PCM Output. Phew.
The X-Tension will be available in the UK late January/Early Feb 2007.
You also have the option of plugging the front panel audio on your PC case into the X-Meridian so the truly crazed could connect three microphones with one plugged into the sound card, one connected to the X-Tension bracket and one at the front of the PC.
Auzentech has used C-Media drivers and while the software doesn't look as slick as either the Creative or Intel packages it is simple to use and very effective. For some reason C-Media hasn't tied the volume control into the drivers so you use the Windows slider to operate the C-Media rotary control. Other than that it's very good indeed.
The drivers also ship with a handful of superfluous C-Media utilities called Helicopter, Media Rack and Play 3D.
When it comes to games it seems that the X-Meridian is an honorary SoundBlaster as we were able to use the advanced EAX controls even though Auzentech states that the X-Meridian supports EAX 2.0, and we were unable to tell the Auzentech and Creative cards apart.
We were staggered to find that the X-Meridian drove our Creative Inspire T7900 speakers to significantly higher volumes than either the on-board HD audio or the Audigy 2 ZS, and both MP3 and movie playback had a new level of clarity and precision. This was a real surprise as we have always found that 192Kbps MP3s sound much the same on any sound card as the compressed music file and speakers ought to be the weakest links in the chain. The X-Meridian proves that assumption is wrong.
Verdict
With its superb X-Meridian 7.1 sound card Auzentech has taken the fight to Creative, and I truly feel that this is the best sound card that money can buy. That's a huge claim to make for a relatively obscure piece of hardware and at the very least I hope that the X-Meridian will push Creative to make greater strides when it revises X-Fi. ®