Original URL: https://www.theregister.co.uk/2006/11/21/review_vodafone_mobile_connect_modem/
Vodafone Mobile Connect 'super 3G' USB modem
HSDPA connectivity for the PCMCIA-less
Posted in Personal Tech, 21st November 2006 09:02 GMT
First Review Announced last August and shipping today, Vodafone's Mobile Connect Modem is pitched at anyone who owns an Apple MacBook, MacBook Pro or, indeed, any other modern notebook made by a manufacturer whose products don't have old-style PC Card slots. ExpressCard is all very well, but it won't accept Vodafone's 3G Broadband data card, so the carrier has stepped in with a USB-connected alternative...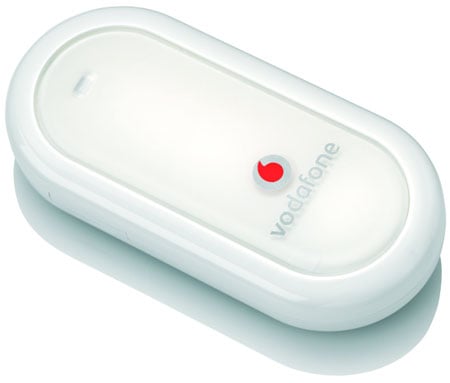 The modem is an iPod-white box that measures a compact 8.7 x 4.1 x 1.3cm. Almost entirely feature-less - visually speaking - there's a status LED some way above the Vodafone logo, a mini USB port and a drawer in the side for the SIM. Unhooking the drawer is easy - just pull it out, slide the SIM into the drawer then put them both back in the device.
Vodafone bundles a pair of transparent USB cables: both mini-to-maxi USB adaptors, though one cable sprouts a second large USB connector as a secondary power feed for folk with USB 1.1-equipped computers. The extra USB connector is on a rather short lead, so your USB ports can't be more than 9cm apart - a problem if you've one on one side of your notebook and the other on the far side.
Installation is straightforward. I tested a pre-release model and had to download the Mac OS X drivers, but Vodafone assured me they will be included on a CD in the box. Windows users don't even need a CD - the modem has a read-only Flash disk on board which holds the drivers, using Windows' auto-run feature to install them automatically.
On the Mac, the installer saves Vodafone's Mobile Connect app and the hardware drivers. After a restart, plug in the model, run Mobile Connect and the software will allow you to select the network you're connecting to - essentially to cater for roaming. Connections to Vodafone's 3G network are actually made using Apple's own Internet Connect utility - now pre-loaded with Vodafone's settings - much as you would with a dial-up modem or a Bluetooth-connected mobile phone.
The Windows version of Mobile Connect operates as its own connection app.
Mobile Connect won't run when the modem's connected, but after you have disconnected, you can run the Vodafone app to choose whether you want to connect only by 3G and HSPDA; by these if available and GPRS if not; or by GPRS only.
The first time I tried to connect, I got an authentication error, but I tried again immediately and was logged on quickly. I didn't experience any such problems again.
Web pages loaded quickly too, at a speed comparable to using a fixed broadband connection. One downside: JPEG images appeared in low-resolution, thanks to Vodafone's throttling of the image quality to reduce data transfer times. Clicking Shift+R with cursor over the image redisplays the image correctly, thanks to JavaScript inserted into the HTML page by Vodafone, but here's a way to fix it permanently.
Downloading an 8.6MB application on a 1.86GHz MacBook Pro yielded a respectable average download speed of 1.02Mbps - the file took 67.47s to arrive. That's less than the 1.4Mbps Vodafone reckons you should be able to get - itself well below the 1.8Mbps theoretical maximum - but then I downloaded the file in Reg Hardware's office, which lies in the shadow of the Telecom Tower and doesn't have the best reception as a result.
Elsewhere, I got 1.42Mbps downloading the same file - a download time of 48.45s and a score much closer to the kind of performance I'd expect from a first-generation HSDPA network.
I also tried the Mobile Connect Modem with a Windows XP machine, which reported a 3.6Mbps connection speed, though Windows simply takes the maximum possible speed after interrogating the network adaptor's drivers. The good news here is that the Mobile Connect Modem will run to 3.6Mbps, the download speed the next version of HSPDA is set to offer, as and when Vodafone upgrades its network accordingly.
The Mobile Connect Modem costs £49 or £99 depending on your data tariff, of which there are three, costing £25, £45 and £95 a month respectively. The cheapest bundles 250MB of data transfer each month, with the rest costing £1 a meg. The other to are 'unlimited' in the UK - ie. subject to the usual 'don't take the mickey' policy.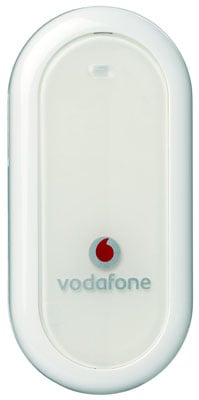 What's important to note here is that Vodafone is charging as much for the Mobile Connect Modem as it does for its 'standard' 3G Broadband Data Card product. So it's not attempting to screw more money out of folk who lack a PC Card slot. Of course, whether you think its HSDPA tariffs represent good value for money is another matter - and highly dependent on whether you need high download speeds when you're out and about.
The modem's made by Huawei, a fact Vodafone doesn't attempt to obscure. You can buy the device - it's the E220 - untethered to a network for around £230, but you'll still need a 3G SIM. While the unit has Windows software on board, Mac users will have to download Vodafone's software, here. All told, it makes more sense to buy the Vodafone-branded hardware.
Verdict
It might not be as convenient to fit an add-in card HSDPA device, but Vodafone's Mobile Connect Modem is the perfect connectivity gadget for Mac and Windows users whose notebooks support the ExpressCard add-in card format rather than the older PC Card system. Vodafone charges no premium for it, and carrying this compact dongle and its very short USB cable isn't going to hinder your travel plans. If you want high-speed data access on the move, you can't go far wrong with this device. ®