Original URL: https://www.theregister.co.uk/2006/11/21/ocz_pumps_up_liquid-cooled_dimms/
OCZ pumps up liquid-cooled DDR 2 DIMMs
Memory clocked at 1,150MHz
Posted in Personal Tech, 21st November 2006 10:59 GMT
Memory specialist OCZ has launched a line of 1,150MHz DDR 2 memory modules - PC2-9200, in other words - that not only incorporate their own heatsink but also sport a tiny liquid-cooling rig too.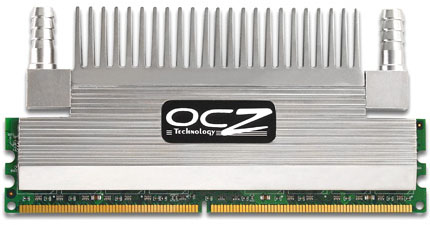 Dubbed FlexXLC, the memory will ship in a kit comprising two 1GB unbuffered 240-pin DIMMs for dual-channel set-ups, OCZ said. The memory has a latency rating of 5-5-5-18. The DIMMs run at 2.35V, rather more than the 1.8V the DDR 2 standard was defined to require.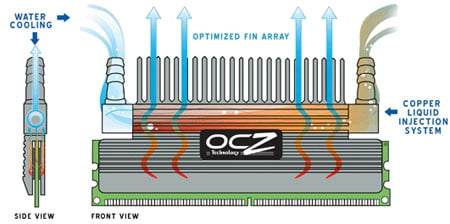 To use the water cooling feature, users will need to have a liquid-cooling system in place already. The DIMMs connect to it through simple inlet and outlet pipes. OCZ described this approach as a "flexible" one, allowing users to run the modules passively cooled if they wish.
Last week, OCZ unveiled a fan-based active cooling system for any make of DIMM.
There's no word yet on pricing or availability. ®