Original URL: https://www.theregister.co.uk/2006/11/20/cambridge_incubator/
Cambridge incubator spawns spinoffs aplenty
Are you allergic to VoIP?
Posted in Business, 20th November 2006 11:50 GMT
A trip to St John's in Cambridge (England) provides an opportunity to see innovation in action. And one of the pioneers of Cambridge Technology - Dr Herman Hauser of Amadeus - was there this year to explain how it all came about - and to take modest credit for the effect.
It was ironic that in the same week as Bill Gates was being mocked for talking to the EC about innovation when he didn't even know about a deal done for the Zune music player with Universal (one dollar goes to Universal for every Zune sold) Herman Hauser was explaining how innovation came to Cambridge.
The signs were slow to be spotted. As recently as 1999, this reporter wrote a critical but hopeful piece about the Cambridge Network of high-tech startups, saying that, after many years of false dawn, perhaps it was starting to get going:
"Just maybe the time has come to start expecting real high-tech businesses to start developing in the "Silicon Fen" - the business districts around Cambridge," said a comment which has sadly been deleted from the ZDNet website. "The reason for hope: the long-missed 'magic ingredient' of professional management, is starting to appear in Cambridge."
Hauser was just another bright technologist when he founded Acorn - the company which hired wizard-level programmer Sophie Wilson who in turn gave the world the Acorn Risc Machine, or ARM - after producing the BBC Micro. But he was always inspired with the idea that Cambridge could be a rival to Silicon Valley, if enough people clustered around the University with commercial ambitions, rather than academic ones.
St John's is just one of the "incubator" centres now flourishing around the Science Park, and other industrial technology jewels which make the city of Cambridge one of the world's biggest innovation springs.
It's not just computer technology, either. These days, chemistry (scent detectors like Tourist) biochemistry (Food Detective) and medicine (the Model Gut) line up in St John's alongside computer software like Undo (a debugger which runs backwards) and Margo (filling in missing radio bursts to provide higher fidelity audio) looking for a chance to turn a good idea into a growing corporation.
"You know most of your startups won't do it," said Hauser candidly, introducing this year's crop of hopefuls. "But as a venture finance investor, you know that you only need one or two stars to create enough money to start another dozen new ideas."
Here's a look at the pick of the list on show at this year's Open Day in Cambridge.
Better clocks
Sometimes, innovators persuade you they've done more than they have; years later, you feel an idiot for giving them publicity. But when OptiSynx touted a new high-resolution clock as "enabling faster wireless broadband" many reporters retreated into scepticism.
"Replacing the existing clocks in mobile phone base-stations with Optisynx, not only gives improved user experience with fewer dropped calls," says the company blurb, "but also allows an operator to fit more calls into each base-station..." - a claim which few have felt confident enough to repeat.
Dominic Mikulin, CEO of the St John's sponsored startup, impressed observers with the claim that his low-cost silicon chip would more than just rival caesium-based clocks. He even got traction for saying that his technology was 1,000 times more accurate than rubidium based timers (one second in 30,000 years, compared with 30 years for the radioactive decay machine).
"If you want accuracy, in the past you had to use caesium - but that's old tech and not safe, said Mikulin. "Using rubidium is safer, but not accurate enough - so people have used rubidium, and then re-calibrated the rubidium clock frequently with a GPS-provided signal, which is caesium-generated."
His theory is that GPS clocks can be hacked, while his can't. "GPS signals can be disrupted by weather or environmental conditions. But also they're easy to tamper with - using very inexpensive kit - leaving you with a system that can't be audited - so if you rely on GPS, you're no longer in control."
In fact, Optisynx's predictions for the value of the new timer technology in mobile comms are quite conservative. When Mikulin says that future wireless broadband will run at 70 megabits and then 150 megabits, few in the mobile area would disagree.
But quite how having a better clock will make this possible isn't clear - hence the reluctance, perhaps, for the story to hit the headlines.
Undo...debugging in reverse
Any programmer will know how you debug. You "step through" the code with a machine emulator, which shows you what is happening after every instruction.
"The trouble with standard debug," says Greg Law at Undo-Software, "is that you can see that a problem has occurred all right - but you often don't get to see when the problem was caused. It can be thousands of steps before it shows its effects."
So his software runs both ways.
First, it runs through the software, and throws up bugs in the normal way. But then, it runs backwards. "It's like a black box flight recorder. If a problem occurs, you trace it back to the source, you go back in time to the point where things originally went wrong."
The first version, now shipping, is for Linux developers on Intel X86 family computers, but there's no reason to fear that other versions can't be produced in due course, says Law. "That's why we are here; we need the money to do the next versions."
You can listen to an MP3 interview with Law conducted by developer magazine Dr Dobbs Journal, or try it out free for 30 days.
Smirk
What's the academic equivalent of a "shoot-em-up" video game? How about a "teach-em-up University" online?
The Virtual University really exists. Instead of going to class, you send an avatar into a virtual world, where the lectures and blackboards are software-generated.
It's called Smirkworld, said David Kraithman, who is not in fact a Cambridge University lecturer - he comes from the University of Hertfordshire, also represented at St John's. "It's like a computer game, but instead of warriors and monsters you have students and tutor."
There are three pieces to the virtual university.
Smirk is the basic authoring tool. It creates multimedia slide shows - a sort of super-Powerpoint that runs on a web server. Smirkboard is the hosting software, and SmirkVR takes the other two components and generates a virtual world in which several "players" or students can meet.
"The ensuring fight - or discussion, as we prefer to call it - can be recorded as captions, like subtitles on a movie," said Kraithman. He believes that the accessibility features will enable people who simply can't get to a class to join in, and interact with other students.
The breakthrough is in dropping the idea of using video conferencing, which has been the assumed basis of many shared-classroom systems in the past. Video conferencing is notoriously hard to manage, and either prohibitively costly in bandwidth, or simply crap.
But sending an avatar in, exactly as you send a player with your choice of "skin" into Doom or Quake or Half Life, uses trivial amounts of bandwidth, but works far more convincingly.
"Smirk enables anybody to produce accessible presentations that can be streamed over the web," says the publicity blurb. "The presentations are produced at the desk without any technician support. Audio, graphics and captioning are the basic building blocks but other elements such as Flash movies, video and links (internal and external) are easy to include."
You can download Smirk from the Hertfordshire University website.
Ferret out copying of your writing...
Plagiarism is, of course, rife on the web - and there's a difficult line to draw between legitimate quoting and ripping off. An easy line to draw, these days, with the release of Ferret, which can spot "cheating" in exams in an instant.
It may also be able to spot musical theft in its next version but, sadly, there are currently no plans to develop an artistic ferret.
The software was originally developed by a University of Hertfordshire lecturer to spot cheats. He set up the Plagiarism Detection Research Group at the university with a brief to simply spot degrees of similarity between text works - or if you prefer, essays.
Ferret can alert you to a possible copyright infringement on just three words. You may well say that "OK, but so can Google!" but Google can't tell you which of the documents with those three words is "sufficiently original" to pass a test of plagiarism.
"It can compare several reports, a number of news items, entries in an electronic encyclopaedia, or different versions of a legal draft," says the blurb. "Even on an ordinary PC, it takes longer to convert a batch of Microsoft Word file to plain text, than it does for Ferret to read those same files and identify the ones that match."
It also works on software. "Natural languages like Chinese and Dutch have already been tested. Only minor changes to the software were required for Chinese, and equally minor changes made it possible to check through C++ and Java code."
Full details at the university web centre.
Imagine - on my mobile
You'll have been to computer trade shows? These days they all have Bluetooth "listening posts" which you can stop at to download stuff... but imagine being able to scan the local High Street with your mobile? With OnMyMobile, that's exactly what you might be able to do.
The idea probably depends on the general phone user being relaxed about getting unsolicited messages offering to connect to your phone via Bluetooth. You have to opt in; and if you don't, it's just a minor irritation to get the offers.
But if you set your phone to "discoverable" and accept the link from (say) a local cinema, you can find out what time the next show starts - and even download a trailer clip to watch on the tiny display there and then.
"We think it will be useful in museums," said Chris Bale, founder of OnMyMobile. "It will tell you where you are, where to go next, and what sort of stuff you can see in the next room."
Ideas like this have been suggested by mobile operators, of course, with derisory uptake from phone owners who see not the slightest reason to spend their own data dollars on receiving adverts. Bluetooth, however, costs nothing except a tiny amount of battery power.
"The range of the Bluetooth access point - home base - can be as big as you like up to the max Bluetooth allows," Dave Pigott, co-founder. "Or it can be very low power; you could use the phone as a swipe card, working just inside the doorway."
Just to prove what a real startup this is, itsr corporate website, www.onmymobile.com, was not up and running at the St John's Open Day, but you should be able to mail Chris and Dave at firstname dot secondname at that domain.
Food intolerance
Upset tummy? Bad enough to see the doctor, and impressive enough to be referred to a specialist? Do it yourself! - the tests will be easier, faster, and quicker done at home. That is, if you can prick your own finger...
According to the Food Detective's inventors at Cambridge Nutritional Sciences, Irritable Bowel Syndrome (IBS) is a problem for 15 per cent of us. And half the patients sitting patiently through the long and tedious process of trying to work out what's causing it, will find out what the problem is, and be able to quit eating whatever food disagrees with them.
Or else you can see what antibodies your body already has to a wide range of ordinary foods. Take a drop of blood from your finger (accurately measured, of course!) and put it over the Food Detective's scanning tray. A tiny dot for each major food type contains the basic proteins from that - yeast, wheat, chocs, cola nut, egg, cow-milk, and on and on.
Twenty minutes after you've pricked your finger, you wash the blood off, add a chemical to the tray, and watch to see which dots turn blue. Those are the ones to avoid.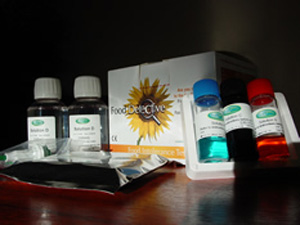 There's a small problem - no, not the finger prick. That's a doddle, because the small kit includes an automated finger-pricker. It looks a bit like a plastic clothes peg, and you hold it to the tip of any finger, and squeeze the trigger - ow! - and there's the blood. No squeamish problems with needles, and no worry about blood poisoning, either.
There's a short piece of capillary plastic. You hold that onto the blood until it soaks all the way through. That you put into a bottle with solvent, which spreads the blood evenly over all the dots.
No, the problem is simple enough: it will only produce a reaction to food substances to which you have an intolerant reaction. Well, for that to happen, you have to actually have eaten the food some time in the last six months.
I'm pretty sure I have an intolerance of chocolate, for example - gives me migraines. But I worked that out years ago and haven't touched anything that comes from a cocoa bean for ages. So it's not surprising to find that right now, my body produces absolutely no kind of antibodies to chocolate.
Mike Walker, wearing the traditional white lab coat ("well, we have to take blood") and rubber gloves, tried hard to sound like a managing director and not a lab technician while making holes in the fingers of visiting journos, explained that normal IBS diagnostics can take months.
"The normal method is to stop eating suspect foods and see if you get better. It can take quite a while before you get any results, and there are just too many foods which could be the cause," he said. "We test nearly 60 food types in 20 minutes, which gives you a good start in working out where the problem is likely to be."
The other problem, he says, is that asking people to stop eating things isn't a simple matter. "Some food stuffs are omnipresent. For example, several people here today have tested as having a reaction for Cola nut. That's not something you buy; it comes as a component of an awful lot of fizzy drinks - as the name implies, it's the source of the caffeine in colas, for example."
Worse than that: your body often has a craving for the very things that hurt it. "So the doctor will tell the patient to avoid things; but the patient finds it all too much effort and has a sneaky snack."
The new-born company has done some trials with Freed Clinic in Croydon, where clinic director Leah Jones has been happy to endorse the Food Detective: "Many patients see the benefits of dietary change within a few days, and we've used Food Detective for a range of conditions - asthma, candida, behavioural issues, low energy levels, all areas wherever food intolerance may have an impact."
More here.
Don't go there! No, I mean it...
"They don't know what they're heading into," you find yourself saying, as you drive along the motorway, watching people going in the opposite direction at full speed. What you know, because you drove past it 10 minutes earlier, is that they're heading for a five mile tailback, from which there is no escape, while police clear an accident. All you need, to warn them, is AlertAvert, which Dr Marco Massenzio invented for people with a GPS-based PDA.
GPS means the system can work out where you came from and where the problem is. All you have to do is record a voice message: "There's a nasty smash just before Junction 19!" - and the system sends