Original URL: https://www.theregister.co.uk/2006/11/17/three_analysis/
Through the (walled) garden gate...
How much is stuff you've already bought worth?
Posted in Networks, 17th November 2006 06:29 GMT
Analysis It's not often the press gets an opportunity to say nice things about a mobile operator - because it's been so rare to find an enlightened mobile operator.
But Hutchison's 3 network must be waking up this morning to an unfamiliar sensation, of being praised.
The operator that became synonymous with "walled garden content" when it launched in 2003, now seems to be determined to embarrass its rivals in the "openness" stakes. 3 yesterday promised to do everything critics have asked a mobile operator to do for years - enable VoIP, IM, and the full web - and added what may be the clincher, access to the user's own home media via the handset. The only question remains is whether the public will find the premium for this bounty, which 3 has yet to disclose, acceptable.
(Today's web content, designed to be ever more fiddly and interactive, browser sapping, and requiring larger screens, is moving away from phones rather than becoming more suited to them. With internet adoption stalled, and a stubborn 35 to 40 per cent of the population adamantly refusing to get online, we can assume that for many people, the web on the go won't be acceptable at any price).
For 3, however it's a major turnaround. At its launch, 3 signed up costly exclusive content such as the English Premiership highlights. Since then it's been offering an attractive bundle, packed with freebies, that then nickles and dimes its users to death for the extras. Email and web were just some of these extras, while (strangely) horoscopes were free. Ever meet a 3 user who knows exactly what they've spent in the current billing cycle?
Goodbye to all that. 3's flat rate bundle includes internet content and IP-based services available as standard. 3 will also allow users make free Skype calls to each other, and to PC-based Skype users. (As you'd expect Skype Out calls that terminate at a POTS number will carry a charge - this is Skype, after all).
But the most interesting aspect is the ability to access your own music, photos and TV over the network. All you need is broadband and PC at home; for TV your PC must have a tuner card of some kind. Orb, which enables this, has been attracting interest from mobile operators from some time, and it's finally landed a major deal: the service will be available in the UK, Sweden, Denmark, Australia and Hong Kong.
The announcement not only makes your mobile device suddenly a whole lot more useful, it sounds the death knell for a thousand business plans currently being developed that bank on chiseling out a few dollars from you for the privilege of viewing time-shifted content, each time you want to want to view. Why pay more than once?
When you consider Orb's parallel announcement this week - it's adding YouTube videos to the package - that the speed at which the media cliches are being out-dated becomes apparent. It's a little too fast for some operators.
Take Verizon, for example. Last week the WSJ reported that Verizon was about to offer videos from YouTube to its mobile subscribers. YouTube would add "50 to 100 of its most popular videos" to its V-Cast service. By contrast, Orb not only offers the entire YouTube catalog - for better or worse - but makes the metadata (such as tags) searchable, and also makes it easy to subscribe using RSS feeds.
As you can see here, searching for clips on the go is almost doable: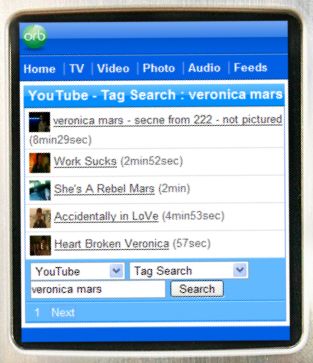 That makes Verizon's news sounds like Dr.Evil holding the world to ransom for "one million dollars". No wonder Orb's Ian McCarthy couldn't resist a little gloat at Verizon when we caught up with him.
"It's miserable," he told us. "From our standpoint, V-cast is an outmoded broadcast-model solution, quite inappropriate for the web in this day and age," he added. "The freedom of mobile access should be matched with the freedom of what you access on mobile."
And it's not only premium content owners - who see their chances of double-dipping mobile consumers recede - who should take note. The Orb announcement is also a sharp reminder to YouTube's owner Google that mobile services need to be planned coherently, from the bottom up. Yahoo! has been signing up mobile operators to make its Flickr photo site easy to access - but where is YouTube's mobile offering? Alas, it was so caught up with being "Web 2.0" compliant, it doesn't seem to have one.
Google's mobile offerings such as Maps and more recently GMail are individually excellent. But it adds up to a piecemeal strategy. Perhaps it needs to do more than rely on its engineers to come up with ideas in their own time. Infrastructure plays don't just spontaneously "emerge", and Orb has just eaten Google's mobile infrastructure strategy.
McCarthy also agrees that the 3 announcement should lay the holy war between "Big Media content" and "user generated content" to rest.
"Your stuff can be your own stuff - media you've already bought or TV you've already subscribed to - or it can be fun user content off YouTube. All video content can now be found on the web for a limited amount of time, because no one can stop it going up. YouTube is the world's PVR. There's no longer any technical obstacle to getting it."
No doubt DIY lip-syncing clips will have their place. But this year we've seen the growth of companies that promote "user purchased content", rather than "user generated content"; Sling Media does what Orb does, via a dedicated piece of hardware kit. The goal is the same - take media you've already purchased or subscribed to, and get it out to any device.
It's an idea so obvious, once you think about it, that you have to ask why the geniuses at Yahoo!, Google or Microsoft - and these are three companies that aren't short of clever people - didn't think of it themselves.
Probably, we suspect, because their ears were filled with "Web 2.0" noise. They thought the web is the infrastructure. Now we know it's just the stuff that gets in the way. ®