Original URL: https://www.theregister.co.uk/2006/11/16/tube_crash/
Microsoft provokes London Tube crash
iexplore.exe outrage
Posted in The Channel, 16th November 2006 12:14 GMT
We're obliged to reader Harvey for forwarding the following chilling image of a London Underground monitor at Baker Street station at around 8am on Tuesday morning: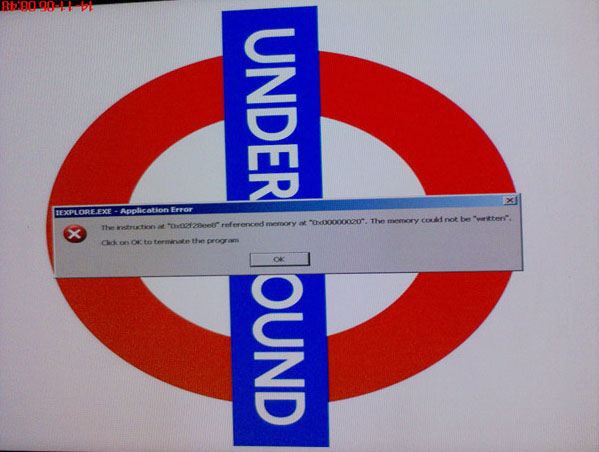 Nasty. According to this thread in MS's forums, the possible causes of the crash are "Yahoo Toolbar add on" or spyware.
Our resident security guru John Leyden notes that iexplore.exe outrages are sometimes caused by adware, as noted here, and you should certainly keep a sharp eye out for the cunningly-named iexplorer.exe "AdClicker parasite".
In the meantime, we suggest London Underground takes the usual remedial measures: reboot, sweep system for illicit .exes, and then switch to Umbongo Linux. ®