Original URL: https://www.theregister.co.uk/2006/11/10/review_smc_wskp100_skype_phone/
SMC WSKP100 Skype phone
Another white Skype Wi-Fi phone
Posted in Personal Tech, 10th November 2006 17:49 GMT
Review It's getting difficult to move for Wi-Fi Skype phones here at Vulture Central. Belkin has announced its Wi-Fi Phone for Skype and Lars has reviewed the Netgear SPH101 and now we have the SMC WSKP100. The Belkin and SMC products appear to use the same Accton handset so there is precious little to tell them apart and to date the most interesting implementation of the handset looks to be the Edge-Core WM4201 which uses the two contact pins on either side of the USB and headphone ports to connect to its WA4101 recharge cradle.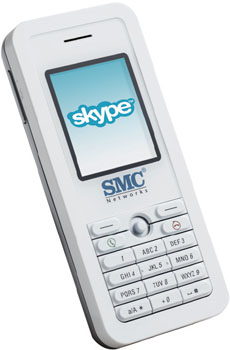 It's worth pointing out that Edge-Core is the Brand division of Accton, so very likely they know how to get the most out of their own hardware.
Getting back to the SMC, our initial impressions weren't favourable as the 'MNO 6' button was sticky and would only work when we mashed it violently, which is hardly ideal for triple tap and key response was generally quite slow.
This wasn't good so we looked for a solution and downloaded a 13MB firmware update from SMC which appeared to be the same as the release version, but once it was installed the keyboard responded properly and was markedly improved so we have to assume that the sample was shipped with pre-release firmware.
Although the update transformed the handset it only raised it to the level that we would expect in the first place and it still left a number of issues unaddressed, very likely because they are inherent to the handset.
The first and most minor quibble is that you only get a paltry four ring tones of dire quality.
Secondly the screen is rather small at 1.8 in and doesn't look too great as it's using a CSTN LCD screen with a resolution of 128 x 160 pixels. This is mainly a cosmetic matter as you search on Skype names and then make a connection, so you don't have any need for fancy graphics or bright colours. Indeed, if we got the eye candy that we have come to expect from modern gadgets then you can bet that battery life would take a hammering, which brings us to the main problem with the SMC. When the backlight turns off the screen is completely dark and you don't even get an indicator light to inform you that the phone is turned on, so every so often, you'll find yourself toggling a key just to check that everything is OK. As things stand the battery life is fairly dire and doesn't begin to match the claimed figures. SMC claims up to three hours talk time with a 50h standby if the phone isn't in use, although we didn't get close to that.
Call quality was fine at the SMC end of the conversation but none too good at the other end, especially if the other person was using a PC headset, rather than a Wi-Fi handset. This wasn't an issue with the connection to the router and it left us baffled, but worse than that, it's annoying, as the odds are that you'll be calling a headset user more often than not. If this is a feature of the hardware and in particular of the TI OMAP 1710 chip, then we doubt that there will be a satisfactory resolution any time soon.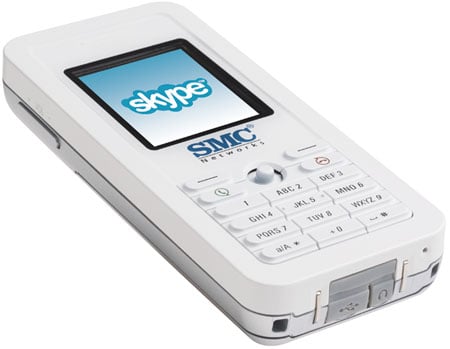 Clearly this is a significant issue but we were more concerned by the question of the wireless connection. If you use your Skype phone in the home or office to free you from using a PC headset, then you'll likely find that the SMC is a decent tool, although the cost is quite steep. You make the call as you walk around or lean back in your chair and when you're finished you can plug in the USB cable to charge the battery. It's not ideal but it works and you're saving the cost of a POTS call without being tied to your PC or laptop by wires.
When you're out and about the idea is that you connect to any available Wi-Fi network, which is fine provided you can see the network and enter a WEP key if the network is protected. The problem comes when you want to use a public hotspot as the handset doesn't have a browser and hence you cannot log on in the usual way. SMC is clearly unable to change the way that the hardware works and has instead tackled this problem by making a deal with The Cloud
Provided you are within range of a Cloud hotspot you get a free Skype connection and don't have to do anything more complicated than roam onto the network. That's great if you're sat in a pub that is covered by The Cloud but we doubt you'll get so lucky when you're on holiday, driving through the lanes, walking down the High Street or, well, just about anywhere really.
Verdict
We doubt that anyone will replace their DECT handset or mobile phone with a Wi-Fi Skype phone any time soon. SMC has done its best to get round the connection issue by working with The Cloud but for the time being we're going to have to wait for telecom convergence.