Original URL: https://www.theregister.co.uk/2006/11/09/letter_teched_barcelona/
A Letter from TechEd in Barcelona
Well, someone has to be there...
Posted in Software, 9th November 2006 13:20 GMT
Well, while I was digesting my meal here last night – and trying to make sense of the fire hose of information that has just washed over me – Windows Vista was released to manufacturing.
So it is finished at last, which is good news. Take a look at the Vista blog here for some real enthusiastic responses. Although it occurs to me that many of the improvements users of Vista betas tell me about – such as a better UI and improved Search - could surely have been done on XP. Why should I have to install a whole new operating system just to get fixes; mightn't XP be "good enough"?
It will be interesting to see how many potential Vista customers invest straight away in the training and other overheads associated with upgrading an operating system.
I seem to remember putting something like this to Prashant Sridharan (group product manager, developer division) and he said there was an established momentum for Microsoft OS upgrades and he was confident of a speedy Vista take up. When I suggested that Windows NT had hung around rather longer than Microsoft had expected, Prashant said his memory didn't stretch back that far. Sometimes I feel so old.
Vista will look after itself. Perhaps more interesting in the longer term is Microsoft's focus on education and, especially, its support of the University of Hull (which points out that it hasn't got a "degree in .NET", although it does use .Net for practical examples on its degree course).
Lots of companies support higher education, of course, but Microsoft apparently has a team in the UK which makes gaining practical support particularly easy for the academic institution seeking it. Dr David Grey from the Department of Computer Science at Hull described several interesting intiatives, including some unconnected with Microsoft, such as an EU-funded scheme to move unemployed IT graduates into employment, which may well get further coverage in Reg Dev (it has lessons for employers as well as graduates).
Bloody students
Microsoft announced the worldwide rollout of its Student Partners programme at TechEd (it has been running in 15 countries for five years; this will increase to some 50 countries). We heard, first hand, of the enthusiasm of existing student partners and the value of up to date .Net experience on your CV (especially to smaller companies) – although a telling point was made, that larger companies apparently want people skills these days and can train employees with general aptitude in any specific technical skills needed.
One slightly worrying aspect of all this is that financial pressures on universities apparently mean that lecturers can't always get experience with the latest technologies. Microsoft Student Partners can provide a valuable complementary teaching resource in such cases, which must be great for them at least, but raises some questions as to the balance between underlying theory and current vendor-oriented practice. Having .Net experience as an additional entry on your CV is fine, but an underlying knowledge of good IT practice will last longer, although students may not see this.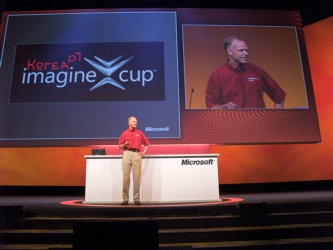 Again on the education front, Imagine Cup 2007. with finals in Korea, was announced and we had a chance to talk with previous competitors and winners. Taking part in the cup is obviously a career boost (it helps make a CV stand out) and it was good to hear previous competitors talking about the importance of interacting with end-users while building their apps (rather than just coding in isolation). Visit this year's Imagine Cup blog at El Reg here.
Imagine Cup 2007 seeks entries in nine categories, ranging from technology challenges (software design, embedded development, web development); skills challenges (such as a 3D simulation game) and Digital Arts (a photo essay, short film or interface design). The broad view of technology represented in cup competitions is impressive, and prizes total some $170,000 across all categories. Register and view entry requirements here.
RTM reloaded
While I'm contemplating student programmers, Arfa Karim, a particularly impressive young lady from Pakistan, was apparently picking up Microsoft certifications at age 10 (she's now 11). She showed us a calculator application, which probably doesn't demonstrate her full potential, but may be of special interest to Microsoft - although I thought it'd fixed all the bugs in Windows Calculator now...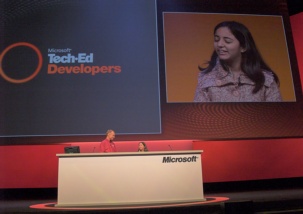 On a straight technology front, at TechEd Microsoft announced Release to Manufacture and full details of the .Net Framework v3.0 and Visual Studio 2005 Tools for Office for the 2007 Microsoft Office System and ASP .Net. Microsoft certainly appears keen on the idea of scalable line-of-business applications in the Office platform. I'm sure this technology is powerful and has valid applications, although I do worry about the development discipline of many office developers – do they understand configuration management and testing and do their managers know to worry about this? Not Microsoft's problem, of course.
Beta 2 of the ASP.NET AJAX extensions (formally codenamed Atlas) was also announced (the download page is here), along with the Release Candidate of SQL Server 2005 Compact Edition (not to be confused with SQL Server Express or Sybase SQL Anywhere). SQL Server Compact Edition is an embedded database for local (offline) use with extensive synchronisation features.
Most of the tools are available for download here and an Office Business Application Reference Architecture Pack for Supply Chain Management (to give you an idea of what Office Business Apps are all about)can be found here.
To summarise the TechEd experience, just possibly Microsoft took its eye off its developer community for a while to get its enterprise message right, but developers are certainly as important again as they ever were. Developments on the C# front were getting particular interest – even overflow sessions were filling up – and Anders Hejlsberg's enthusiasm for its new LINQ capabilities is infectious. Possibly C# is now edging ahead of Java in the innovation stakes.
And managers, and my co-editor Martin Banks, are banished from TechEd to Forum next week, which is all right and proper... ®